March 24, 2014 -
Jerry Angelo
Free agency observations
After taking a more in-depth look at the 2014 NFL free agency period, there were quite a few things that jump out at me.
First, owners appear to have more money than good players to spend it on, as evidenced by the "billion dollar" figure that was thrown out after the initial wave of free agency settled. I guess you can categorize that first wave as a tidal wave of cash. For some teams, let's hope it isn't a tsunami.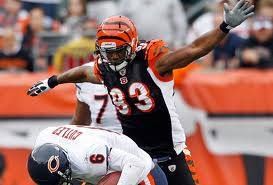 Free agent defensive end Michael Johnson struck it rich in Tampa Bay.
The second observation I made was in how teams valued different positions. Just about any player who can—or at one time could—rush the passer productively got paid. The rushers outnumbered their counterparts, offensive linemen, almost 2 to 1 when it came to signing a premium contract, with the exception of a few offensive tackles.
But the defensive players deemed pass rushers had no commonality in terms of a profile, other than the fact that they were players who can, did or presumably could rush the passer. Their age, durability issues and/or marginal production had little adverse effect on the teams willing to pay them.
Here's a look at some of the defensive linemen who recently cashed in:
(name, age, sacks in 2013)
Julius Peppers: 34, 7.5
DeMarcus Ware: 31, 6.0
Jason Babin: 33, 7.5
Justin Tuck: 31, 11.0
Michael Johnson: 27, 3.5
Jason Hatcher: 32, 11.0
Karlos Dansby: 32, 6.5
Henry Melton: 27, 0*
Jonathan Babineaux: 32, 1.0
Lamarr Houston: 27, 6.0
Chris Clemons: 32, 4.5
*Appeared in just three games last season due to injury.
The other teams willing to spend a lot of cash did so by addressing their respective secondaries. All of the bigger corners and safeties teams felt could play benefited from free agency. The number of defensive backs that were rewarded lucrative deals doubled the amount of wide receiver and tight end signings. They can now buy new homes in posh neighborhoods.
Is this to say that the defensive linemen were better than the offensive linemen or that the secondary people are better than the guys they have to cover? The answer to both questions is no. Rather, it's the value of what these players can do and the scarcity of those types that can do it.
That's why they got paid the big money.
It's important to keep in mind the purpose of free agency, which is to upgrade or fill voids on your roster. Before you can become good, you have to get better at each position and that's what free agency allows teams to do. The first order of business for all teams when it comes to free agency is to make sure that the core positions get upgraded. You want the positions that make your schemes work to be filled with the best possible players.
--The Falcons, Jaguars, Bears, Packers and Raiders addressed their defensive fronts.
--The Broncos and Patriots went hard to upgrade their secondaries.
--The Buccaneers, Raiders and Giants looked at their cards and decided that they wanted a new hand.
So teams that got started by addressing and filling their needs did it in a big way.
The next big marketplace where teams can continue or begin addressing their needs takes place in May with the draft. The beauty of the draft versus free agency is that there won't be any competition for these players as well as the fact that these rookies are going to make very little when compared to what was spent during the first two waves of free agency.
There are reasons why some teams constantly win and why others continue to lose. It starts with self-evaluation, which is one of the hardest tasks for team decision makers to perform. The teams that correctly know who they are and what they have to do to get better are the same ones that win.
The teams that react impulsively without a correct understanding of what is broke continue to spend big money and lose. In a very short time we will be able to identify the winners and losers.
Follow Jerry on Twitter: @RealJerryAngelo
Jerry Angelo was the General Manager of the Chicago Bears from 2001 to 2012. Prior to joining the Bears, Angelo spent 14 years overseeing the Tampa Bay Buccaneers' scouting department as their Director of Player Personnel. Angelo graduated from Miami University in 1971.