July 12, 2012 -
Joel Corry
Free agency rewind
With training camps opening in about two weeks, here is a look at the major salary cap and contract developments that have occurred since free agency began.
Peyton Manning sweepstakes: Once the Indianapolis Colts decided not to exercise their $28 million option on Peyton Manning's contract because of his career threatening neck injury, Manning became the biggest name free agent since Reggie White in 1993. With plenty of suitors (Denver Broncos, Arizona Cardinals, San Francisco 49ers, Miami Dolphins, Tennessee Titans, etc.), he went through a very deliberate process in finding a new team.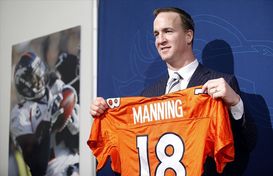 Peyton Manning took his time through the free agent process and cashed in big with the Denver Broncos.
Manning signed a five-year, $96 million contract with the Broncos, which made him the NFL's highest paid player, even though Titans' owner Bud Adams was reportedly offering him significantly more money. His deal is structured differently than the typical NFL contract because it contains protections for the Broncos relating to Manning's pre-existing neck condition. Manning's $18 million base salary this season is fully guaranteed. His 2013 and 2014 base salaries at $20 million in each year become fully guaranteed if he is still on the Broncos' roster on the last day of the 2012 League Year (early March 2013).
However, Manning's 2014 injury guarantee voids if he injures his neck during the 2013 season. If Manning plays four years under his Broncos' contract, he will make $13.4 million more than the $63.6 million that was in the remaining four years of the contract he signed with the Colts last July.
Drew Brees' contract saga: Conventional wisdom suggested that Drew Brees and the New Orleans Saints would quickly agree on a new long-term contract, especially after Roger Goodell's stiff penalties against the Saints for their bounty program. Instead, their negotiations have become protracted. Brees won his franchise tag grievance last week when arbitrator Stephen Burbank ruled that the Saints' first franchise tag of Brees is his second franchise tag under the Collective Bargaining Agreement because he was previously franchised when he played for the San Diego Chargers.
Consequently, Brees' franchise number will be $23,574,240, which is 144% of his current $16.371 million franchise number, if the Saints franchise him next year for a third time. The team would have a difficult time carrying such a high salary cap number. They already have $128,605,503 in salary committed towards next year's cap when the cap is expected to remain flat. Brees and the Saints have until July 16th to reach a long-term deal or he must play this season on a one-year deal, most likely at his franchise number.
Tampa Bay spending spree: After getting criticized in recent years for constantly having one of the lowest payrolls in the NFL, the Tampa Bay Buccaneers made a splash when the free agency signing period opened. During the first 48 hours of free agency, the Buccaneers signed wide receiver Vincent Jackson to a five-year, $55,555,555 contract ($26 million guaranteed) and made Carl Nicks the highest paid guard in NFL history ($47.5 million, 5 years, $31 million in guarantees). They also solidified their secondary by signing cornerback Eric Wright to a five-year deal averaging $7.5 million per year ($15 million guaranteed). With these free agent acquisitions, the Buccaneers are poised to improve upon last year's disappointing 4-12 record.
New non-QB compensation standards: Pro Bowl defensive end Mario Williams became the highest paid defensive player in NFL history by signing a six-year, $96 million contract ($50 million in guarantees and $4 million in not likely to be earned incentives) with the Buffalo Bills. Williams' $53 million in his first three years is the yardstick for such compensation with non-quarterbacks. Thanks to a $21,081,946 cap number, wide receiver Calvin Johnson had enough leverage to become the NFL's highest paid non-quarterback. His seven-year contract extension averages $16,207,143 per year. $53.25 million of Johnson's deal was fully guaranteed at its signing. This set a record for fully guaranteed money in NFL contracts. The final two years of Johnson's contract are voidable, but the Lions can buy them back by guaranteeing an additional $3.5 million in each of those years.
Salary cap penalties: When free agency started, the Dallas Cowboys and Washington Redskins were penalized for violating the spirit of unwritten spending rules during the uncapped 2010 NFL season. Despite repeated warnings from the NFL Management Council not to release players to avoid signing bonus acceleration or front load contracts while the NFL was operating without a salary cap, Dallas and Washington engaged in such activities in 2010 that were deemed to have given them an unfair competitive advantage in future years once the cap returned.
Dallas lost $10 million in cap space while the Washington lost $36 million in cap room. Both teams were required to take at least half of their respective penalties during this season with the remainder taken next year. The $46 million was evenly redistributed to the salary cap of the other NFL teams, except for the New Orleans Saints and Oakland Raiders because of their minor violations of the 2010 spending rules. Dallas and Washington objected to the penalties, but were unsuccessful in their appeal to get them overturned.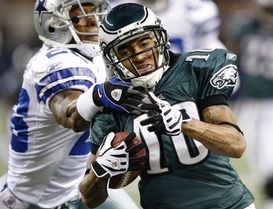 DeSean Jackson was one of several wide receivers to hit it big this offseason.
Active wide receiver market: During the initial days of free agency, there was a run on wide receivers. Besides Vincent Jackson, Pierre Garcon and DeSean Jackson—who was franchised by the Philadelphia Eagles—received lucrative contracts. Garcon signed a five-year, $42.5 million deal ($20.5 million in guarantees) with the Washington Redskins while Jackson's five-year deal averaged $9.7 million per year ($18 million in guarantees and $4 million in base salary escalators). Reggie Wayne surprisingly decided to stay with the rebuilding Indianapolis Colts by taking a three-year, $17.5 million contract ($7.5 million guaranteed) and the San Diego Chargers quickly signed Robert Meachem to a four-year, $25.5 million deal ($14 million guaranteed) to replace Jackson.
The Chicago Bears, who were expected to be a major player in the free agent wide receiver market, addressed their needs by acquiring Brandon Marshall from the Miami Dolphins for two third round picks (2012 and 2013). Additionally, Marques Colston signed a five-year contract averaging $7.26 million per year (with $17.7 million in guarantees) at the eleventh hour to stay with the New Orleans Saints instead opting for free agency.
Fiscal restraint with Matt Flynn: Prior to the start of free agency, there was widespread speculation that some team would overpay Matt Flynn to become a starting quarterback because of his 480 yards and six touchdowns against the Detroit Lions in the Green Bay Packers' 2011 regular season finale. However, th e market for Flynn never developed as anticipated. The Cleveland Browns weren't interested in him and the Miami Dolphins made chasing Peyton Manning more of a priority, even though they hired his former offensive coordinator, Joe Philbin, as their head coach. Flynn signed a three-year, $19.5 million deal ($10 million guaranteed and $5.5 million in base salary escalators) with the Seattle Seahawks in order to compete with Tarvaris Jackson and Russell Wilson to become their starting quarterback.
Dormant restricted free agent market: The drought in restricted free agency continued with none of the 42 restricted free agents (players with three years of service and expiring contracts) signing an offer sheet with another team, despite the new CBA eliminating the highest restricted free agent tender (first and third round draft choice compensation with an unmatched offer sheet). It was a little surprising that a team with a late first-round pick or two first round selections in need of a wide receiver didn't make a run at signing Mike Wallace. The Pittsburgh Steelers were vulnerable with Wallace because it would have been difficult for the organization to match a front loaded offer sheet due to their limited salary cap room. There will be even less of a potential restricted free agent market in the future because the new CBA requires all draft picks to sign four-year contracts.
Increased contract restructurings: With the salary cap only increasing from $120.375 million to $120.6 million, there was an increase in contract restructurings. These restructurings began prior to the beginning of the 2012 League Year when teams were trying to get under the 2012 salary cap and have continued throughout free agency. The Oakland Raiders and Pittsburgh Steelers led the way with contracts restructured for salary cap purposes. In a typical restructuring, a player will convert some portion of his base salary or roster bonus into signing bonus because it can be prorated over the life of a contract (most other salary components usually can't be prorated). The team gets a lower cap number in the current season while the player gains more short-term security and potentially a better payment schedule in the current year of his contract.
However, the player's cap number in the remaining contract years also increases, which can make him more susceptible to becoming a salary cap casualty in the future. For example, Tom Brady created $7.2 million of cap room for the New England Patriots when he lowered his 2012 cap number from $15.2 million to $8 million by converting $4.8 million of his $5.75 million base salary and his $6 million roster bonus into a signing bonus. As a signing bonus, the Patriots were able to prorate this $10.8 million over the three years left on the quarterback's contract. Brady's 2013 and 2014 cap numbers each increased by $3.6 million to $21.8 million in both years with the restructuring.
Soft inside/middle linebacker market: When D'Qwell Jackson signed his five-year, $38.5 million contract ($14 million in guarantees and $4 million in base salary escalators) with the Cleveland Browns shortly before free agency started, his deal became the benchmark for inside/middle linebackers (Stephen Tulloch, Curtis Lofton, David Hawthorne) in free agency. Unfortunately for them, there wasn't much of a demand for inside/middle linebackers during the initial wave of free agency, so they were forced to adjust their financial expectations. Tulloch re-signed with the Detroit Lions ($25.5 million, 5 years, $11.25 million guaranteed), while Lofton ($27.5 million, 5 years, $15 million in guarantees, $3 million in base salary escalators) and Hawthorne (19 million, 5 years, $8.5 million in guarantees) both signed with the New Orleans Saints.
Follow me on twitter: @corryjoel
Joel Corry is a former sports agent who helped found Premier Sports & Entertainment, a sports management firm that represents professional athletes and coaches. Prior to his tenure at Premier, Joel worked for Management Plus Enterprises, which represented Shaquille O'Neal, Hakeem Olajuwon and Ronnie Lott. You can email Joel at jccorry@gmail.com