March 22, 2013 -
Joel Corry
Free agency's big winners
Now that free agency's initial signing frenzy has concluded, here's a look at some of the open market's biggest winners:
Mike Wallace (WR)-Miami Dolphins: Wallace landed the most lucrative free agent contract with a five-year, $60 million deal. He has $30 million in guarantees while $37 million is in the first three years of his contract. Wallace becomes one of 14 non-quarterbacks in the NFL with a contract averaging at least $12 million per year.
Dashon Goldson (S)-Tampa Bay Buccaneers: Goldson took advantage of the San Francisco 49ers having him enter the free agent market instead of designating him as a franchise player for a second time at $7.454 million. His five-year, $41.25 million contract (with $22 million guaranteed) is the richest deal signed by a defensive player in free agency. The deal makes Goldson the NFL's second highest paid safety on a veteran contract (by average yearly salary). Tampa Bay utilized the same pay structure as they have in their other lucrative contracts. Goldson's cash and salary cap numbers are the same in each contract year because he is receiving salary guarantees instead of a signing bonus. Since there isn't any signing bonus proration, the Buccaneers won't have any dead money if Goldson is released during the latter years of the deal provided that his contract hasn't been restructured.
Jared Cook (TE)-St. Louis Rams: Cook received a five-year, $35.1 million contract (with $19 million in guarantees) despite averaging 33 receptions, 429 receiving yards and two touchdowns during his four seasons with the Tennessee Titans. Rams head coach Jeff Fisher should know how to utilize Cook's strengths much better than they were last season, since he coached Cook in Tennessee during the 2009 and 2010 campaigns. The Rams are expecting Cook to cause matchup problems for opposing defenses with his tremendous athleticism.
Gosder Cherilus (OT)-Indianapolis Colts: Cherlius became the NFL's highest paid pure right tackle (by average yearly salary) with his five-year, $35 million contract (with $16.5 million guaranteed). Doug Free's four-year deal with the Dallas Cowboys averages $8 million per year, but he played left tackle in 2010, the season prior to signing his contract. Free didn't move to left tackle until 2012, which was the second year of his deal. Apparently, the Colts don't have any reservations about Cherlius' right knee given the size of his contract. Cherlius had microfracture surgery on his right knee in 2010. He reportedly traveled to Germany in January for Regenokine treatment on the knee, which is the same experimental procedure Kobe Bryant received for his knee.
Andy Levitre (OG)-Tennessee Titans: Levitre signed a six-year, $46.8 million contract (with $16 million guaranteed) to become the NFL's fourth highest paid offensive guard (by average yearly salary). $26 million is in the first three years of the deal. Levitre's contract compares favorably to the left tackle deals signed by Sam Baker, William Beatty and Jermon Bushrod. These deals range from an average of $6.85 million to $7.5 million per year, have $22.5 million to $24 million in the first three years, with $17.715 million to $19 million guaranteed.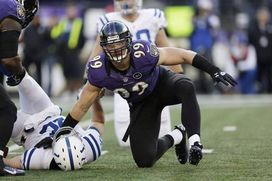 Kruger rode a hot postseason to a $40.5 million payday.
Paul Kruger (OLB)-Cleveland Browns: Kruger capitalized on a career-high nine regular season sacks and an additional 4.5 sacks during the playoffs by signing a five-year, $40.5 million contract (with $20 million guaranteed). Cleveland CEO Joe Banner employed the contract structure he preferred with the Philadelphia Eagles' richest deals by including a large first year roster bonus in a Kruger's contract. Kruger's $6.285 million roster bonus is $285,000 more than his signing bonus. The cap numbers throughout the deal never exceed $8.2 million because his roster bonus counts towards the salary cap in 2013.
Greg Jennings (WR)-Minnesota Vikings: Jennings signed the second most lucrative free agent contract at $45 million (with $17.8 million in guarantees) over five years despite overestimating his value. The deal is worth a maximum of $47.5 million because of $2.5 million in base salary escalators and incentives based on Pro Bowls and All-NFL honors. Jennings reportedly turned down an $11 million per year deal from the Green Bay Packers before missing eight games with a groin injury because he was seeking $15 million per year. He was looking for a contract in the $11 million to $12 million per year range when free agency began. The Packers were interested in re-signing Jennings at $8 million per year. Jennings was less expensive for the Vikings to sign than to retain Percy Harvin, who was dealt to the Seattle Seahawks for their 2013 first round pick (25th overall), a 2013 seventh round pick and a 2014 third round pick.
Chase Daniel (QB)-Kansas City Chiefs: Daniel is among the highest paid backup quarterbacks with his three-year, $10 million deal (with $4 million guaranteed). His contract can void after any season in which he passes for more than 2,000 yards and 12 touchdowns. Most of the highest paid backup quarterbacks are former starters. Daniel has only completed 7 of 9 passes for 55 yards during his four NFL seasons.
Dannell Ellerbe (ILB-Miami Dolphins): Re-signing Ellerbe was the top priority for the Baltimore Ravens, but they couldn't compete with Miami's five-year, $35 million contract (with $17 million guaranteed). According to the Baltimore Sun's Aaron Wilson, the Ravens were offering Ellerbe a contract averaging close to $5 million per year with half as much guaranteed money as the Miami deal. The Dolphins released middle linebacker Karlos Dansby, who was entering the fourth year of a five-year, $42.5 million contract (with $22 million guaranteed), to make room for Ellerbe in the starting lineup.
Follow me on Twitter: @corryjoel
Joel Corry is a former sports agent who helped found Premier Sports & Entertainment, a sports management firm that represents professional athletes and coaches. Prior to his tenure at Premier, Joel worked for Management Plus Enterprises, which represented Shaquille O'Neal, Hakeem Olajuwon and Ronnie Lott. You can email Joel at jccorry@gmail.com