March 09, 2012 -
Joel Corry
Freeney's farewell?
Now that the Peyton Manning era is over, the Indianapolis Colts are officially in a rebuilding mode. One of their immediate priorities should be attempting to move defensive end Dwight Freeney once the trading period begins on March 13th.
Freeney, who is 32-years-old, has the NFL's second largest 2012 salary cap number at $19.035 million with a $14.035 million base salary. Since he's in the final year of his deal, the Colts can't re-structure Freeney's contract to create cap room without asking him to take a pay cut or extending it. With a fourth consecutive Pro Bowl selection last season, Freeney's play doesn't suggest that a pay cut is warranted.
After signing 31-year-old Robert Mathis to a four-year, $36 million deal with $17 million in the first year, it doesn't make a whole lot of sense for a team that's a few years away (those are Colts owner Jim Irsay's words) to make a significant long term investment in two pass rushers over 30 by giving Freeney a contract extension. Their combined 2012 salary of $31.035 million is a lot of money for a rebuilding team to allocate to one position. A trade would save the Colts $14.035 million in cap room, which could be used to help fill the numerous holes in the roster. They would still carry $5 million in "dead money" on the cap for Freeney because of the signing and option bonus pro-ration from his contract.
Freeney maintains that he wants to remain with the Colts this season but it's hard to imagine that he would want to endure another losing campaign after spending most of his career on playoff contenders. New head coach Chuck Pagano plans on implementing a 3-4 defensive scheme so he would be making the transition from defensive end to stand up linebacker with some pass coverage responsibilities. Lesser talented players have successfully made this transition, but it's a risky proposition for Freeney since he is in a contract year. He could hurt his marketability in 2013 free agency with a subpar season. Teams might conclude that he was a declining 33-year-old free agent instead of giving him the benefit of the doubt with the position change.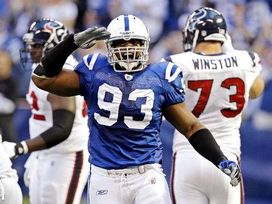 After ten years and over 100 sacks, it looks like the Dwight Freeney era in Indianapolis is coming to an end.
There are two recent examples of teams trading for Pro Bowl caliber defensive linemen. In 2008, the Washington Redskins acquired Jason Taylor from the Miami Dolphins for a 2009 second-round pick and a 2010 sixth-round pick. The New England Patriots traded Richard Seymour to the Oakland Raiders in 2009 for their 2011 first-round pick. A playoff contender who feels that Freeney's passing rushing ability might get them over the hump could be most interested in him.
The Atlanta Falcons immediately come to mind because 34-year-old John Abraham is an unrestricted free agent and reportedly has an extremely high asking price. And don't rule out Chicago, as the Bears would be the easiest transition for Freeney. They run the same Cover 2 defense that he's played in with the Colts.
Although Taylor and Seymour didn't sign contract extensions with their trades, any team that acquired Freeney might insist upon it because his cap number ($14.035 million for acquiring team) is so much higher. A contract extension would give Freeney security while his new team would get cap relief by converting some portion of his salary into a signing bonus so it could be allocated over the life of the new contract for cap accounting purposes.
Freeney probably wouldn't be able to match the six-year, $72 million deal (with $30 million guaranteed) that made him the NFL's highest paid defensive player when he signed it in 2007 because pass rushers over 30 typically don't command such lucrative contracts. Julius Peppers is the only defensive end making over $10 million per year on a contract signed after turning 30. Considering that Freeney was the Colts only original ballot Pro Bowler last season and is more accomplished than Mathis, his slightly younger counterpart, his deal could serve as a benchmark.
The Colts shouldn't expect to be as fortunate as the Patriots were in their Seymour trade. The type of draft choice compensation the Dolphins received for Taylor seems more realistic. If they aren't able to get such compensation, they could accept a trade where their compensation increases depending upon how Freeney or his new team performs this season. For example, the Denver Broncos received a 2012 sixth-round pick from the St. Louis Rams for Brandon Lloyd that became a 2012 fifth-round pick because he caught 30 passes with the Rams last season.
If there is a soft trade market for Freeney, it wouldn't necessarily be a reflection on his ability. It could be due to the Colts asking for too much or teams thinking that he'll be released because of his high cap number and they'll then have an opportunity to sign him as a street free agent without giving up anything in return.
Joel Corry is a former sports agent who helped found Premier Sports & Entertainment, a sports management firm that represents professional athletes and coaches. Prior to his tenure at Premier, Joel worked for Management Plus Enterprises, which represented Shaquille O'Neal, Hakeem Olajuwon and Ronnie Lott. You can email Joel at jccorry@gmail.com