November 12, 2013 -
Jeff Fedotin
Has Glenn Dorsey shed the bust label?
After being considered the best defensive player in the 2008 NFL Draft and someone who would anchor the Chiefs defense for years, Glenn Dorsey was deemed a disappointment by many.
The Chiefs did not re-sign their former fifth overall pick, who recorded just four sacks in five years with Kansas City.
But the 49ers snapped him up as a free agent during the offseason, and he seems to finally have found a nice fit.
"I've got all day to talk about Glenn Dorsey," beamed 49ers defensive line coach Jim Tomsula during a conversation with NFP. "Glenn is doing just a tremendous job."
Dorsey's "tremendous" play is all the more impressive, considering the adjustments he's had to make during his six year-career, which now finds him at nose tackle.
Drafted by the Chiefs in the Herm Edwards regime as a penetrating defensive tackle for the Tampa-2, 4-3 defense in the mold of Tommie Harris or Warren Sapp, Dorsey was then moved to defensive end in 2009 when Todd Haley and then Romeo Crennel installed the 3-4 defense used by the Patriots.
During his rookie season, Dorsey had just one sack despite starting 16 games as the three-technique tackle, lining up on the guard's outside shoulder. After moving to defensive end in a 3-4 — where, granted, sacks are not the best measurable to evaluate a defensive lineman — he collected just three more over the next four seasons while never really becoming a run stuffer either.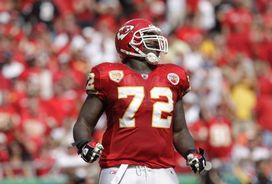 While it didn't work out in Kansas City, Dorsey has already tied a career-high in sacks (2.0) though just nine games.
After nose tackle Ian Williams broke his ankle in Week 2, Dorsey became San Francisco's starting NT, a new role where he goes against the center.
"(It's) drastically different than what he was doing," Tomsula said. "This is a new schematic, new techniques and a position change for him."
At the listed figure of 6-1, 297, Dorsey seems small for the nose tackle position, which is typified by players like 300-pound behemoths, Casey Hampton and Vince Wilfork.
But for their scheme, the 49ers want defensive linemen who can move, and Dorsey, who has started six games for San Francisco, has the requisite lower body strength and can play with excellent bend and leverage.
"We play the nose guard position differently," Tomsula said. "The only fat guy I want in there is me."
Williams is just 6-1 and 307 pounds. Now with the Colts, Ricky Jean Francois, a LSU product like Dorsey, played some nose last year despite being 6-3 and 297 pounds.
Dorsey's success as an undersized nose — where he already has matched his career-high of two sacks — begs the question why Kansas City didn't use him as such instead of as a 3-4 defensive end where his role was to clog traffic rather than penetrate and wreak havoc up the field.
When pressed, Tomsula shrewdly sidestepped that hornet's nest of a question, instead answering respectfully.
"I thought Glenn played at a high level for the Kansas City Chiefs. I thought he did a nice job within the scheme," Tomsula said. "He did exactly what they asked him to do."
Although using Dorsey at nose instead of Kelly Gregg, Amon Gordon or Ron Edwards potentially could have elevated a Kansas City team that amassed just 23 wins from 2009 to 2012, the point is now moot.
Kansas City has found a very good one in 6-3, 346-pound Dontari Poe, who has 4.5 sacks in his second year.
With San Francisco, Dorsey has accelerated his transition to nose because of his work ethic, which Tomsula lauded.
When Tomsula picked up Dorsey at the airport for his free agent visit, they drove to the 49ers facility, passionately talked technique and walked the field, going over football schemes until about 3 a.m.
"He has just worked tirelessly," Tomsula said. "(He's) just a guy who's really excited about football."
In addition to Dorsey's athleticism and enthusiasm, he is bolstered by a scrappy, blue-collar but talented line, including Justin Smith, Ray McDonald, Demarcus Dobbs and Tony Jerod-Eddie, on one of the NFL's best defenses.
"I have the best coaching job in football," Tomsula said.
As part of his job, Tomusla has enjoyed working with Dorsey and overseeing the transition of a 28-year-old who may be on the cusp of fulfilling his potential.
"There's so much room to continue to grow," Tomsula said.
Follow Jeff on Twitter: @JFedotin
Jeff Fedotin has written for Packers.com, Pro Football Weekly, ESPN The Magazine, the Lawrence (Kan.) Journal-World and Rivals.com. After graduating from Northwestern University, he interned for the Buffalo Bills. During his football playing days at Pembroke Hill (Mo.) School, Fedotin was known for his bad knees and even worse blocking.