September 16, 2013 -
Jeff Fedotin
Has Jay Cutler become clutch?
Before the final drive of just his second NFL game, Bears rookie right tackle Jordan Mills was antsy. The climatic setting in front of 62,281 Bears ticketholders was a far cry from his days at Louisiana Tech.
Then his quarterback, Jay Cutler, addressed the offense.
"We got this, fellas," he said.
Cutler would lead the Bears on a 10-play, 66-yard drive, which culminated in a 16-yard TD pass to tight end Martellus Bennett with 10 seconds left.
The 31-30 win against the Vikings marks the 15th fourth-quarter comeback of his career and the second straight fourth-quarter comeback for Cutler. He directed the Bears on an eight-play, 81-yard drive, resulting in Brandon Marshall's 19-yard touchdown and a 24-21 win against the Bengals in Week 1.
Cutler was seven-of-10 for 76 yards on the game-winning drive against the Vikings.
Facing the 30-24 deficit with 2:32 left, the motor of rookie right guard Kyle Long was revved as usual. A frenetic player who Cutler called the team's "energizer bunny," Long went to the man beside him, 13-year veteran and starting center Roberto Garza, for guidance.
But it was Cutler who quickly brought his blockers, which includes rookies next to each other on the right side in Long and Mills, to the line while making sure they knew their assignments.
"Jay is the coolest, calmest dude. We're out there all freaking out," Long told NFP. "His approach is just very chill, and I just love that because he can keep us even keel."
Is the narrative on Cutler now changing? Previously he was criticized from everything from being a malingerer (after his mysterious knee injury, which sidelined him during the NFC Championship Game in 2011), being apathetic (a result of dismissive body language) and being a bad teammate (cursing and pushing J'Marcus Webb).
Perhaps, though, Cutler has the right personality for Marc Trestman's new Bears offense. Calm and collected in the fourth quarter, he can show an edge at other times that meshes with the dynamic personalities, including Marshall and Bennett.
"Everyone on our offense has a short fuse," Bennett said. "We're always talking about fighting off our demons before the game starts."
Though Cutler was certainly hot during the game's most crucial moments, he also made his share of gaffes — most glaringly during the second quarter.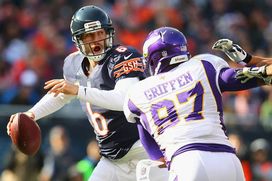 Cutler has led the Bears on game-winning fourth quarter drives in each of the team's first two games.
On a first-and-goal from the Vikings one-yard-line, Cutler forced a pass, which Vikings defensive tackle Kevin Williams intercepted. This is exactly the kind of play that has hurt Cutler throughout his career. Instead of throwing the ball away and living for another down, which likely would have resulted in a score, he tried to make a play when there was none to be made.
Also in the second quarter, he fumbled on a sack, and defensive end Brian Robison returned the ball 61 yards for a touchdown.
He began the fourth quarter by throwing an interception to free safety Harrison Smith on a pass intended for Marshall.
But the Bears went back to the combination route on which Cutler was intercepted, and Bennett made the back shoulder grab against two-deep coverage for the game-winning score.
"The (Vikings are) not going to like what they see on film," Cutler said.
The Bears will have plenty to correct, too, after they examine the Week 2 game. Rarely do you win a contest when you suffer four turnovers and allow a 105-yard kickoff return for a touchdown.
Rookie Cordarrelle Patterson began the game that way.
Instead of becoming totally deflated, the Bears bounced back behind a franchise-record 249 kickoff return yards from a seemingly rejuvenated Devin Hester and Cutler showing fire when needed and dousing his eager, young linemen at other times.
Through two games Cutler has completed 49-of-72 passes for 532 yards, five touchdowns and three interceptions for a QB rating of 95.4. That accounts for a 68.1 completion percentage. (His best mark for a season is 63.6.)
Statistically more accurate, Cutler has been intangibly more clutch during 2013, his contract year.
Now the Bears have a second consecutive fourth-quarter comeback win for the first time since September 2009.
Under Trestman, is the modus operandi for the 2013 Bears, relying on Cutler to deliver in the nail-biting fourth quarter?
Long was asked this question before left tackle Jermon Bushrod, another new piece on the Bears offense, interrupted.
"I hope not," said Bushrod, laughing while buttoning his shirt. Long chuckled as well.
At 2-0 and all alone in first place of the NFC North, times are good in Bears land.
Follow Jeff on Twitter: @JFedotin
Jeff Fedotin has written for Packers.com, Pro Football Weekly, ESPN The Magazine, the Lawrence (Kan.) Journal-World and Rivals.com. After graduating from Northwestern University, he interned for the Buffalo Bills. During his football playing days at Pembroke Hill (Mo.) School, Fedotin was known for his bad knees and even worse blocking.