July 20, 2012 -
Jeff Fedotin
Has the window closed on the Chargers?
Each year the Chargers emerge as a favorite to win their division and even as a sleeper pick to reach the Super Bowl.
But the talent has dwindled of late.
The Chargers have missed the playoffs the last two years despite playing in one of the NFL's weakest divisions.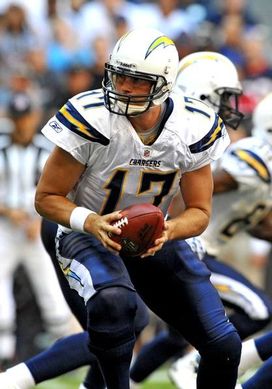 ICONRivers will have to find a new No.1 WR to replace Vincent Jackson.
Ladies and gentlemen, these are not your 2006 Chargers, which finished with an NFL-best, 14-2 regular season record.
Since then, RB LaDainian Tomlinson, CB Antonio Cromartie, LB Shawne Merriman, NT Jamal Williams, OT Marcus McNeill, OG Kris Dielman and RB Darren Sproles have moved on, and the Chargers have not effectively replaced them.
During recent years the Chargers were known for their mammoth WR corps, which was one of the league's best.
They, however, lost their best deep threat in March. The 6-5 Vincent Jackson, who has averaged 17.5 yards a catch for his receiving career, signed with the Buccaneers.
San Diego also lost squatty RB Mike Tolbert, an effective pass receiver, blocker and goal-line scorer, who signed with the Panthers.
Without Tolbert, the onus will be on RB Ryan Mathews, who has failed to produce a career befitting the 12th overall pick of the 2010 draft because of injuries and fumbles (nine in two years).
Antonio Gates remains a good tight end, but he is 32 and has struggled through foot injuries the last two years, which have affected his conditioning and play.
A few years ago, the Chargers had one of the NFL's best offensive lines. Although C Nick Hardwick still anchors them up front, they no longer have Dielman, who had to retire because of repeated concussions, or McNeill.
Jared Gaither likely will replace McNeill as the starting left tackle, even though two other AFC West teams did not think he was worth keeping last year. The Raiders reportedly did not sign Gaither because of concerns about his back, and the Chiefs did sign Gaither but released him mid-season. (His short stint in K.C. was known for untimely penalties.)
Gaither will have to protect Philip Rivers, who I think is the best quarterback in the AFC West. (Peyton Manning likely will seize that title, but the 36 year old must prove he can regain his once-transcendent abilities, following his fourth neck surgery.)
Rivers, though, seemed to be pressing last year. Trying to cover up for his team's other deficiencies, he forced throws, and it resulted in a career-high 20 interceptions.
No longer the best of the AFC West?
While the Chargers have regressed of late, two other AFC West clubs are poised to challenge them as the division's most talented team.
The Broncos, the defending AFC West champs, added one of the best players of all time in Manning. Even if he is past his prime, his downfield passing has to serve as an upgrade over Tim Tebow.
On the other side of the ball, Elvis Dumervil and Von Miller lead the division's best pass rush and are perhaps the AFC West's best sack tandem since Merriman and Shaun Phillips wreaked havoc.
The divisional champs from 2010, the Chiefs, should be improved this season as they add back QB Matt Cassel, RB Jamaal Charles, S Eric Berry and TE Tony Moeaki — all of whom suffered season-ending injuries last year.
Though a bit under the radar, the Chiefs also had one of the better offseasons, quietly adding TE Kevin Boss, RB Peyton Hillis and OT Eric Winston. The former two should protect the team in case Moeaki and Charles have not adequately recovered from their ACL injuries, and Winston should shore up one of the team's biggest weaknesses, pass protection.
Reason for hope: San Diego's draft and FA acquisitions
Chargers GM A.J. Smith also made several positive, though unheralded, moves this offseason.
Although San Diego could not afford to pay Jackson the $55 million Tampa Bay did, it added two solid receivers, Robert Meachem and Eddie Royal.
Perhaps the reason the Chargers' D has fallen off so much is the drop off at linebacker. The integral group on any 3-4 defense, linebackers are responsible for applying the majority of QB pressure.
Smith added Jarret Johnson, a good 3-4 linebacker who was overshadowed by Ray Lewis and Terrell Suggs in Baltimore, via free agency.
He further addressed the LB position by drafting Melvin Ingram with the 18th overall pick — perhaps the best fit of any first-round selection.
Ingram had the potential to be a Top-10 pick, likely sliding because of his short arms. More importantly, he has good size (264 pounds) and speed for the OLB position and has produced on the field (21.5 sacks during his last two years) while playing in the SEC, the nation's best conference.
His pass rush ability should instantly upgrade the league's worst third-down defense.
Ingram and Johnson round out an LB corps, which already included a good pass rusher in Phillips and a sturdy run stuffer in Takeo Spikes. That will make things easier on the back end for Eric Weddle, one of the NFL's better safeties.
The question, though, is whether these moves will be enough for the Chargers to ascend to the perch they occupied from 2006 to 2009 — when they sat atop the AFC West.
Jeff Fedotin is a frequent contributor to the NFP.