May 06, 2013 -
Jeff Fedotin
Have the Pack finally found their rushing attack?
A juggernaut of late, the Packers offense owns one woeful statistic.
It last had a regular season, 100-yard rusher when running back Brandon Jackson gained 115 yards on Oct. 10, 2010 against the Washington Redskins.
As great as quarterback Aaron Rodgers is, he needs help.
Since winning the Super Bowl, the Packers have cycled through a committee of journeymen tailbacks, including Cedric Benson, Ryan Grant, Alex Green, DuJuan Harris, Brandon Saine and James Starks, and the results have been as middling as you would expect.
The Packers ranked 27th in the league with 1,558 rushing yards (3.9 per carry average) in 2011. They similarly averaged 3.9 YPC last year while racking up 1,702 yards to rank 20th in the NFL.
"We haven't been satisfied," said Packers running back coach Alex Van Pelt. "We had to get better in the run game, and that was addressed."
With the 61st pick — the highest Ted Thompson has ever drafted a Packers running back — Green Bay selected Eddie Lacy, considered by many to be the best back of the 2013 draft class.
"Between the lines," said Thompson, Packers executive vice president, general manager and director of football operations, "he's a go-getter."
While helping Alabama repeat as national champions, Lacy rushed 204 times for 1,322 yards and 17 touchdowns in 2012. Having surpassed 100 rushing yards five times last season, Lacy may be the person to end the Packers' drought.
With 4.59 speed in the 40, the 5-11, 231-pound, downhill runner is known for his power.
"He rarely goes down with one guy trying to tackle him," said Packers director of college scouting Brian Gutekunst. "He's kind of got to be gang tackled."
A workhorse with good lateral quickness, Lacy also has the tools to be a three-down back and excel in the Packers' spread looks.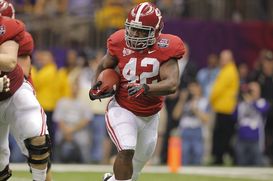 ICONThe Packers feel they got tremendous value in Lacy with the 29th pick in the second round.
Although Alabama mostly used Lacy on screens and check-down plays during passing situations, Van Pelt praised his receiving and route-running ability. And the Packers staff gushed over the blocking and pass protection of the 29th pick of the second round.
"I was a little surprised that Eddie fell down that far," Van Pelt said. "He was the top back in the draft as a runner, so I am excited to get him where we got him."
So why did Lacy drop so far?
Injuries and the Bama curse
A turf toe injury limited Lacy during 2011 and resulted in offseason surgery. He suffered through elbow and hand injuries the following season. The latter reportedly required a surgical procedure.
At the NFL Combine, chest and knee injuries prevented Lacy from working out. During Alabama's pro day the next month, Lacy pulled his hamstring, cutting short his performance.
Though nursing those injuries, Lacy still ran for 1,996 yards and 24 touchdowns during the last two years.
"He's played through whatever he's had," Gutekunst said. "So I don't think it's gonna be a concern."
As Gutekunst points out, Lacy's numbers while helping Alabama win back-to-back titles were spectacular. But the dominance of the Crimson Tide, college football's preeminent program, may have worked against him.
Some have wondered whether Lacy's success is more a result of his ability or those of the hosses in front of him clearing the way.
After all, Alabama's offensive line accounted for two of the top 11 picks in the 2013 draft as guard Chance Warmack and tackle D.J. Fluker were selected back to back by the Titans and Chargers, respectively. Versatile Barrett Jones, considered the leader and anchor of the 2012 Tide O-line, went in the fourth round to the Rams.
"They did have a very, very good offensive line at Alabama," Gutekunst said. "But he averaged 6.-something yards in the SEC his whole career."
But Lacy's two Tide predecessors, who also ran roughshod through SEC defenses, bring about further questions. Lacy spelled Trent Richardson in 2011, and the lead Tide back rushed for 1,679 yards and 21 touchdowns while averaging 5.9 yards per carry.
Playing a position that typically involves a quick transition to the NFL, Richardson rushed for just 950 yards while averaging 3.6 yards (tied for only 37th best in the league) in 2012.
Before taking over for him at Alabama in 2011, Richardson spelled Mark Ingram, the 2009 Heisman Trophy winner, who rushed for 3,621 yards and 42 touchdowns during his three years.
But Ingram, who I viewed as an excellent first-round selection by the Saints in 2011, has only 1,076 total yards in two NFL seasons while failing to reach four yards-a-carry during either year.
The other back
Even after selecting Lacy, the Packers added to their backfield, drafting UCLA's all-time leading rusher, Johnathan Franklin, with the 28th pick of the fourth round.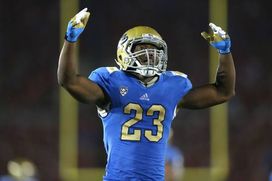 Franklin left UCLA as the school's all-time leading rusher.
A bit smaller (5-10 and 205 pounds) and more elusive (4.49 time in the 40), Franklin could provide a nice change of pace to Lacy's pounding.
Franklin rushed for 1,734 of his 4,403 yards last season as a senior or 412 more yards than Lacy did in 2012.
If Franklin has cleaned up his ball security issues — he fumbled six times in 2011 but just once in 2012 — he could be a huge steal for Green Bay.
He and Lacy could provide the Packers offense with the kind of balance it has sought for years.
"I'm very excited to have both of them in our group," Van Pelt said.
And perhaps one of them will produce that long-awaited 100-yard rushing performance.

Follow Jeff Fedotin on Twitter: @JFedotin
Jeff Fedotin has written for Packers.com, Pro Football Weekly, ESPN The Magazine, the Lawrence (Kan.) Journal-World and Rivals.com. After graduating from Northwestern University, he interned for the Buffalo Bills. During his football playing days at Pembroke Hill (Mo.) School, Fedotin was known for his bad knees and even worse blocking.