October 25, 2012 -
Joel Corry
Headed for the chopping block?
Since NFL player contracts aren't fully guaranteed and constrained by the salary cap, a majority of them are year-to-year propositions. Players are released in each offseason due to the salary cap or because their performances don't justify their salaries. Here's an early look at ten guys who could become salary cap casualties after the season.
Michael Vick (QB)-Philadelphia Eagles: Vick hasn't lived up to his 2010 MVP runner-up performance since signing a five-year, $80 million contract last season (contained a sixth year at $20 million that voided because his 2011 playtime exceeded 35%). He has been plagued by turnovers this season. Vick is responsible for 13 of Philadelphia's 17 giveaways. He has also been sacked 17 times in six games.
Head coach Andy Reid recently gave Vick a lukewarm endorsement, which prompted speculation that 2012 third-round pick Nick Foles could replace him since Reid is on the hot seat himself. If Vick can hold on to his job, it may take a deep playoff run in order for him to return next season. Vick has a $15.5 million base salary in 2013. $3 million of his salary, which is already guaranteed for injury, becomes fully guaranteed if he is on Philadelphia's roster three days after the Super Bowl (February 6th). The Eagles can gain $12.7 million in cap room by releasing him.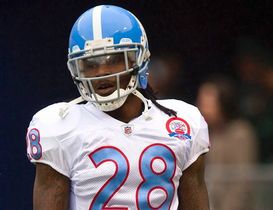 Johnson may be back in Tennessee next season if he can keep up his recent production.
Chris Johnson (RB)-Tennessee Titans: Johnson hasn't been the same player since breaking Marshall Faulk's yards from scrimmage record in 2009 by gaining 2,509 yards. His rushing totals have steadily declined after topping the 2,000 yard mark in that same season. After a lengthy preseason holdout in 2011, Johnson signed a four-year, $53.975 million contract extension. He posted career lows in rushing yards (1,047), yards per carry average (4.0) and touchdowns last year (4). Johnson followed up his disappointing 2011 campaign with an extremely slow start to begin the 2012 season. He only had 45 rushing yards in Tennessee's first three games. Since then, Johnson has started looking like his old self. He's leading the NFL in rushing over the last four weeks with 451 yards on 77 carries (5.9 yards per carry).
Johnson counts $12 million towards the cap next year. He has a $10 million base salary where $9 million becomes fully guaranteed five days after the 2013 waiver period begins (February 9th). If he keeps performing like he has over the last month, his salary guarantee date will become a non-issue. By releasing Johnson, the Titans will have given him an $18.975 million windfall thanks to his extension because his rookie contract ran through the 2012 season.
James Harrison (OLB)-Pittsburgh Steelers: Harrison's age and cap number, more so than his productivity, may be the reason why he could be playing his final season in Pittsburgh. Although Harrison is still effective at rushing the passer, he turns 35-years-old in May. The Steelers' restructuring of several contracts in order to get under the cap before the start of the 2012 League Year has contributed to their 2013 cap problems. They have approximately $127 million in salary committed to the 2013 cap for 35 players under contract when the top-51 cap numbers count in the offseason. With the cap expected to increase only modestly from $120.6 million, Harrison's $10.035 million cap number may be a luxury the Steelers can't afford. Pittsburgh would have a $4.93 million cap charge in dead money for Harrison if they part ways with him.
Charles Woodson (S)-Green Bay Packers: When Woodson signed his five-year, $50 million deal in 2010, he was a full-time cornerback. Now that the 36-year-old has moved to strong safety in base defense (he's still the slot cornerback in the nickel package), the deal doesn't make as much sense financially for Green Bay. Woodson, who is out for several games with a broken left collarbone, is scheduled to make $10 million in 2013. His leadership would be sorely missed if his Green Bay days are numbered, but the Packers would gain $10 million in cap room without having any dead money because of the way Woodson's contract is structured.
Matt Cassel (QB)-Kansas City Chiefs: It's hard to imagine a scenario where Cassel returns to the Chiefs since Brady Quinn has replaced him. As the starter, Cassel was largely ineffective in guiding the Chiefs to a 1-4 record. He committed 14 turnovers (nine interceptions and five fumbles) in his five starts while completing just 58.5% of his passes and only throwing for five touchdowns. The 2010 Pro Bowler's $7.75 million 2013 salary is too much for a backup quarterback. Cassel, who has a $9.825 million 2013 salary cap number, would free up $5.825 million of cap space for the Chiefs if they released him.
Michael Turner (RB)-Atlanta Falcons: Turner is on borrowed time because he has been a workhorse running back since signing with the Falcons in 2008 and is 30-years-old, which is ancient for running backs. He led the NFL in rushing attempts twice (2008 and 2010) and was second in 2011. His 1,189 carries were the most in the NFL during his first four seasons in Atlanta. Turner's workload has been reduced to 14 carries a game this year. As a consequence, he is projected to fall short of 1,000 rushing yards after averaging slightly over 1,400 rushing yards per year with the Falcons. Since only eleven running backs have hit the 1,000-yard rushing mark at 31-years-old, Atlanta may be more comfortable having Turner count $2 million in dead money on the cap than paying him $5.5 million next year.
Bart Scott (ILB)-New York Jets: Once a main cog in New York's defense, Scott saw his role diminish in 2011 when he was no longer an every-down linebacker. The 32-year-old was on the trading block during the offseason, but wasn't in high demand. With 2012 third-round pick Demario Davis emerging, the Jets could feel secure in letting Scott, who has an $8.65 million 2013 cap number, go after the season. The move would give the Jets $7.15 million in cap room.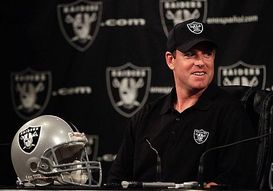 Palmer has been a huge disappointment since being traded to Oakland last year.
Carson Palmer (QB)-Oakland Raiders: The Raiders gave the Cincinnati Bengals their 2012 first-round pick and 2013 second pick (becomes a first-round pick if Oakland goes to the AFC Championship game) for Palmer last season because he was viewed as the missing piece to a playoff berth. Instead, the Raiders have a 6-10 record since acquiring him. The 2003 number one selection has thrown for 4,485 yards with 20 touchdowns and 20 interceptions in those 16 games. If the 2-4 Raiders' fortunes don't improve, they could be in line for a pick high enough to draft their quarterback of the future in April. Reggie McKenzie, who was hired as general manager in January, does not have a vested interest in Palmer. Since the Raiders will have major cap problems in the offseason, McKenzie might welcome the $5.995 million of cap relief (and $9.34 million in dead money on the cap) he can get from pulling the plug on Palmer, who has a $15.335 million cap number and $13 mil lion salary in 2013.
D.J. Williams (OLB)-Denver Broncos: Williams was suspended for Denver's first six games for violating the NFL's policy on performance enhancing drugs. Three more games were added to his suspension because of his August conviction of driving while impaired. Williams, who was the Broncos' leading tackler in four of the last five seasons, probably will not have a place in the lineup when he makes his 2012 debut on November 18th against the San Diego Chargers. Wesley Woodyard has performed capably at weakside linebacker in his absence. Although the Broncos might be able to handle his $7,732,500 cap number in 2013, they could decide that Williams is more trouble than he's worth. However, his ability to play every linebacker position could be his saving grace, especially considering Denver's problems at middle linebacker.
Demetress Bell (OT)-Philadelphia Eagles: Philadelphia's offensive line has been in disarray ever since left tackle Jason Peters tore his Achilles tendon in March. Bell signed a five-year, $34.5 million deal to help fill the void one week later. He lost the left tackle job to King Dunlap in the preseason. Bell won the job back while Dunlap had a hamstring injury, but has been demoted once again. It is unlikely that the Eagles will pay Bell's $8.5 million third day of the 2013 League Year roster bonus since he hasn't lived up to expectations and Peters will be ready to go next year, if not later this year. Philadelphia would pick up $9.6 million of cap room in the process.
Follow me on Twitter: @corryjoel
Joel Corry is a former sports agent who helped found Premier Sports & Entertainment, a sports management firm that represents professional athletes and coaches. Prior to his tenure at Premier, Joel worked for Management Plus Enterprises, which represented Shaquille O'Neal, Hakeem Olajuwon and Ronnie Lott. You can email Joel at jccorry@gmail.com