November 06, 2014 -
Joel Corry
Houston's big payday is coming
Kansas City Chiefs outside linebacker Justin Houston's career year is happening at the right time, as he is in the final year of a four-year rookie contract that pays $1.406 million this season.
Houston has an NFL-leading 12 sacks through eight games, which puts him on pace to break Michael Strahan's single season record of 22.5 sacks by 1.5 sacks. Besides having outstanding raw numbers, Houston fares well in Pro Football Focus' (PFF) metrics. He is PFF's top rated 3-4 outside linebacker this year, which he was in 2013 despite missing five games with an elbow injury. PFF also tracks total quarterback pressures (combined sacks, quarterback hurries and quarterback hits). Houston is tied for second in the NFL with 44 pressures.
The 2011 third-round pick skipped offseason activities and forfeited a $25,000 workout bonus in a contract dispute with the Chiefs. Houston reported to training camp despite his unhappiness with his salary because he lacked leverage to continue his holdout. He wouldn't have gotten a year of service towards free agency without reporting to the Chiefs at least 30 days prior to their first regular season game. Missing the August 5 deadline and playing out his rookie deal would have made Houston a restricted free agent in 2015.
Signing Houston to a long-term deal is a priority for the Chiefs, but the two sides have been far apart when engaging in contract discussions, according to multiple reports. Houston's productivity and recent developments with top tier defensive player salaries will make it more difficult for the Chiefs to reach an agreement with Houston, particularly before the end of this season.
J.J. Watt became the NFL's highest-paid non-quarterback (using average yearly salary) by signing a six-year, $100 million contract extension with the Houston Texans during the preseason. His deal contains $51,876,385 in guarantees, which is a record for defensive players. The St. Louis Rams signed Robert Quinn to a four-year extension averaging $14,253,724 per year early in the regular season. Quinn's $57,014,895 extension contains $41,171,774 in guarantees. Most recently, Gerald McCoy received a six-year, $95.2 million contract extension (with $51.5 million in guarantees and worth up to $98 million through incentives) from the Tampa Bay Buccaneers to become the NFL's highest-paid defensive tackle.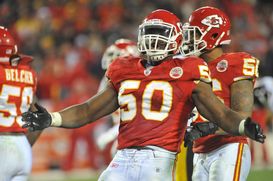 Houston is currently on pace to break the NFL's single-season sack record.
Houston's agent, Joel Segal, will likely raise his demands because of Houston's outstanding performance where he attempts to supplant Watt at the top of the non-quarterback market. Segal isn't opposed to playing hardball with teams in contract talks. He substantially raised the bar for running back salaries by negotiating a four-year, $53.975 million extension on Chris Johnson's behalf with the Tennessee Titans in 2011 to end his client's 35-day holdout. Johnson's deal at $13,493,750 per year averaged 56.5 percent more than the previous running back salary benchmark (Steven Jackson-$8,619,500 per year).
There are two major obstacles standing in the way of Houston reaching Watt's salary level. The Chiefs will be adamant about quarterback Alex Smith remaining the team's highest-paid player. Smith signed a four-year, $68 million extension (with $45 million in guarantees) in late August. Typically, the starting quarterback is at the top of a team's salary hierarchy when he gets a lucrative contract. For example, Matthew Stafford is the highest-paid player on the Detroit Lions (by average yearly salary) despite Calvin Johnson arguably being one of the five best players in the NFL.
The highest-paid defensive end has consistently made more than the highest-paid linebacker. The last time the reverse occurred was in 2009 when the Dallas Cowboys signed DeMarcus Ware to a six-year, $78 million extension during the middle of the season. The situation quickly changed in 2010. Julius Peppers replaced Jared Allen ($12,210,012 per year) as the highest-paid defensive end with the six-year, $84 million contract (worth a maximum of $91.5 million through incentives) he received from the Chicago Bears as an unrestricted free agent. The average salary of the highest-paid defensive end has increased by 36.5 percent since 2009 while it has remained stagnant for linebackers. Clay Matthews is currently the NFL's highest-paid linebacker at $13.2 million per year.
Houston won't be able to capitalize on his success in free agency because the Chiefs will use their franchise tag on him if a new deal isn't in place before the designation deadline in early March. The linebacker franchise tag number will be approximately $13.25 million in 2015 if there is a salary cap increase similar to this year's 8.13 percent ($144 million salary cap). A second franchise tag in 2016 should be $15.9 million, a 20 percent increase over Houston's 2015 number under these cap projections. The average of franchising Houston twice (slightly over $14.5 million per year) should give Segal more justification for a long-term deal above Quinn's.
Based on the changing market conditions for elite defensive players and the relationship between salaries of top pass rushing defensive ends and linebackers that consistently pressure opposing quarterbacks, expect Houston to sign a long-term deal somewhere between $14.5 million per year and $15.5 million per year as long as he doesn't sustain a serious injury before the end of the season. It's also conceivable that Houston could top the $45 million of overall guarantees in Smith's extension with a similar type of structure. Smith's deal contains $30 million fully guaranteed at signing.
Houston's three-year cash flow should be better than the $41,376,385 Watt is getting in the first three years of his deal. This would be understandable because Watt had two years remaining on his contract while Houston most likely would be signing a new deal after his contract expired.
Follow me on Twitter: @corryjoel
Joel Corry is a former sports agent who helped found Premier Sports & Entertainment, a sports management firm that represents professional athletes and coaches. Prior to his tenure at Premier, Joel worked for Management Plus Enterprises, which represented Shaquille O'Neal, Hakeem Olajuwon and Ronnie Lott. You can email Joel at jccorry@gmail.com.