April 08, 2013 -
Jeff Fedotin
How Andy fell for Alex
It would be one of the first major moves of the 2013 NFL offseason.
By the end of February, the Chiefs already had locked on to their new triggerman and they would trade for him on the first official day of the new league year. But coach Andy Reid's affection for Alex Smith began well before that.
Reid remains very close with one of Smith's college coaches.
Kyle Whittingham, a BYU linebacker from 1978 to 1981, practiced against Reid, a BYU lineman from 1979 to 1981, for three years, an experience which forged a long friendship.
The defensive coordinator during Smith's tenure at Utah, Whittingham then succeeded Urban Meyer as head coach of the program, which Smith helped put on the map.
"I've followed (Smith) since college," Reid said.
Reid became even more impressed and familiar with Smith during his NFL career.
Through a scheduling quirk, Reid's Eagles faced Smith's 49ers six times (2005, 2006, 2008, 2009, 2010 and 2011) during Smith's eight-year career with San Francisco. During those encounters, Reid became so enamored with Smith's toughness, smarts and accuracy that he inquired about acquiring him for the Eagles.
"When I was with Philadelphia — for whatever reason — we seemed to play them every year and got to see him firsthand," Reid said. "If given the chance, I wanted him on my team."
The feeling was mutual.
An eager Smith, who wore a Chiefs arrowhead lapel pin on his suit jacket during his introduction to the Kansas City media, targeted the Chiefs.
The 49ers had made it clear that Colin Kaepernick was their guy. As Smith made it equally clear he wanted to start and not continue as Kaepernick's backup, the 49ers told him they would trade him instead of granting his outright release.
Smith sought a trade to Kansas City.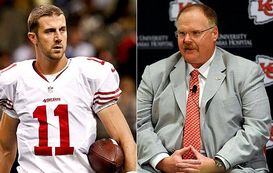 Alex Smith and Andy Reid begin the next chapter of their careers together in Kansas City.
"There is no doubt in my mind this is where I wanted to be," Smith said. "It wasn't close. Everything pointed here for me, and I was excited."
A QB-needy team that was otherwise talented, including a roster with six Pro Bowlers from last year (S Eric Berry, RB Jamaal Charles, P Dustin Colquitt, LB Tamba Hali, LB Justin Houston and LB Derrick Johnson), the Chiefs seemed like a natural fit.
Another draw was Reid, who served as Brett Favre's QB coach in Green Bay before guiding Donovan McNabb and Michael Vick in Philadelphia, and the reputation he earned as an offensive guru.
"His pedigree," Smith said, "speaks for itself."
Reid's QB pedigree started with Favre and the Packers, and during that time, Reid befriended John Dorsey, the new Chiefs general manager, who was scouting for Green Bay.
Further showing the deep connections embedded in the NFL old boys network, the Chiefs president, Mark Donovan, served as the Eagles vice president of business operations during Reid's tenure in Philadelphia.
Because of these relationships, the Chiefs served as a comfortable landing spot for Reid, Dorsey and Smith.
The latter hopes that makes for a smoother ride in Kansas City than his time in San Francisco.
Smith played for four head coaches and seven offensive coordinators during his 49ers career, which he started by throwing for one touchdown and 11 interceptions as a 2005 rookie.
After starting the 2007 season with a 2–1 record, he suffered a separated shoulder against the Seahawks. 49ers coach Mike Nolan questioned the severity of the injury and the quarterback's toughness, even though Smith eventually would need multiple surgeries.
Finally after compiling a 104.1 passer rating while steering the 2012 49ers to a 6-2-1 record, Smith would sustain a concussion and lose his starting job to Kaepernick, who led the 49ers to the Super Bowl.
Smith declined to call his trade to the Chiefs a fresh start, but he expressed great enthusiasm about playing quarterback in Kansas City.
"Because of what I've gone through, you grow as a player. You grow as a person. I'm ready for this," Smith said. "This is a new opportunity for me. I can't say how excited I am for it."
Follow Jeff Fedotin on Twitter: @JFedotin
Jeff Fedotin has written for Packers.com, Pro Football Weekly, ESPN The Magazine, the Lawrence (Kan.) Journal-World and Rivals.com. After graduating from Northwestern University, he interned for the Buffalo Bills. During his football playing days at Pembroke Hill (Mo.) School, Fedotin was known for his bad knees and even worse blocking.