July 11, 2012 -
Dion Caputi
How does the supplemental draft work?
The Supplemental Draft process is very different from April's installment of the same kind.
Each year, we as analysts, draftniks, and enthusiasts alike all get prepared for late April's NFL Draft as if the outcome directly affects our lives — and in many ways it does. As a raging football fan, nobody can tell you your team's success (or failure) does not affect your mood throughout the week. This can typically be correlated to an organization's ability to annually piece together a solid, complete draft class.
With that being said, after every April installment of the NFL Draft — but before the start of a new regular season — comes the less glamorous, but occasionally prosperous Supplemental Draft. The 'Supp Draft' is an intriguing and often-times mysterious entity to most NFL fans. Some have an idea of how the process works, while others know less than nothing about it.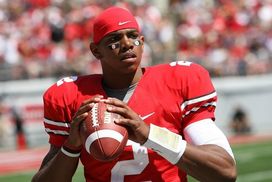 The Oakland Raiders gave up a third round pick last season for the right to land Ohio State quarterback Terrelle Pryor.
For those of you who fall under the category of the latter, lets go ahead and change that. Here is how the NFL's Supplemental Draft works:
Firstly, note the Supplemental Draft is a process designed to allow individuals, who did not enter April's initial draft, entry into the league. Players typically go the route of entering the Supplemental draft for special or unideal circumstances. Often the cause is underclassmen have not declared their intent to gain early entry into the league in order to be an applicant in April's draft prior to the listed deadline to do so — and have been ruled ineligible for the forthcoming college football season. Reasons for being ruled ineligible are generally due to academic infraction or disciplinary consequence.
The Supplemental Draft order is determined by a three-step 'weighted' system that entails a lottery within each level:
1. The first grouping consists of teams with 6 wins or less. A lottery is then conducted within this specific grouping and the odds are determined by record. Teams with a worse record are given a higher probability of winning a higher position within the grouping. Ex: The Indianapolis Colts (2-14) are given a 'weighted advantage' over the Washington Redskins (5-11).
2. The second grouping is comprised of non-playoff teams with more than 6 wins. This group follows the same weighted system as the first group.
3. The third grouping is comprised of the 12 playoff teams and also follows suit with the format of the initial two groups.
Now, after the order is determined following the format detailed above, teams are allowed to partake in a semi-auction style process. This enables teams to submit formal bids to the league with a round the organization would like to select a player in. Based on the determined order, the team who placed the highest bid is awarded the rights to that player. Ex: If the Dallas Cowboys (a group two team) bids a 3rd round draft choice on Joe Quarterback, and the Miami Dolphins (a group one team) bids a 4th round draft choice on Joe Quarterback, the player is awarded to Dallas.
If two teams within the same group bid equally on a player, quite obviously, the team with the higher pick following order determination wins the bid. Subsequently, if a team successfully bids in the Supplemental Draft and is given the rights to a player, they must forfeit a selection in the same round of the following draft. Ex: The Oakland Raiders were awarded quarterback Terrelle Pryor after a successful 3rd round bid in the Supplemental Draft of 2011; Oakland then forfeited its 3rd round draft choice in the traditional 2012 NFL Draft held this past April.
Note: in the Supplemental Draft, teams are in no way required to submit bids on available players.
Here's a breakdown of the number of players selected, by round, since the inception of the Supplemental draft in 1977:
Round 1: 8
QB Dave Wilson (1981), QB Bernie Kosar (1985), LB Brian Bosworth (1987), QB Steve Walsh (1989). QB Timm Rosenbach (1989), RB Bobby Humphrey (1989), WR Rob Moore (1990), QB Dave Brown (1992).
Round 2: 4
DE Darren Mickell (1992), OL Mike Wahle (1998), DT Jamal Williams (1998), RB Tony Hollings (2003).
Round 3: 5
DT Dan Sileo (1987), DT Darren Benson (1995), LB Ahmad Brooks (2006), DL Jeremy Jarmon (2009), QB Terrelle Pryor (2011).
Round 4: 5
RB Al Hunter (1977), WR Cris Carter (1987), DB Tito Wooten (1994), DB J'Juan Cherry (1999), DB Paul Oliver (2007).
Round 5: 4
WR Ryan Bethea (1988), TE John Davis (1994), DT Manuel Wright (2005), OT Jared Gaither (2007).
Round 6: 2
RB Rod Stewart (1979), OL Milford Brown (2002).
Round 7: 4
DE Matthew Teague (1980), RB Charles Crawford (1986), RB Harvey Unga (2010), DT Josh Brent (2010).
Round 8: 2
RB Roosevelt Snipes (1985), DB Brett Young (1989).
Round 9: 3
WR Billy Mullins (1980), DB Kevin Robinson (1982), TE Willie Williams (1990).
Round 10: 1
WR Johnnie Dirden (1978).
Round 11: 1
WR Chy Davidson (1981).
Round 12: 2
RB Rod Connors (1978), RB Mike Lowman (1989).
Quick Hits
-Franchise to use the most selections in the Supplemental Draft: Dallas Cowboys – 5
-Franchise with the second most selections in the Supplemental Draft: San Diego Chargers – 3
-Colleges with the most selections in the Supplemental Draft: Miami (FL)/USC – 3
-Colleges with the second most selections in the Supplemental Draft: Five schools – 2 (Florida St., Illinois, Kentucky, Ohio St., Oklahoma St.)
-Most selected position in the Supplemental Draft: RB – 9
-Second most selected position in the Supplemental Draft: QB/WR – 6
-Last All Pro (or Pro Bowler) selected from the Supplemental Draft: NT Jamal Williams (1998) – San Diego Chargers / OL Mike Wahle (1998) – Green Bay Packers.
Follow me on Twitter: @NFLDraftUpdate