June 22, 2013 -
Joel Corry
How Justin Smith could have landed more money
Justin Smith signed a two-year, $9.1 million contract extension with the San Francisco 49ers, which should ensure that the 33-year-old retires with the club. Smith was scheduled to make $8 million ($7.5 million base salary and $500,000 workout bonus) in 2013 prior to signing the extension. His 2013 compensation only increases by $100,000, which is in a roster bonus, with the new contract.
The 49ers pick up $4,273,334 of cap room from the deal because Smith's 2013 cap number drops from $8 million to $3,726,666. Smith converted $6.56 million of his $7.5 million base salary into a signing bonus. As a signing bonus, the 49ers are able to prorate the $6.56 million over Smith's existing contract year and the two extension years. His 2013 $940,000 base salary is guaranteed. $2 million of his $3.15 million 2014 base salary is also guaranteed.
Smith, who negotiated the contract himself after firing Creative Artists Agency (CAA), gave the 49ers a significant hometown discount with the deal. The six-year contract he signed in 2008 to join the 49ers averaged $7.5 million per year. Although Smith is an older player, who turns 34 in September, his performance doesn't warrant a salary decrease. Smith, who lines up at defensive end in San Francisco's base 3-4 defense but moves to defensive tackle in nickel packages, arguably deserves a slight pay raise despite his age.
Smith was a second team All-Pro last year after being named first team All-Pro at defensive tackle and second team All-Pro at defensive end in 2011.He is the only player in NFL history to be named All-Pro at both defensive line positions in the same season. Smith has been the driving force behind San Francisco's defense, which was evident when he sat out the final two games of the 2012 regular season after suffering a partially torn left triceps in Week 15 against the New England Patriots. All-Pro linebacker Aldon Smith didn't have a sack or consistently pressure opposing quarterbacks during Smith's absence after posting 19.5 sacks in San Francisco's first thirteen games.
Smith's extension averages less than $5 million per year. The average salary for starting defensive ends in 2012 was $5,061,217. Ricky Jean-Francois, who replaced Smith in the starting lineup last year after his triceps injury, signed a four-year, $22 million contract (including $8.5 million guaranteed) with the Indianapolis Colts in March once free agency started. Jean-Francois is making $11 million in the first two years of his deal.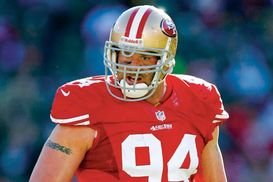 Smith has racked up 19 sacks over his last three years with the 49ers.
A team friendly structure was expected with any extension Smith signed since that's been the norm with San Francisco contracts in recent years. The 49ers have better protection with Smith's deal than with most of their other deals. Smith has per game active roster bonuses totaling $1.6 million ($100,000 per game) in 2014 and 2015. $1.4 million of the roster bonuses count against the cap right now because Smith missed two games last year. Smith's roster bonuses are the second highest on the 49ers, trailing on Frank Gore's $2 million ($125,000 per game) in each year of his 2011 contract extension. Gore's amount is much more justifiable than Smith's because Gore had only played in all 16 regular season games once in his career prior to signing his extension. Smith has been extremely durable. The triceps injury snapped his streak of 185 consecutive games played. Those were the first games Smith missed during his 12-year NFL career since his contract dispute with the Cincinnati Bengals in 2001 when he was a rookie.
Smith's split with CAA may have been over his willingness to accept a below market deal with team friendly structure despite CAA's objections. Smith negotiating his own deal seems reminiscent of Osi Umenyiora's situation last year. In his quest for a new contract, Umenyiora fired his agent, Tony Agnone, after he wouldn't recommend accepting what he considered as a substandard deal from New York Giants. Without representation, Umenyiora received a $1.275 million salary increase by reworking his 2012 contract year, the final year of his contract, but didn't get the lucrative long term deal he was seeking.
There are several things Smith could have done so his contract would have been structured better. His deal could have contained base salary de-escalators. The 49ers should have been receptive to the de-escalator concept since Anthony Davis' recent five-year contract extension has de-escalators in his 2014 through 2019 contract years. Davis' base salary will de-escalate by $500,000 in each year that he doesn't meet certain weight requirements. There's another $500,000 de-escalator that is triggered if Davis doesn't have at least 50% playtime in the previous season.
Smith should have pushed for his extension to at least match the $7.5 million average per year of his original 49ers contract. His per game roster bonuses should have been more reasonable. The bonuses shouldn't have been any more than $750,000 annually, which is the same as NaVorro Bowman's, with his remaining 2014 compensation fully guaranteed.
The de-escalator could have activated with a significant drop in Smith's playtime. He has 84.77% playtime (4,482 of 5,287 defensive snaps) during his five years with the 49ers. Smith's compensation could have equaled the salary in the appropriate contract year of his extension if the de-escalator was triggered. For example, if Smith's 2014 contract year would have contained a $6.7 million base salary and a $750,000 in per game roster bonuses, his base salary could have decreased by $2.7 million to $4 million with less than 50% playtime in 2013. In this scenario, Smith would be making the same $4.75 million as in his actual 2014 contract year, but the 49ers would only get financial relief because of an injury or a drop off in his play.
It will be interesting to see what the 49ers have planned for the cap space gained from Smith's extension. All-Pro left guard Mike Iupati could be in line for a contract extension since the 49ers are one of the most proactive teams in signing core players to contract extensions well in advance of the expiration of rookie contracts. The 49ers could decide to carry the cap room over to 2014 instead, since 2011 draftees Colin Kaepernick and Aldon Smith will be eligible to sign new deals at the conclusion of the 2013 regular season.
Follow me on Twitter: @corryjoel
Joel Corry is a former sports agent who helped found Premier Sports & Entertainment, a sports management firm that represents professional athletes and coaches. Prior to his tenure at Premier, Joel worked for Management Plus Enterprises, which represented Shaquille O'Neal, Hakeem Olajuwon and Ronnie Lott. You can email Joel at jccorry@gmail.com.