June 17, 2014 -
Joel Corry
How much is Demaryius Thomas worth?
According to multiple media reports, the Denver Broncos have offered wide receiver Demaryius Thomas a five-year contract extension. Pro Football Talk subsequently contradicted those reports. Regardless of whether a concrete offer has been made or talks are in the preliminary stages, retaining both Demaryius Thomas and tight end Julius Thomas are top priorities. Broncos general manager and executive vice-president of football operations John Elway recently said, "We'd like to get something done before the beginning of camp. We don't want to do anything once training camp starts. They're both in their last years, and we'd like for them to stay and be Broncos for a long time."
This timetable is consistent with Ryan Clady's negotiations when he was entering his contract year in 2012. Contract discussions were put on hold until after the season when Clady rejected a five-year, $50 million extension (with $28 million in guarantees) at the start of training camp because he wanted Joe Thomas money ($11.5 million per year/$37 million in guarantees). Clady signed a five-year, $52.5 million deal (with $33 million in guarantees and an additional $5 million in salary escalators based on first team All-NFL/All-Pro honors) last July as Denver's franchise player.
Elway may need to be more flexible with his timetable because the Broncos do not want to be in a position with both players unsigned long term heading into 2015 where they must use their franchise tag on one while the other becomes an unrestricted free agent. The wide receiver franchise tag number will be close to $13 million in 2015 with a salary cap increase next year similar to this year's 8.13 percent.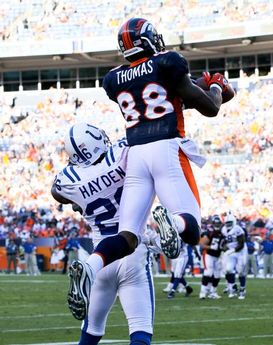 ICONThomas has hauled in 186 receptions over his last 32 regular season starts.
Thomas has been one of the NFL's most productive wide receivers over the last two seasons with 186 receptions (sixth in the NFL), 2,864 receiving yards (third in the NFL) and 24 touchdowns (tied for third in the NFL). In 2013, he joined Larry Fitzgerald, Marvin Harrison, Terrell Owens and Jerry Rice as the only wide receivers in NFL history with consecutive seasons of at least 90 catches, 1,400 receiving yards and 10 touchdown receptions. Thomas also led the NFL with 704 yards after the catch in 2013 and was second in receptions of more than 25 yards with 17.
The 2010 first round pick is in a select group of wide receivers (Dez Bryant, A.J. Green and Julio Jones) whose rookie contracts expire at the end of the 2014 or 2015 season that will likely look to top the five-year, $60 million contract (includes $30 million in guarantees) Mike Wallace received from the Miami Dolphins last year as a free agent. Calvin Johnson and Larry Fitzgerald set the wide receiver market on long term deals averaging slightly more than $16 million per year containing in excess of $45 million in guarantees.
Reaching Johnson/Fitzgerald's salary levels probably isn't realistic for these players, but Percy Harvin's five-year extension averaging $12,843,500 per year (with $25.5 million in guarantees) that was signed after the Seattle Seahawks acquired him from the Minnesota Vikings in a 2013 trade could be another important salary benchmark. Besides the two outliers, Johnson and Fitzgerald, Dwayne Bowe's five-year, $56 million deal (including $26 million in guarantees) with the Kansas City Chiefs in 2013 is the richest contract (by average yearly salary) for a wide receiver that re-signed with his own team.
Todd France represents both Thomas and Bowe. It will be a challenge for the Broncos to convince France that their deals should be comparable. The two-time Pro Bowler has 70 catches and 1,390 receiving yards more than Bowe over the last two years with three times as many touchdown receptions. Thomas catching passes from Peyton Manning, who is arguably coming off the best two-year stretch of his illustrious career, instead of Matt Cassel, Brady Quinn and Alex Smith can't be ignored, but isn't responsible for the large discrepancy in their production.
Denver is $4.3 million under the cap. It shouldn't be necessary to use much, if any, of their existing cap room with Thomas, whose $4.7 million 2014 cap number contains $1,756,250 of bonus proration, if the contract is structured like the team's recent free agent deals. The guarantees in these signings are a combination of signing bonus and mostly conditional base salary guarantees in the early years of the deal. For example, Thomas could get an $11 million signing bonus in a multi-year extension by lowering his base salary to near his $730,000 league minimum and converting the difference into a signing bonus while keeping his 2014 cap number the same.
It seems inevitable that Thomas will become one of the NFL's highest paid wide receivers with his next contract. Whether it will be on Elway's timetable or require him to play out his rookie deal like Clady remains to be seen.
Follow Joel on Twitter: @corryjoel
Joel Corry is a former sports agent who helped found Premier Sports & Entertainment, a sports management firm that represents professional athletes and coaches. Prior to his tenure at Premier, Joel worked for Management Plus Enterprises, which represented Shaquille O'Neal, Hakeem Olajuwon and Ronnie Lott. You can email Joel at jccorry@gmail.com.