August 26, 2014 -
Joel Corry
How much is Dez Bryant worth?
Wide receiver Dez Bryant is optimistic that the Dallas Cowboys and his agent, Eugene Parker, will reach an agreement on a contract extension before the start of the 2014 regular season. He will end negotiations until the off-season when his five-year rookie contract is set to expire if a new deal isn't in place by the regular season opener on September 7. The wide receiver wants to concentrate on football during the season and doesn't want his contract to become a distraction.
Bryant, who is making $2.03 million in 2014, has been one of the NFL's most productive wide receivers over the last two seasons with 185 receptions (seventh in the NFL), 2,615 receiving yards (sixth in the NFL) and 25 touchdown catches (tied for first in NFL). In 2013, he became the only wide receiver in Cowboys history with consecutive seasons of at least 90 catches and 1,200 receiving yards. Bryant and Calvin Johnson are the only two wide receivers with over 200 receptions, 3,500 receiving yards and 30 touchdown catches over the last three seasons.
The 2013 Pro Bowler could be poised to have a career year with passing game coordinator Scott Linehan, who is in his first year the Cowbys, assuming play-calling duties. Randy Moss set career highs of 111 receptions and 1,632 receiving yards in 2003 with Linehan as the Minnesota Vikings' offense coordinator. Johnson thrived with Linehan, who was the Lions' offensive coordinator from 2009 to 2013. He set the NFL single-season receiving yards record with 1,964 yards in 2012 and had 122 receptions, the only 100-catch season of his career.
Bryant reportedly wants to be paid among the top-five wide receivers. Johnson and Larry Fitzgerald set the wide receiver market with deals averaging slightly over $16 million per year. Johnson received a seven-year extension from the Detroit Lions at the start of the 2012 league year worth $113.45 million with $53.25 million fully guaranteed at signing (guarantees include Johnson's $4.5 million second day of the 2012 league year roster bonus). Fitzgerald signed a seven-year, $113 million extension (includes $45 million in guarantees) with the Arizona Cardinals in 2011.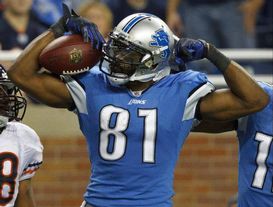 No doubt Dez and his agent will be looking to get as close to Calvin Johnson's contract as possible.
Rounding out the top five are Mike Wallace ($60 million, five years, $30 million in guarantees), Dwayne Bowe ($56 million, five years, $26 million in guarantees) and Percy Harvin ($67 million, six years, $25.5 million in guarantees). Harvin isn't valued at his $12,843,500 five-year extension average because a majority of teams treat new deals that are a part of a trade differently. The acquiring team is most concerned with the total compensation they will be paying their new player over the length of the contract instead of focusing on the new money as in other negotiations. These five deals average $13,648,333 per year, contain an average of $35.95 million in guarantees with six years as the average contract length.
The Cowboys will have a difficult time convincing Parker that Bryant should make less than Bowe. Bryant has 69 catches and 1,142 receiving yards more than Bowe over the last two years, with slightly over three times as many touchdown receptions.
Parker can also point to the Cowboys' history of paying wide receivers near the top of the market over the last decade. Terrell Owens made more money than any other NFL wide receiver during his three years in Dallas (2006-2008) at $31.73 million with his 2006 three-year contract and subsequent three-year extension in 2008 (Owens was released in March 2009) when he was 33 to 35 years old. Roy Williams received a five-year, $45 million extension in 2008, which made him the NFL's fifth-highest paid wide receiver (by average yearly salary), after being acquired from the Detroit Lions for 2009 first, third and sixth round picks in a mid-season trade. He never came close to duplicating his 2006 Pro Bowl season of 82 catches and 1,310 receiving yards during his almost three seasons with the Cowboys.
The structure of Bryant's contract may be just as big of an issue as the compensation. Although Bryant has showed signs of maturing and his off-the-field transgressions appear to be behind him, the Cowboys may want him to take less fully guaranteed money at signing with more conditional guarantees that vest by a certain date in a specific contract year (i.e.; 2016 base salary becomes fully guaranteed on the fifth day of the 2016 league year) than in their other lucrative deals and a team friendly cash flow. $25.5 million of Brandon Carr's $26.5 million in guarantees was fully guaranteed at signing. Tyson Smith's recent eight-year, $97.6 million extension, which made him the NFL's highest-paid offensive lineman, has $22,118,013 fully guaranteed at signing (out of $40 million in overall guarantees). $16.13 million of Sean Lee's $20 million in guarantees is fully guaranteed at signing. The extra conditional guarantees would be designed to encourage good continued behavior by Bryant and give the Cowboys salary cap flexibility if he doesn't after signing the deal.
The Cowboys can comfortably fit a new Bryant deal under the cap this year. The team has $9.557 million of cap space. For a change, the Cowboys aren't at the top of the NFL in cap obligations for the next league year. Five teams have more than the Cowboys' $142.3 million in 2015 cap commitments, which decreases by $7.04 million once Doug Free's contract voids after the season.
A new contract on Bryant's timetable might be more wishful thinking than anything else. The Cowboys may regret exercising a newfound fiscal restraint with Bryant, particularly if he performs as expected in Linehan's offense. The wide receiver franchise tag number will be close to $13 million in 2015 with a cap increase next year similar to this year's 8.13 percent, which could be even higher if the new Direct TV deal is in place. A second franchise tag in 2016 should be around $15.5 million, a 20 percent increase over Bryant's 2015 franchise number under these cap projections. The average of franchising Bryant twice (over $14 million per year) could give Parker ammunition to push Bryant's compensation closer to Johnson and Fitzgerald's if he plays out his rookie deal.
Follow me on Twitter: @corryjoel
Joel Corry is a former sports agent who helped found Premier Sports & Entertainment, a sports management firm that represents professional athletes and coaches. Prior to his tenure at Premier, Joel worked for Management Plus Enterprises, which represented Shaquille O'Neal, Hakeem Olajuwon and Ronnie Lott. You can email Joel at jccorry@gmail.com.