January 05, 2013 -
Jeff Fedotin
How Pioli's first major trade set back the Chiefs
Would you rather have Javier Arenas, a 5-9, 197-pound nickel cornerback, or four years of Tony Gonzalez, arguably the greatest tight end of all time?
The latter is the no-brainer choice. But Chiefs general manager Scott Pioli opted for the former when he traded Gonzalez to the Falcons for the 50th overall pick in the 2010 draft. Kansas City used that second-round selection on Arenas.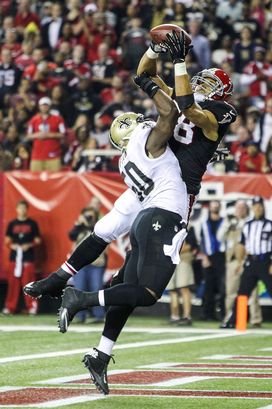 US PRESSWIREThe Chiefs traded Tony Gonzalez to the Falcons in 2009.
The Chiefs were 23-41 during Pioli's tenure, which was widely criticized for poor draft choices, coaching hires and evaluation of quarterbacks — decisions that led to the GM's recent dismissal.
The Gonzalez trade, however, is an overlooked factor in the team's demise, which one could group with the selection of DL Tyson Jackson, hiring of head coaches Todd Haley and Romeo Crennel and acquisition of QBs Matt Cassel and Ricky Stanzi.
Arenas is not a bad player, but he is far from a great one. Usually covering the slot receiver on third downs, he has started 12 games and totaled two interceptions and five forced fumbles during his three NFL seasons. This year he shifted to starting right cornerback after the Chiefs released Stanford Routt on November 5.
Aggressive when covering receivers and supporting the run, Arenas can struggle when going up against bigger outside targets. During a 31-13 Chargers victory in Week 9, QB Philip Rivers repeatedly victimized him, never even attempting a pass to the part of the field patrolled by CB Brandon Flowers.
The Chiefs also selected Arenas because of the special teams ability he showcased at Alabama. But he has never returned an NFL punt or kickoff for a touchdown during his 156 combined attempts.
Meanwhile Gonzalez has compiled 326 catches, 3,328 yards and 27 touchdowns during the four years since KC traded him away.
The future first-ballot Hall of Famer ranks second in receptions (1,242) and sixth in receiving touchdowns (103) in NFL history.
Why KC moved Gonzalez
Coming off a 2-14 season in 2008, the Chiefs were in obvious rebuilding mode, and Pioli needed youth.
Gonzalez was 32, an age when most receivers and tight ends start to decline, and their skills starts to diminish. And it was possible he would soon retire.
The tight end, however, takes care of his body in a way that trumps almost all professional athletes. He is so fastidious about his vegan diet that he authored the popular book, The All-Pro Diet: Lose Fat, Build Muscle, and Live Like a Champion.
He is so meticulous about his craft that he catches 40 balls before every practice, 40 more during mid-practice lulls and 20 after practice. After the reception he pauses to tuck the ball away, focusing on ball security.
Gonzalez was once a great athlete with just okay hands, but he turned that weakness into a strength through diligence.
Pioli likely figured he could find a replacement for Gonzalez that — while less talented — was cheaper and younger.
And the Chiefs did land tight ends with ability. They drafted Tony Moeaki a round after selecting Arenas in 2010.
Moeaki is a good player who unfortunately suffered a season-ending ACL tear during the 2011 preseason. Those kinds of injuries are freak occurrences, but his injury-plagued college career at Iowa was the reason he slid to the third round.
Pioli also signed TE Kevin Boss, who made one of the biggest catches of Super Bowl XLII for the Giants, during the 2012 offseason. But a Week 2 concussion ended his Chiefs season.
Like with Moeaki's injury history, KC should have been more cognizant of Boss' past, which included several concussions during 2008 and 2010 with the Giants.
The significance of the trade
One may hypothesize that the Gonzalez trade was the least of Pioli's foibles. His mistakes of paying and treating Cassel as a franchise quarterback; selecting Stanzi as the quarterback of the future and drafting Jackson instead of Clay Matthews, Brian Cushing or Brian Orakpo likely were more egregious errors.
Consider, though, that Cassel was a game manager who had an excellent ground attack led by Jamaal Charles. Having Gonzalez, a reliable tight end, as his sure-handed outlet would have been the perfect insurance for a run-based scheme — particularly one that cycled through Chan Gailey, Haley, Charlie Weis and Brian Daboll as playcallers during Cassel's tenure.
Gonzalez would have been the ideal player to ease Cassel's transition to a new team and system.
Reportedly, Gonzalez did ask for a trade, but Carl Peterson, the GM prior to Pioli, never found adequate compensation and declined to deal him. Although Gonzalez did indicate an interest in moving on, he never pulled a Carson Palmer-like, hard-line stance. If anything he seemed conflicted.
"I love Kansas City. I really do. If I could stay there, I would. That's why this is going to be a tough decision," Gonzalez told Yahoo! Sports during the 2009 Pro Bowl. "We've been rebuilding. It hasn't really seemed to go well. We won four (in 2007) and two this year. It's getting tough… I don't want to make it seem to the fans in Kansas City and to my teammates that I'm abandoning them."
Even if Gonzalez really wanted out, the Chiefs held all the cards. Gonzalez had three years left on his deal. With franchise tags at its disposal and the lack of guaranteed NFL contracts, NFL management never has to kowtow to the wishes of a star player.
And it is hard to imagine Gonzalez, whose excellent character rivals his on-field exploits, creating disharmony in the locker room.
The symbolism of the move
Tony Gonzalez is the active player to whom Peterson remains most connected.
In one of the best moves of his tenure, Peterson traded up five spots to draft Gonzalez 13th overall in the 1997 draft. The duo still text each other regularly.
Perhaps trading Gonzalez was like removing Peterson's last — and most indelible — fingerprints from the club.
Regardless, Gonzalez has stated he is "95 percent" sure this will be last his season. Falcons staff and players already have said they will lobby him to stay.
Whenever he does retire, Gonzalez will enter the Hall of Fame five years after that date. He likely will be enshrined as a Kansas City Chief — part of a franchise that never should have let him go.
Jeff Fedotin has written for Packers.com, Pro Football Weekly, ESPN The Magazine, the Lawrence (Kan.) Journal-World and Rivals.com. After graduating from Northwestern University, he interned for the Buffalo Bills.