December 12, 2014 -
Joel Corry
How the 49ers can bail from Kaepernick's contract
Colin Kaepernick's surprising regression this season and the anticipated departure of San Francisco 49ers head coach Jim Harbaugh could result in Kaepernick's tenure with the team being shorter than anticipated.
On the surface, it appeared as if the 49ers made a huge financial commitment to Kaepernick when he signed a six-year, $126 million contract extension during the offseason because of the overall value of the deal and the $61 million in guarantees. Kaepernick's extension has a team-friendly structure, as do all of the lucrative contracts negotiated by the 49ers in recent years.
Only $12,973,766 of the $61 million in guarantees is fully guaranteed at signing. $48,026,234 of Kaepernick's base salaries are guaranteed for injury only initially. His 2015 through 2017 base salaries and a portion of his 2018 base salary are fully guaranteed if he's on the roster on April 1 in each specific contract year (i.e. 2015 base salary becomes guaranteed on April 1, 2015).
Kaepernick doesn't have the same level of security as other quarterbacks with comparable deals. Jay Cutler, Tony Romo and Matt Ryan have $38 million, $40 million and $42 million, respectively, practically fully guaranteed at signing in their contracts, which is essentially triple Kaepernick's amount.
Kaepernick's contract also contains a convoluted $2 million per year salary de-escalator. Kaepernick's base salary for the following season doesn't decrease by the $2 million if he is named first or second-team All-Pro by the Associated Press, or the 49ers reach the Super Bowl while he has 80 percent playtime in the regular season and playoff games leading up to the Super Bowl (Wild Card, Division and Conference Championship games). Once Kaepernick reaches this threshold in a season, the de-escalator becomes void for the remainder of the deal.
The team's loss to the Oakland Raiders in Week 14 dropped San Francisco's record to 7-6, which virtually ensures the triggering of the salary de-escalator, so Kaepernick's 2015 base salary will go from $12.4 million to $10.4 million. However, the de-escalator being activated won't change Kaepernick's $15,265,753 2015 salary cap number. The lower salary, $10.4 million, is already a part of his cap number because de-escalation is being considered likely for cap purposes.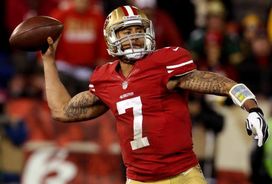 Will Kap be in a 49ers jersey past 2015?
Kaepernick's $12,328,766 signing bonus and the conditional guarantees make his deal a year-to-year proposition from the outset because the 49ers can part ways with him at anytime without adverse cap consequences. For example, $5,402,740 of cap room would be gained in 2015 by releasing Kaepernick before his $10.4 million base salary becomes fully guaranteed on April 1. The 49ers would have a $9,863,013 cap charge or dead money from the signing bonus proration in Kaepernick's 2016 through 2018 contract years accelerating onto the 2015 cap.
The 49ers releasing Kaepernick in 2015 is unrealistic because teams are usually reluctant to admit they made a mistake so quickly after giving a player a new deal. It would essentially amount to giving Kaepernick a $12 million windfall by releasing him so soon because his salary is $13,073,766 this year instead of the $1,073,766 he was scheduled to make by playing out his rookie contract.
The 49ers would attempt to trade Kaepernick before releasing him anyway. Kaepernick having his worst NFL season since becoming a starter and his failure to make significant strides as a pocket passer would impact the type of compensation the 49ers could get for him in a trade. It's hard to imagine the 49ers receiving a draft choice comparable to the second-round pick (36th overall) used to select him even though he still has upside as a quarterback.
The most likely scenario is the 49ers restructuring Kaepernick's contract in the offseason because he has the highest 2015 cap number on the team ($15,265,753) and the 49ers have the third-most 2015 cap commitments in the NFL at $148.9 million (51 players under contract) while having slightly over $4.5 million of unused cap room to carry over from this year. According to multiple reports, the NFL Management Council informed teams at an NFL meeting on December 9 that the 2015 salary cap is preliminarily projected to be between $138.6 million and $141.8 million. The actual salary cap this year is 5.3 percent higher than the preliminary projections this time last year. Regardless of where it is ultimately set, the 49ers have cap issues for 2015.
The 49ers have built cap flexibility into Kaepernick's contract because they can create cap room at any time during the deal with their discretionary right to convert a portion of his base salary into a signing bonus. Most lucrative contracts around the league contain a clause similar to this one. The 49ers could create a maximum of $7.724 million in 2015 cap space through a restructure by converting $9.655 million of Kaepernick's $10.4 million 2015 base salary into a signing bonus. Kaepernick's 2015 cap number would drop to $7,541,753. His 2016, 2017, 2018 and 2019 cap numbers would each increase by $1.931 million under this scenario.
Whether Kaepernick has a bounce back year in 2015 will largely determine his fate with the 49ers. If the San Francisco is able to solve their cap woes in the offseason without changing Kaepernick's contract, then $9,368,493 of cap room would be picked up in 2016 by releasing Kaepernick before his $11.9 million base salary (assumes he didn't extinguish the de-escalator mechanism with his 2015 performance) became fully guaranteed.
There's a significant difference in the cap savings by releasing Kaepernick after a 2015 restructure for maximum cap space, which is more likely than the 49ers leaving his 2015 cap alone. In this instance, $3,575,493 of cap room would be gained in 2016. The 49ers would have a $15,121,260 cap charge from the signing bonus proration in Kaepernick's 2017 through 2019 contract years accelerating onto the 2016 cap.
$14.3 million of 2016 cap room could be created by giving Kaepernick a post-June 1 designation or releasing him after June 1. The only 2016 cap charge for the 49ers would be Kaepernick's $4,396,753 of 2016 signing bonus proration. The 49ers would also have a $10,724,507 cap charge in 2017 relating to Kaepernick with post-June 1 treatment. Carrying Kaepernick's entire $18,696,753 2016 cap number until June 2 is required with this route. Either way, releasing Kaepernick in 2016 would be the equivalent of giving him a one-year extension for $24.8 million because his rookie contract ran through the 2014 season.
Follow me on Twitter: @corryjoel
Joel Corry is a former sports agent who helped found Premier Sports & Entertainment, a sports management firm that represents professional athletes and coaches. Prior to his tenure at Premier, Joel worked for Management Plus Enterprises, which represented Shaquille O'Neal, Hakeem Olajuwon and Ronnie Lott. You can email Joel at jccorry@gmail.com.