January 08, 2014 -
Jeff Fedotin
How the loss of Flowers led to a heartbreaking loss
The symbolic play of the Chiefs' crushing 45-44 loss to the Colts — the franchise's eighth consecutive playoff defeat, which includes four to Indianapolis — occurred on the unluckiest of bad bounces.
With 10:38 left in the game, Chiefs safety Eric Berry forced running back Donald Brown to fumble near the goal line. The ball popped into quarterback Andrew Luck's hands. He scored, cutting the lead to 41-38.
"Andrew picks that ball up and finds a way," Colts coach Chuck Pagano said. "That was incredible."
Though that incredible momentum swing may serve as the burning memory from the Colts' comeback from a 38-10 third-quarter deficit, the game-changing event likely occurred when the Chiefs lost cornerback Brandon Flowers with a concussion.
After his injury the wheels came off for the Chiefs.
As Brown scored a touchdown to make it 38-24 with 7:32 left in the third quarter, Flowers collided with Marcus Cooper. A visibly woozy Flowers was forced from the game.
Flowers, who deservedly earned his first Pro Bowl nod this year, is the perfect cornerback for defensive coordinator Bob Sutton's scheme.
The 5-9, 187-pounder plays with a physical nature that belies his size. Sutton's array of blitzes often leave his cornerbacks alone in man-to-man coverage, Flowers' specialty.
After Flowers left the game — he missed about a quarter and a half of game action — Luck passed for 201 yards and two touchdowns, including the game-winning 64-yard TD pass to T.Y. Hilton.
Sure, there were other reasons for Kansas City's collapse.
Linebacker Robert Mathis' strip-sack gave Indianapolis life; Luck is as clutch as they come and the Chiefs' depleted squad was down to its third-string running back, was without its No. 2 wide receiver and also had pass rushers Tamba Hali and Justin Houston ailing.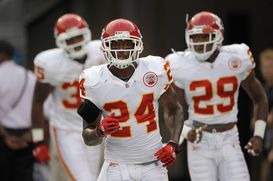 Flowers made 13 starts for the Chiefs this season en route to the first Pro Bowl nod of his career.
But even as both those linebackers were hurt late in the year and the Chiefs' sack numbers plummeted, Flowers was an anchor, helping to hold together a slumping defense.
Early in the season, Cooper, a seventh-round draft pick claimed from the 49ers via waivers, emerged as a defensive sleeper.
But Broncos quarterback Peyton Manning exposed the rookie cornerback in Week 13. He allowed two touchdowns to Broncos wide receiver Eric Decker in a seven-minute span. With 14 minutes left in that game, Manning already had targeted Cooper 10 times, and Cooper had given up seven catches for 165 yards.
As a result the Chiefs benched Cooper with him only starting in Week 17 because Kansas City — with its playoff seeding already assured — did not play any of its defensive starters.
Because of Cooper's struggles, Dunta Robinson began seeing more time, but he had coverage difficulties, too, which is why he was previously benched in October.
In the playoff game, Hilton burned him with a stutter move to score his first touchdown.
As a result of their pass coverage woes, the Chiefs switched Flowers to the slot cornerback late in the season, showing his versatility and how Kansas City looked to the six-year veteran to stabilize its defense.
That was not an easy transition for Flowers to make.
Because the slot receiver lines up between the linemen and another wide receiver, a nickel cornerback plays in a more confined space, meaning Flowers had many more reads to make. While the outside receiver has a designated route, a slot receiver often predicates his route on the action of the defender, which also is known as an option route.
On the surface, the injury to the Chiefs' best cornerback was not the one that would kill Kansas City's chances of defeating the Colts.
That setback seemingly occurred less than five minutes into the game when running back Jamaal Charles banged his head on the turf after going around right end for seven yards. He did not return.
Pagano had spent the week obsessing over containing Charles, an obvious objective, considering Charles had amassed 1,980 total yards and 19 touchdowns this season.
"He was the guy that all eyes were on and the guy that you had to stop," Pagano said.
But while Charles is clearly the Chiefs' most dynamic playmaker, Kansas City still put up 513 yards of offense with its star back missing virtually the entire game.
Instead, the Flowers injury proved most costly as the Chiefs allowed 436 passing yards to the Colts.
Perhaps Chiefs fans can take some solace in the fact that their team nearly won a game it had no business winning, considering the litany of significant injuries.
And with a strong leadership structure of John Dorsey and Andy Reid in place and eight Pro Bowlers on the roster, the Chiefs are in good shape for the future.
After finishing 2-14 in 2012, Kansas City could be poised for a return to the playoffs in 2014, which would mark the franchise's first back-to-back postseason appearances since Marty Schottenheimer roamed the sidelines.
"Coming from having the first pick last year to making the playoffs this year, we did accomplish some things," said linebacker Derrick Johnson after the game. "At the same time, our standard is very high, and this one right here hurts."
Follow Jeff on Twitter: @JFedotin
Jeff Fedotin has written for Packers.com, Pro Football Weekly, ESPN The Magazine, the Lawrence (Kan.) Journal-World and Rivals.com. After graduating from Northwestern University, he interned for the Buffalo Bills. During his football playing days at Pembroke Hill (Mo.) School, Fedotin was known for his bad knees and even worse blocking.