April 01, 2014 -
Joel Corry
How to modify the franchise tag system
New Orleans Saints head coach Sean Payton was on the right track in calling the NFL's franchise tag system "antiquated" at the NFL owners meetings. Payton is hopeful that the system will be revisited and adjusted over time. Absent a compelling reason, the owners will not have any incentive to seek changes to the system until the current Collective Bargaining Agreement (CBA) expires after the 2020 league year.
Saints tight end Jimmy Graham is expected to file a grievance to be classified as wide receiver before the CBA's April 22 deadline if he doesn't sign a long-term contract in the meantime. The wide receiver franchise tag is $5.079 million more than the tight end franchise tag in 2014. Losing a grievance to Graham could be the catalyst to quicker change with franchise tags.
Here are some changes that should be made to the franchise tag system.
Redefine positions
Currently, there are 11 different positions receiving franchise tags. These do not adequately reflect how football has evolved since the franchise tag system's inception in 1993. The evolution of tight ends is central to Jimmy Graham's potential grievance with the Saints. For purposes of franchise tags, a player's position is determined by where he participated in the most plays during the prior season. According to ESPN, 45 percent of Graham's snaps were in the slot, 33 percent were as an in-line tight end and 22 percent were out wide. A new classification differentiating between tight ends who take a majority of their snaps in-line and those who don't could be created. One possibility could be for tight ends that function similarly to wide receivers to receive a franchise tag with the average of the tight end and wide receiver franchise tags. This hybrid tag would be $9.593 million this year.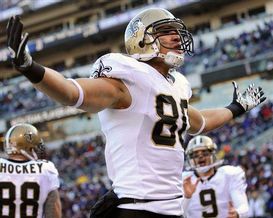 A hybrid tag could help to settle the dispute between Jimmy Graham and the New Orleans Saints.
A hybrid tag wouldn't be a foreign concept. In 2008, the Baltimore Ravens' Terrell Suggs challenged his franchise player designation as a linebacker by contending he had more playing time as a defensive end. The Ravens and Suggs settled the dispute without establishing a precedent by agreeing to use the average of the defensive end and linebacker franchise tags. The NFL and NFLPA should also extend the Suggs settlement to all linebackers, primarily 3-4 outside linebackers, with the requisite playing time at defensive end.
Offensive line should be split to reflect the three main positions (center, guard and tackle). Typically, the franchise tag is composed of tackles, so guards and centers get a financial windfall when franchised. For example, New York Jets center Nick Mangold had the only center salary cap number over $7 million while the 2013 franchise tag for offensive linemen was $9.828 million.
Two franchise tag limitation
The 2006 CBA ensured that players at all positions, with the possible exception of quarterback, wouldn't be franchised more than twice because a third franchise tag on a player is the greater of the highest franchise number at any position (usually quarterback) or 144 percent of the player's prior season's salary. Linebacker Karlos Dansby and kicker Adam Vinatieri weren't franchise tag possibilities for the Arizona Cardinals and Indianapolis Colts, respectively, because it would have been $16.912 million, the quarterback number, to franchise them for a third time in their careers. The 144 percent and highest franchise number provision should be removed with a strict limit of two franchise tags per player put in its place.
Eliminate July 15 deadline for multi-year contracts
Prior to the 2006 CBA, there was a 30-day period immediately following the franchise tag designation deadline to agree to a long-term deal with a franchise player before what essentially amounted to a four-month signing moratorium began. During this four-month period, if a franchise player signed a long-term deal, his designation lasted for the duration of the contract, which prevented teams from franchising another player until then. The restriction didn't apply for long-term deals signed after July 14.
The 2006 CBA eliminated the rules—which led to the signing moratorium—but created a July 15 deadline for long-term deals. In 2013, Broncos offensive tackle Ryan Clady was the only one of the eight players given a franchise tag that got a multi-year contract. The deadline has led to Cliff Avril, Dwayne Bowe and Jairus Byrd missing parts of training camp and the preseason over the last two years to either protest their franchise tags or as an attempt to minimize the risk of injury before regular season play began. The best of the past and current CBA rules on franchise tag signings can be achieved by abolishing the July 15 negotiating deadline.
Decrease franchise tag compensation
Franchise players rarely switch teams because the compensation on an unmatched offer sheet is two first round picks. Joey Galloway in 2000 was the last franchise player to move to another team for full compensation when the Seattle Seahawks received two first round picks from the Dallas Cowboys.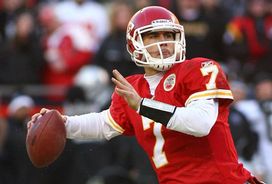 Former New England Patriots quarterback Matt Cassel was the last franchise player to be traded.
Typically, when players with franchise tags switch teams, it's through a trade with less than two first round picks received in return. The last trade of a franchise player occurred in 2009. The Kansas City Chiefs acquired quarterback Matt Cassel (and linebacker Mike Vrabel) from the New England Patriots in exchange for a 2009 second round pick (34th overall). A year earlier, Kansas City traded defensive end Jared Allen to the Minnesota Vikings for a first round pick (15th overall) and two third round picks in the 2008 NFL draft. The teams also swapped 2008 sixth round picks.
The current CBA eliminated the highest restricted free agent tender, which required first and third round picks as compensation for unmatched offer sheets. This level of compensation may be more appropriate for franchise players than two first round picks.
Follow me on Twitter: @corryjoel
Joel Corry is a former sports agent who helped found Premier Sports & Entertainment, a sports management firm that represents professional athletes and coaches. Prior to his tenure at Premier, Joel worked for Management Plus Enterprises, which represented Shaquille O'Neal, Hakeem Olajuwon and Ronnie Lott. You can email Joel at jccorry@gmail.com.