August 23, 2013 -
Joel Corry
How to solve Tarell Brown's $2 million mistake
Joel Segal, Tarell Brown's new agent, and the San Francisco 49ers have had discussions about finding a resolution for the $2 million base salary escalator Brown forfeited by skipping the 49ers' voluntary offseason workout program. Brown is making $925,000 this year, which is the final year of a three-year, $7.2 million contract extension he signed in 2009, instead of $2.925 million.
Brown's $2 million base salary escalator was triggered by him having more than 80% playtime in the 2011 and 2012 seasons but also required him to participate in the 49ers' offseason workout program. Tying a base salary escalator to workout program participation isn't unique to Brown's contract. Osi Umenyiora has a 2014 base salary escalator worth a maximum of $3.75 million that's primarily based on his 2013 sack total. He will forfeit the amount he earns under his escalator if he doesn't complete 85% of the Atlanta Falcons' 2014 offseason workouts, and fully participate in their 2014 mandatory mini-camp and training camp.
Brown's predicament is somewhat reminiscent of Dennis Northcutt's situation in 2004. Northcutt's agent missed a deadline to void the final three years of his seven-year rookie contract. Instead of becoming an unrestricted free agent after having a career year, Northcutt was left with three contract years totaling slightly more than $2 million. The Browns didn't require Northcutt to play under those remaining contract years. They signed him to a three-year, $9 million contract that replaced the years he neglected to void.
The 49ers aren't under any obligation to solve Brown's problem. Extending Brown's contract is the cleanest solution. According to Pro Football Focus, Brown was the NFL's fourth-best cover cornerback in 2012. An extension may be a difficult proposition if Brown thinks he should be the 49ers highest paid cornerback. That distinction currently belongs to Carlos Rogers, who signed a four-year, $29.3 million contract (including $10.15 million in guarantees and worth a maximum of $30.55 million through incentives) in 2012 after intercepting six passes in a 2011 Pro Bowl season. Rogers' deal doesn't reflect this year's soft cornerback market. Sean Smith's three-year, $16.5 million contract (with $10.915 million in guarantees and an additional $1.5 million in escalators and incentives) from the Kansas City Chiefs and the three-year, $17 million contract ($10.5 million in guarantees and an additional $2 million in escalators and incentives) Cary Williams received from the Philadelphia Eagles were the top cornerback deals in free agency.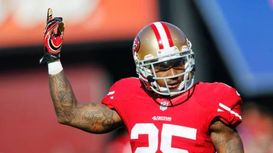 Brown has amassed six interceptions over his last 32 starts with the 49ers.
Another option would be to give Brown the opportunity to earn back a majority of the $2 million he lost from his mistake through incentives. Any 2013 incentives with higher thresholds than Brown's 2012 individual statistical achievements (two interceptions, 17 interception return yards, 97.36% playtime, etc.) would be classified as not likely to be earned (NLTBE) and wouldn't count towards the 2013 salary cap. A playtime incentive at a lower threshold than 98% will only be classified as NLTBE for Brown provided that it is coupled with an allowable team incentive. Unfortunately for Brown, the 49ers ranked in the NFL's top-five in most allowable defensive team incentive categories (total defense, points allowed, average net yards given up per passing play, etc.). San Francisco's lowest ranking came in interceptions where they were tied for 16th with 14.
The $1.65 million of incentives in Nnamdi Asomugha's one-year contract with a base value of $1.35 million could be used as a guide with Brown. Asomugha has $800,000 in honors incentives. He earns $400,000 for making the Pro Bowl and an additional $400,000 for being named All-NFL. Asomugha's playtime incentives are worth up to $425,000. They begin at 70% defensive playtime with Asomugha receiving $100,000 if the 49ers make the playoffs. He gets another $100,000 for 80% playtime and the playoffs. The final threshold is 90% playtime and playoff participation, which is for an additional $225,000. The remaining 425,000 is in interception incentives. He gets $100,000 with four interceptions and a playoff berth. Six interceptions and making the playoffs are worth another $100,000. Asomugha receives an additional $225,000 with eight or more interceptions and the playoffs. Since Asomugha's probable role is as the 49ers' third cornerback, paying incentives to both players is unlikely.
The 49ers may be extremely reluctant to explore this avenue because they may not want to set the precedent of financially rewarding players when they don't fulfill their contractual obligations. San Francisco's most recent lucrative contracts contain significant base salary de-escalators for too many missed workouts. NaVorro Bowman has a $500,000 de-escalator for each year that he doesn't complete 90% of the scheduled workouts in the 49ers' offseason conditioning program. The 49ers would probably prefer that Brown pursue a malpractice claim against his former agent, Brian Overstreet, for his negligence in failing to disclose to him the financial ramifications of missing San Francisco's workout program over adding incentives to his deal.
Brown would like some sort of resolution before the 49ers' September 8 regular season opener against the Green Bay Packers. He insists that his contract won't be a distraction. The 49ers run the risk of alienating Brown where he looks to leave the team after the season when he's a free agent if nothing is done. There's also a possibility that the situation could affect team chemistry since some of his teammates may be sympathetic to his plight.
The best solution for everyone is extending Brown's contract. He's compromised any leverage he had in negotiations with his mistake. Brown giving the 49ers some sort of hometown discount may be required in order for him to get a new contract.
Follow me on Twitter: @corryjoel
Joel Corry is a former sports agent who helped found Premier Sports & Entertainment, a sports management firm that represents professional athletes and coaches. Prior to his tenure at Premier, Joel worked for Management Plus Enterprises, which represented Shaquille O'Neal, Hakeem Olajuwon and Ronnie Lott. You can email Joel at jccorry@gmail.com.