March 01, 2012 -
Joel Corry
In like Flynn
Green Bay Packers backup quarterback Matt Flynn made a lot of money by passing for 480 yards and six touchdowns—both single-game team records—against the Detroit Lions in their 2011 regular season finale.
With only two blue-chip quarterback prospects in the 2012 NFL Draft (Andrew Luck and Robert Griffin III) and the top free agent quarterbacks (Drew Brees and Alex Smith) expected to receive franchise tags or re-sign with their own clubs, Flynn will be highly coveted. Assuming Peyton Manning is released, he will be Flynn's chief competition in free agency. The rest of the quarterbacks will be an undistinguished group of veterans, which include Jason Campbell, Kyle Orton and Vince Young.
Flynn has started only two games in his four-year NFL career, but that hasn't stopped NFL teams from paying inexperienced, yet promising quarterbacks. For example, Scott Mitchell received a three year, $11 million deal from the Detroit Lions in 1994 despite starting just seven games during the 1993 season (the only starts of his career at that point) with the Miami Dolphins.
To put Mitchell's deal in perspective, the salary cap was $34.608 million when he signed, which makes his contract equivalent to roughly $12.75 million per year under 2011's $120.375 million salary cap.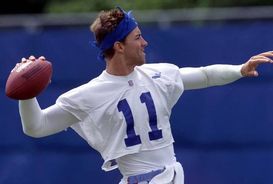 Buffalo fans still cringe at the thought of Rob Johnson under center for their beloved franchise.
The Buffalo Bills traded their 1998 first and fourth round picks to the Jacksonville Jaguars for Rob Johnson, largely off of an impressive game in the only start of his three-year Jacksonville career. Subbing for an injured Mark Brunell, Johnson completed 20 of 24 passes for 294 yards (two touchdown passes and one rushing touchdown) in the 1997 season opener against the Baltimore Ravens. He got a four-year contract extension averaging $6,162,500 per year with the trade. While in Buffalo, Johnson was involved in a quarterback controversy because he was consistently outplayed by Doug Flutie, who was supposed to be his backup.
In 2007, the Houston Texans acquired restricted free agent Matt Schaub from the Atlanta Falcons in a sign-and-trade deal where they gave up two second round picks (2007 and 2008) and switched 2007 first round picks. Schaub, who had only started two games in three seasons, received a six year, $48 million deal (with $17 million guaranteed) in the process. At the time of the trade, Schaub had only completed 52.2% of his career passes and thrown as many touchdown passes as interceptions.
More recently, the Arizona Cardinals traded cornerback Dominique Rodgers-Cromartie and a 2012 second round pick to the Philadelphia Eagles for Kevin Kolb after the lockout ended. Kolb signed a five-year, $62.108 million contract extension (with $20 million in guarantees) as part of the deal. The former Houston Cougar had a losing record in the seven starts he made during his four years in Philadelphia.
With the Cardinals, Kolb missed seven games due to injuries and didn't live up to expectations when healthy. As a result, Cardinals head coach Ken Whisenhunt recently indicated that Kolb and John Skelton will compete for the starting quarterback job this offseason.
With the Packers keeping tight end Jermichael Finley off of the open market by signing him to a new contract, there is increased speculation that they will place their franchise tag on Flynn. However, Finley's deal adds $5.25 million to the Packers 2012 salary cap obligations. They would have to clear close to $10 million of cap room in order to franchise Flynn.
The struggles of Rob Johnson and Kevin Kolb as starters won't discourage teams from taking a similar gamble on Flynn. At the Combine, Packers head coach Mike McCarthy declared that Flynn is ready to be an NFL starter. It's likely that some team will pay a premium for him because they will believe he can solve their quarterback problems.
The Miami Dolphins seem like a prime candidate since they hired Flynn's offensive coordinator, Joe Philbin, as head coach. If these other deals are any indication, Flynn could receive a contract in excess of $10 million per year and $20 million in guarantees. With a bidding war, his contract could exceed Kolb's deal.
At that type of money, Flynn's new team better hope he turns out to be at least a poor man's version of Aaron Rodgers instead of the second coming of Rob Johnson.
Joel Corry is a former sports agent who helped found Premier Sports & Entertainment, a sports management firm that represents professional athletes and coaches. Prior to his tenure at Premier, Joel worked for Management Plus Enterprises, which represented Shaquille O'Neal, Hakeem Olajuwon and Ronnie Lott. You can email Joel at jccorry@gmail.com