April 30, 2013 -
Joel Corry
Inside Aaron Rodgers' new deal
Aaron Rodgers became the highest paid player in NFL history (average yearly salary) by signing a five-year, $110 million contract extension with the Green Bay Packers. He had two years remaining on his contract with $9.75 million and $11 million salaries this year and next year.
The deal contains $54 million in guarantees, including a $35 million signing bonus. Rodgers' $9.5 million first day of the league year roster bonuses in 2014 and 2015 are guaranteed for skill and injury. His $54 million is the fifth-largest amount of guaranteed money ever received in an NFL contract, trailing only Drew Brees ($60.5 million), Peyton Manning ($58 million), Tom Brady ($57 million) and Tony Romo ($55 million).
Rodgers has unguaranteed $4.5 million, $900,000, $1 million, $11.5 million, $12.55 million, $19.8 million and $20 million base salaries during his 2013 through 2019 contract years. The deal also contains annual $500,000 workout bonuses and per game active roster bonuses totaling $600,000 ($37,500 per game) in each of the extension years (2014-2019).
Rodgers is getting $62.5 million in the first three years of his contract, which is the best three year cash flow in the NFL and narrowly eclipses Joe Flacco's $62 million. Rodgers has only been topped by the $70.2 million Manning had in the first three years of the contract he signed with the Indianapolis Colts in 2011. Unlike Manning, Rodgers should play these years in his new deal.
The Packers are using an additional $2.25 million of salary cap room on Rodgers under the new contract. His 2013 cap number goes from $9.75 million to $12 million. The cap numbers steadily increase each year from $17.9 million in 2014 to a high of $21.1 million in 2019, the last year of the deal.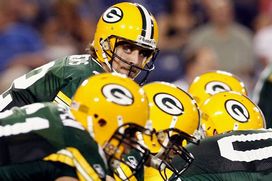 Aaron Rodgers new contract contains $54 million in guarantees.
Rodgers' cap numbers are manageable, particularly for a contract of its size. By contrast, Flacco has an NFL-high $28.55 million cap number in 2016 when there are three years left on his deal. He also has the largest cap number in 2017 when it peaks at $31.15 million. Tony Romo's $21.773 million 2014 cap number is the NFL's highest next year. His $25.273 million cap number in 2015 ranks right behind Brees' league-leading $26.4 million 2015 cap number. Brees drops to number two in the NFL in 2016 with a $27.4 million cap number, which is the final year of his contract.
Overall, the deal is reasonable for Rodgers but more favorable to Green Bay. Rodgers gave the Packers a slight hometown discount especially considering that Manning reportedly turned down a contract averaging $25 million per year from the Tennessee Titans, with more guaranteed money and better structure than his Broncos contract. Quarterbacks with contracts expiring in the next two years, particularly Matt Ryan and Matthew Stafford, may be a little disappointed that the deal isn't more lucrative. However, Rodgers' contract is more front-loaded than his 2008 extension, which was signed when he had one and half years left on his rookie deal. He receives 30.6%, 39% and 47.8% of his money through the first, second and third years of his new contract. Rodgers was at 19.9%, 33.1% and 43.1% in those years with the 2008 deal.
The Packers recognized that Rodgers had outperformed his contract and was grossly underpaid. They could have waited until he was entering his contract year to start negotiations on a new deal and seemed to utilize it in the negotiations given the contract's structure. Rodgers didn't set a record for contract guarantees, but Green Bay deviated from their standard conventions by giving the quarterback roster bonus guarantees in his second and third contract years. He is the only player on the Packers with a veteran deal that has guarantees after the first contract year.
Rodgers could be helping to establish a precedent for top quarterback deals by accepting per game roster bonuses. Matt Schaub, who is the seventh-highest paid quarterback (by average yearly salary), is the only other quarterback among the ten highest paid with per game active roster bonuses. He has per game bonuses totaling $1 million ($62,500 per game) in his 2014 through 2016 contract years. The Texans wanted protection because of Schaub's injury history. He had missed 16 games over his five seasons in Houston—including the last six games of the 2011 season and the playoffs—when he signed his deal right before the start of 2012 season. The same concern doesn't exist with Rodgers because of his durability. He has only missed one game due to injury since becoming a starter in 2008.
Green Bay has $13,533,765 of cap room remaining after completing the Rodgers deal. It will take slightly over $6.1 million of the cap for the Packers to sign their 11 draft picks. There will be enough cap room left to extend at least one priority player (James Jones, B.J. Raij or Sam Shields) scheduled to become a free agent after the 2013 season unless the Packers decide to carry over their unused cap room to 2014.
Follow me on Twitter: @corryjoel
Joel Corry is a former sports agent who helped found Premier Sports & Entertainment, a sports management firm that represents professional athletes and coaches. Prior to his tenure at Premier, Joel worked for Management Plus Enterprises, which represented Shaquille O'Neal, Hakeem Olajuwon and Ronnie Lott. You can email Joel at jccorry@gmail.com