April 12, 2013 -
Joel Corry
Inside Anthony Davis' new contract
The San Francisco 49ers signed offensive tackle Anthony Davis, who was under contract through the 2014 season, to a five-year contract extension averaging $6,519,880 million per year. Davis was scheduled to make $1.7 million and $2,995,600 in 2013 and 2014 prior to signing his new deal.
The $32,599,400 extension contains $16.999 million in guarantees. Only $8.38 million is fully guaranteed upon execution of the contract. $7.5 million of Davis' fully guaranteed money is a signing bonus and $880,000 is his 2013 base salary.
Davis' $1.845 million 2014 base salary, $2.35 million 2015 base salary and $2.104 million of his $2.605 million 2016 base salary are guaranteed for injury only. His 2014 through 2016 base salaries become fully guaranteed if he's on San Francisco's roster on April 1st in each specific contract year (i.e.; 2014 salary becomes guaranteed on April 1, 2014). There are two roster bonuses in 2014 totaling $2.32 million that are also guaranteed for injury only. $820,000 is on the fifth day of the league year and $1.5 million is on September 1.
The 2010 first round pick has unguaranteed $4 million, $5.35 million and $5.35 million base salaries in 2017, 2018 and 2019. There are also per game active roster bonuses totaling $1 million ($62,500 per game) in each of the extension years (2015-2019).
Davis' deal contains base salary de-escalators worth up to a maximum of $1.25 million in a majority of the contract years. There's a $250,000 de-escalator for each year that he doesn't participate in 90% of the scheduled workouts in the 49ers' offseason conditioning program. Davis' base salary will de-escalate by $500,000 in each of the 2014 through 2019 years that he doesn't meet certain weight requirements. The remaining $500,000 of the de-escalator pertains to the final five years of the contract and is triggered if Davis doesn't have at least 50% playtime in the previous season.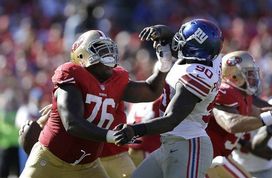 Davis has started 48 of a possible 48 regular season games since entering the league in 2010.
Davis' contract has a team friendly structure, just like the other deals negotiated by San Francisco in recent years. His per game active roster bonuses are the second highest on the 49ers, trailing on Frank Gore's $2 million ($125,000 per game) in each year of his contract.
The workout portion of Davis' salary de-escalator is a relatively new trend with the 49ers and league wide. For example, Tony Romo is required to complete 90% of Dallas' offseason workouts to prevent his salary from de-escalating by $500,000 in that particular year. Previously, the 49ers had included separate workout bonuses in their contracts instead of a workout program salary de-escalator. Patrick Willis and Justin Smith's contracts contain annual $500,000 workout bonuses.
It is curious that Davis agreed to a playtime salary de-escalator considering that he has been one of the NFL's most durable players since entering the NFL in 2010. Davis played every offensive down the 49ers had last season and has only missed 33 snaps in his three NFL seasons. His career playtime is 98.9%.
Davis' deal makes him the NFL's second highest paid pure right tackle (by average yearly salary) behind only Gosder Cherilus. Since Davis had two years remaining on his rookie contract, Cherilus and Phil Loadholt, who is the NFL's third highest paid right tackle, have much better cash flow. Davis is receiving $15.895 million over the first three years of his deal while Cherilus and Loadholt are at $20.5 million and $19 million after three years.
As one of the most proactive teams in signing core players to contract extensions well in advance of the expiration of rookie contracts, Pro Bowl offensive guard Mike Iupati, who was taken six picks after Davis in the 2010 NFL Draft, or 2009 first round pick Michael Crabtree, could be next in line for a new deal. Their rookie contracts expire after the 2014 season.
Follow me on Twitter: @corryjoel
Joel Corry is a former sports agent who helped found Premier Sports & Entertainment, a sports management firm that represents professional athletes and coaches. Prior to his tenure at Premier, Joel worked for Management Plus Enterprises, which represented Shaquille O'Neal, Hakeem Olajuwon and Ronnie Lott. You can email Joel at jccorry@gmail.com