September 07, 2013 -
Joel Corry
Inside Brian Cushing's big payday
The Houston Texans signed Brian Cushing, who had one year remaining on his rookie deal, to a six-year, $52.5 million contract extension this past week. Cushing was scheduled to make $3.143 million this year prior to signing his new deal.
The new deal contains $21 million in guarantees, which consists of a $9 million signing bonus, $6 million option bonus due on the fifteenth day of the 2014 league year (March 25) with an equivalent non-exercise fee, a fully guaranteed $2 million 2014 base salary and $4 million 2015 base salary guaranteed for injury only. The base salary guarantees have offsets.
Cushing has unguaranteed $1.143 million, $5 million, $5.5 million, $7.25 million and $8.25 million base salaries in his 2013, 2016, 2017, 2018 and 2019 contract years. There are also per game active roster bonuses totaling $1.25 million ($78,125 per game) in each of the extension years (2014-2019).
The Texans deviated from their usual contract structure with Cushing's deal. Their other lucrative veteran contracts don't contain option bonuses. An option bonus is essentially an additional signing bonus that is usually paid in the second or third year of a contract to exercise later years in the deal (the 2019 contract year in Cushing's case). Since an option bonus is given the same treatment on the salary cap as a signing bonus, where it is prorated or evenly spread out over the life of a contract for a maximum of five years, Cushing's $6 million option bonus counts $1.2 million on Houston's cap during the 2014 through 2019 contract years.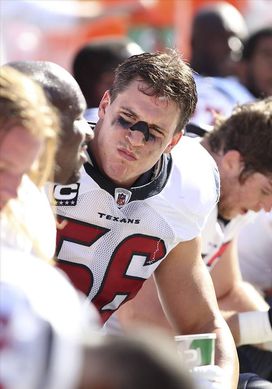 In four professional campaigns, Cushing made the Pro Bowl in 2009 and was named All Pro in 2011.
Option bonuses aren't as secure as signing bonuses. The Texans included a $6 million option non-exercise fee in Cushing's contract, the same amount as his option bonus, which is payable the day after the option exercise period expires (March 26) if he hasn't been released. Option non-exercise fees are also treated like a signing bonus under the cap. It's extremely unlikely that the Texans would release Cushing before the option bonus is due next year after paying him $7 million more this year than he would have made by playing out his contract. The Texans would have a $9.2 million cap charge for the linebacker in 2014 because of the remaining $7.2 million of signing bonus proration and next year's base salary guarantee in this case.
The per game active roster bonuses provide the Texans with some financial relief if Cushing sustains another injury. For example, if he suffers a season-ending injury after playing eight games in 2015, he won't earn the remaining $625,000 of his 2015 roster bonus. The Texans started putting per game active roster bonuses in their high end contracts last year. Matt Schaub has $1 million per game roster bonuses ($62,500 each game) in the final three years of his four-year extension. Arian Foster has annual $500,000 per game roster bonuses ($31,250 each game) in his five-year deal.
It is surprising that the Texans gave Cushing an extension considering he has only played in two preseason games since tearing the ACL in his left knee during the fifth game last season. Houston's defense wasn't the same without Cushing. When the 2009 Defensive Rookie of the Year got hurt, the Texans ranked fourth in scoring defense and third in total defense. In the eleven games Cushing missed, Houston ranked 20th in scoring defense, including five games allowing more than 25 points, and 16th in total defense.
Most teams would have waited until Cushing demonstrated in regular season games that he had returned to his pre-injury form. There was a sense of urgency with Cushing's new deal because the Texans have a policy where they don't negotiate contracts once the regular season starts.
The Texans gain $200,000 of cap room with Cushing's new contract. His 2013 cap number goes from $4.643 million to $4.443 million. Cushing created his own cap room because his base salary this year decreased by $2 million while his signing bonus counts $1.8 million during the 2013 through 2018 contract years.
The big cap benefit for Houston comes in 2014. Cushing's 2014 cap number is significantly less (at least a $3.4 million difference) than it would have been if the Texans had franchised him instead of signing him to an extension. This year's franchise tag number for linebackers is $9.619 million. Since per game active roster bonuses are treated like incentives on the cap, only the amount of the roster bonus for the games Cushing is active this year will count towards the cap in 2014. Assuming Cushing is active for every game this season, his 2014 cap number will be $6.25 million because his entire $1.25 million roster bonus will count on the cap.
Cushing's $8.75 million average per year salary makes him the NFL's fifth-highest paid inside linebacker behind Patrick Willis ($10 million per year), Lawrence Timmons ($9,450,150 per year), NaVorro Bowman ($9.05 million per year) and David Harris ($9 million per year). Although the Texans essentially treated Cushing as if he never sustained a serious knee injury with his overall compensation, he falls short of the other top inside linebacker deals in guaranteed money. Willis, Harris and Bowman received over $25 million in guarantees in their deals. Cushing's guarantees are $750,000 less than DeMeco Ryans received from the Texans in 2010 when he signed a six-year, $46.8 million deal (worth up to $48 million with incentives).
With Cushing signed to a long-term deal, the Texans can now turn their attention to defensive end J.J. Watt after the season when he is eligible to extend his contract. Whenever Watt gets a new deal, it should be the richest contract in the team's history. Watt could become the NFL's highest paid defensive player ahead of former Texan Mario Williams, who signed a six-year, $96 million contract (including $50 million in guarantees and an additional $4 million in incentives) with the Buffalo Bills in 2012.
Follow me on Twitter: @corryjoel
Joel Corry is a former sports agent who helped found Premier Sports & Entertainment, a sports management firm that represents professional athletes and coaches. Prior to his tenure at Premier, Joel worked for Management Plus Enterprises, which represented Shaquille O'Neal, Hakeem Olajuwon and Ronnie Lott. You can email Joel at jccorry@gmail.com.