June 23, 2014 -
Jeff Fedotin
Inside Chad Johnson's foray into the CFL
After not playing professional football since 2012, Chad Johnson was ecstatic to be with the Alouettes for Montreal's first day of April minicamp in Vero Beach, Florida.
"I'm going to start crying," he told the team.
Johnson's emotions had boiled over as he embarked on one of football's more interesting comebacks.
Three months later, Johnson, who missed the initial game because of an ankle injury, played in his first Canadian Football League contest. He caught one pass for 13 yards from quarterback Troy Smith (the former Heisman Trophy winner) during the Alouettes' 26-10 loss to the Ottawa RedBlacks in Montreal's preseason finale on Friday.
Slated to start at wide receiver for the Alouettes, the six-time Pro Bowler and 11-year veteran totaled 766 catches for 11,059 yards and 67 touchdowns in the NFL, though he managed just 67 and 15 receptions, respectively, in his last two regular seasons (2010 with the Bengals and 2011 with the Patriots).
The production of wide receivers in their 30s usually tapers off in such a way because they have lost a step.
"Is he fast enough? Absolutely," said Jim Popp, Alouettes vice president, general manager and director of football operations.
According to Popp, Johnson still possesses a nice hesitation move — where he acts like he's blocking before exploding into his route — and that the CFL's rules for wide receivers — like a running start to the line of scrimmage and the ability to move laterally once there — will help the 36 year old.
"Chad Johnson's crafty," Popp told NFP. "He's still very elusive."
The move from NFL star to CFL player, though, is rare.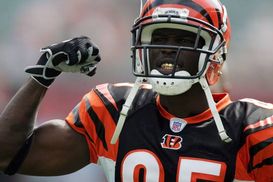 Johnson's last 1,000-yard NFL season came in 2009 with Cincinnati.
Running back Ricky Williams played for the Toronto Argonauts when he was suspended from the NFL for a year. Other notable players that joined the CFL following NFL stints include wide receiver Andre Rison, defensive end Mark Gastineau and quarterbacks Vince Ferragamo and Doug Flutie.
"There hasn't been a great (rate of) success," Popp said, "when you say 'a superstar type of person' that has been in the NFL."
But Montreal has offered second chances to NFL players before — most notably to running back Lawrence Phillips, who helped the franchise win the Grey Cup in 2002.
The Alouettes, one of the CFL's powerhouse franchises, have made eight Grey Cup appearances in the 21st century. And they insist the Johnson signing is to help them win — not to boost ticket sales or draw international attention.
"We do not bring people here for publicity stunts," Popp said.
The headline-grabbing acquisition, though, came about because of some timely networking.
Johnson was working out with Hall of Fame wide receiver Cris Carter, whose son Duron plays for Montreal, in Florida. Cris Carter raved about Johnson to Popp and sent video of his workouts to the general manager, who then invited Johnson to the Alouettes' three-day minicamp.
Johnson impressed the Alouettes, who needed a receiver after longtime star Jamel Richardson was struggling to come back from torn knee ligaments, at the minicamp.
"We were looking for the best receiver we could get," Popp said. "(Johnson's) been very vocal about wanting to play, and obviously it wasn't happening back in the NFL."
In his new league, he will be called neither Ochocino nor Huit Cinq — as some French-Canadians wanted.
"He changed his name back," Popp said. "He made it clear to people and fans that he's Chad Johnson now."
Johnson, though, still wears No. 85, and The Montreal Gazette reported that he's supposed to earn $85, 000.
Popp declined to confirm that sum, only saying that Johnson told him: "Whatever helps you guys with your cap because I don't need money."
"Money was not an issue," Popp said. "He just wanted to be part of a team."
Johnson has been a team-first guy so far without any of his famously flamboyant showboating. His creativity has been relegated to his active Twitter account and engaging interviews, where he explained to reporters his bucket-list goal of swimming with killer whales.
But the opportunity exists for Johnson to accentuate his touchdowns in imaginative ways when the Alouettes open their regular season Saturday against the Calgary Stampeders.
The CFL does not allow players to use props after touchdowns (like how Johnson once used an end-zone pylon to "putt" a football). However, group celebrations and creativity are encouraged by the CFL.
On the field, Johnson was described as having a strong work ethic, including his willingness to block, and being in great shape — partly due to playing a lot of soccer during the offseason.
"The thing I notice with Chad is his drive to be the best," Popp said. "He wants to prove that he can still play football."
Johnson's last opportunity at playing professional football came with the Dolphins. But his hometown team released him in August of 2012, a day after his arrest on domestic battery charges, ending his NFL career.
"We're really big about cleaning the slate," Popp said. "We believe in giving people second chances."
Follow Jeff on Twitter: @JFedotin
Jeff Fedotin has written for Packers.com, Pro Football Weekly, ESPN The Magazine, the Lawrence (Kan.) Journal-World and Rivals.com. After graduating from Northwestern University, he interned for the Buffalo Bills. During his football playing days at Pembroke Hill (Mo.) School, Fedotin was known for his bad knees and even worse blocking.