April 19, 2013 -
Joel Corry
Inside Clay Matthews' new contract
The Green Bay Packers signed linebacker Clay Matthews to a five-year contract extension averaging $13.2 million per year on Wednesday. Matthews was scheduled to make $3.77 million in final year of his five-year rookie contract prior to signing his new deal.
The only guaranteed money in the $66 million extension is Matthews' $20.5 million signing bonus. His $5 million third day of the 2014 league year roster bonus can be considered as a substitute for additional guarantees.
Matthews has unguaranteed $1.02 million, $1 million, $7.6 million, $8.65 million, $10.1 million and $10.4 million base salaries during his 2013 through 2018 contract years. The deal contains annual $500,000 workout bonuses based on participating in 85% of the scheduled workouts in Green Bay's offseason workout program. There are also per game active roster bonuses totaling $500,000 ($31,250 per game) in each of the extension years (2014-2018).
The Packers have $15,659,553 of salary cap room after Matthews' deal. His 2013 salary cap number goes from $4.91 million to $6.71 million, a $1.8 million increase, under the new contract.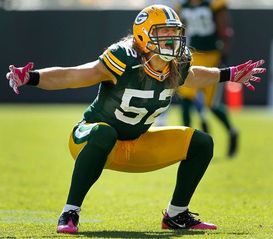 With Clay Matthews now locked up for the long term, the Packers can turn their attention to Aaron Rodgers.
The deal makes Matthews the NFL's highest paid linebacker (by average yearly salary) and the NFL's third-highest paid defensive player (by average yearly salary) behind only Mario Williams and Julius Peppers. However, Matthews falls short of the NFL's top 3-4 outside linebacker deals in key contract measures. Terrell Suggs, DeMarcus Ware and Tamba Hali have $43.4 million, $41.55 million and $40 million in the first three years of their contracts. Matthews' three year cash flow is $37.62 million.
The difference is even more dramatic in guaranteed money. Suggs and Ware each have $40 million in guarantees. Hali had $35 million in guarantees before his one game suspension in 2012 for violating the NFL's substance abuse policy voided the $7.75 million guarantee of his $12.25 million 2013 base salary.
In all fairness, the Packers rarely include salary guarantees in their contracts. Most notably, Aaron Rodgers received a fully guaranteed $12.58 million 2008 base salary increase and a $7.42 million skill and injury guaranteed 2009 roster bonus in the five-year contract extension he signed in 2008. Greg Jennings' three-year contract extension in 2009 had a fully guaranteed $5 million 2009 base salary. Only Rodgers received a guarantee in the second year of his deal.
It will be interesting to see whether the Packers deviate from their standard conventions in the contract extension Aaron Rodgers is expected to sign soon that will make him the NFL's highest-paid player. If Matthews' deal is an indication of how Rodgers' deal will be structured, he will not break the record $60.5 million in guarantees contained in Drew Brees' five-year, $100 million contract with the New Orleans Saints. Rodgers could receive a $50 million signing bonus, which would be the largest signing bonus ever in an NFL contract, as a trade off and approach the record $70.2 million Peyton Manning had in the first three years of the contract he signed with the Indianapolis Colts in 2011.
Follow me on Twitter: @corryjoel
Joel Corry is a former sports agent who helped found Premier Sports & Entertainment, a sports management firm that represents professional athletes and coaches. Prior to his tenure at Premier, Joel worked for Management Plus Enterprises, which represented Shaquille O'Neal, Hakeem Olajuwon and Ronnie Lott. You can email Joel at jccorry@gmail.com