June 06, 2014 -
Joel Corry
Inside Colin Kaepernick's new contract
The San Francisco 49ers signed quarterbacke Colin Kaepernick, who was under contract through the 2014 season, to a contract extension on Wednesday making him the NFL's second highest paid player (by average salary). When news of the deal broke, it was announced as a six-year, $126 million extension with an NFL record $61 million in guarantees. Technically, these descriptions of the deal are accurate but also misleading.
Instead of making $1,073,766 in the final year of a rookie deal signed in 2011, Kaepernick gets $13,073,766, a $12 million raise, this year. The $13,073,766 is a $12,328,766 signing bonus, a fully guaranteed $645,000 2014 base salary ($428,766 less than his rookie deal base salary) and a $100,000 workout bonus. This workout bonus was incorporated into the new deal from Kaepernick's rookie contract.
Only $12,973,766 of the $61 million in guarantees is fully guaranteed at signing. The remaining $48,026,234 consists of Kaepernick's $12.4 million 2015 base salary, $13.9 million 2016 base salary, $16.5 million 2017 base salary and $5,226,234 of his $17 million 2018 base salary. The injury guarantees become fully guaranteed if Kaepernick is on the roster on April 1 in each specific contract year (i.e.; 2015 base salary becomes guaranteed on April 1, 2015).
The 2011 second round pick has unguaranteed $18.8 million and $21 million base salaries in 2019 and 2020. Annual $400,000 workout bonuses begin in 2015. There are per game active roster bonuses totaling $2 million ($125,000 per game) in each of the extension years (2015-2020). The per game amount is only payable if Kaepernick is on the 46-man active roster for that particular game. For example, if Kaepernick suffers a season-ending injury in San Francisco's eighth game during the 2015 season, he would only earn $1 million of his $2 million 2015 roster bonus.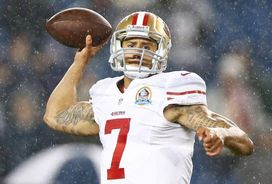 Will Kaepernick's team-friendly structure start a new trend around the National Football League?
Kaepernick also has a $2 million per year base salary de-escalator. His 2015 base salary won't decrease by the $2 million if he is named first or second team All-Pro by the Associated Press or the 49ers reach the Super Bowl while he has 80 percent playtime during the regular season and playoffs (Wild Card, Division and Conference Championship games) in 2014. Once Kaepernick reaches this threshold in a season, the de-escalator voids for the remainder of the deal. Kaepernick's 2018 injury guarantee will increase by the amount of de-escalation in 2015 through 2017. For example, if Kaepernick's base salary decreases by $2 million in each of these three years, his 2018 injury guarantee is $11,226,234.
The 49ers are using an additional $2,136,987 of salary cap room on Kaepernick under the new contract. His 2014 cap number goes from $1,630,457 to $3,767,444. Kaepernick's 2015, 2016, 2017, 2018, 2019 and 2020 cap numbers are $17,265,753, $18,765,253, $21,365,753, $21,865,753, $21.2 million and $23.4 million. The 49ers have built additional cap flexibility into Kaepernick's contract because they can create cap room at any time during the deal with their discretionary right to convert a portion of his base salary into a signing bonus.
Kaepernick's deal has a team-friendly structure, as do all of the lucrative deals negotiated by San Francisco in recent years. The 49ers weren't going to abandon established contractual precedents for Kaepernick. The April 1 contract guarantee date is the norm with the team's deals. The other lucrative deals just aren't quite as team-friendly as Kaepernick's. His per game roster bonuses are tied with Frank Gore for the highest on the team. Most of the top quarterback contracts don't contain per game roster bonuses. Only Aaron Rodgers and Jay Culter have them. Salary de-escalators in NFL contracts are unusual unless they are for off-season workout program participation. The concept used with Kaepernick seems to be taken from teammate Ahmad Brooks' contract. Brooks' base salary can de-escalate by a maximum of $2.5 million in each year depending upon his sack total in the prior year.
Kaepernick's lack of contract security is glaring, particularly for a lucrative quarterback deal. Jay Cutler, Tony Romo and Matt Ryan have $38 million, $40 million and $42 million fully guaranteed at signing, respectively, in their contracts, which is essentially triple Kaepernick's amount. His modest signing bonus ($12,328,766) and the conditional guarantees make the deal a year-to-year proposition from the outset because the 49ers can part ways with Kaepernick at any time without adverse cap consequences. For example, $9,368,493 of cap room would be gained in 2016 by releasing Kaepernick before his $11.4 million base salary (assumes he didn't extinguish the de-escalator mechanism with his 2014 or 2015 performance) becomes fully guaranteed on April 1. The 49ers would have a $7,397,260 cap charge or dead money from signing bonus proration in Kaepernick's 2017 through 2019 contract years accelerating onto the 2016 cap. Kaepernick probably would have been better protected with the signing and option bonus structure of NaVorro Bowman's contract.
Kaepernick's extremely team-friendly structure (modest signing bonus, conditional guarantees, big per game roster bonuses, salary de-escalators) is something other clubs will try to employ in future negotiations. It would be a big surprise if the agents for Can Newton, Andrew Luck and Russell Wilson agree to Kaepernick's structure when their clients get new deals.
Follow me on Twitter: @corryjoel
Joel Corry is a former sports agent who helped found Premier Sports & Entertainment, a sports management firm that represents professional athletes and coaches. Prior to his tenure at Premier, Joel worked for Management Plus Enterprises, which represented Shaquille O'Neal, Hakeem Olajuwon and Ronnie Lott. You can email Joel at jccorry@gmail.com.