October 26, 2014 -
Joel Corry
Inside Gerald McCoy's monster deal
Gerald McCoy became the NFL's highest-paid defensive tackle (using average yearly salary) by signing a six-year, $95.2 million contract extension (worth up to $98 million through salary escalators) with the Tampa Bay Buccaneers before the team's Week 8 contest against the Minnesota Vikings. The previous benchmark was Ndamukong Suh's five-year rookie contract with the Detroit Lions worth a maximum of $68 million (includes $40 million guaranteed). The five-year, $61 million contract (with $35 million guaranteed) Haloti Ngata received from the Baltimore Ravens in 2011 was the top veteran deal for an interior defensive lineman.
McCoy's deal contains $51.5 million in guarantees. It is the second-largest amount of guarantees ever in an NFL contract for a defensive player behind J.J. Watt's $51,876,385.
$14,757,308 is fully guaranteed at signing, which consists of a $2.5 million October 26 roster bonus and McCoy's $12,257,308 base salary for the remainder of this season.The roster bonus is treated like signing bonus and prorated over five years because it's in the season of signing with a contract executed after the final pre-season game. An additional $36,742,692 is guaranteed for injury at signing. McCoy's $5 million 2015 base salary, $6 million 2016 base salary and $6.5 million third day of the 2015 league year roster bonus become fully guaranteed on the third day of the 2015 waiver period (February 4). Thus, $32,257,308 is fully guaranteed shortly after this season's Super Bowl. McCoy's $6.5 million fourth day of the 2016 league year roster bonus and $12,742,692 of his $13.25 million 2017 base salary are fully guaranteed on the third day of the 2016 league year.
The two-time Pro Bowler has unguaranteed $12.25 million, $13 million, $10 million and $10,432,253 base salaries in his 2018, 2019, 2020 and 2021 contract years, respectively. There are also unguaranteed $2.5 million third day of the league year roster bonuses in 2020 and 2021.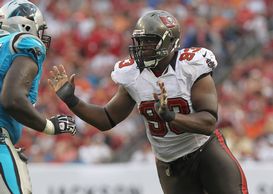 McCoy has notched 20.5 sacks through 56 career starts.
McCoy's 2014 compensation under the new deal increases by $7,267,747 to $20 million. $17.5 million of this compensation is base salary. McCoy is getting paid seven weeks at his original $12,732,253 2014 base salary for a total $5,242,692 and 10 weeks with a $20,837,424 base salary for an additional $12,257,308.
Interestingly, the Buccaneers are paying McCoy in the first two years of the deal like he played out his contract and was franchised in 2015 for $18,392,704. He is making $31.5 million as opposed to $31,124,957 through 2015 with a franchise tag. McCoy's $44 million in the first three years (through 2016) ties Ngata for the best three-year cash flow among interior defensive linemen.
The Buccaneers are using $5,267,747 of their current $6,078,498 in cap space on McCoy under the new contract. McCoy has the NFL's second highest 2014 salary cap number at $20.895 million (includes $300,000 workout bonus previously earned and $2.595 million of bonus proration), which is behind Suh's $22,412,500 figure.
McCoy's 2015, 2016, 2017, 2018, 2019, 2020 and 2021 cap numbers are $14.595 million, $13 million, $13.75 million, $12.75 million $13 million, $12.5 million and $12,932,253. Tampa Bay's 2015 cap commitments increase by $ $8,581,250 to put them at slightly over $111.3 million (40 players under contract) since McCoy's voidable year was already on the books for a $5,763,750 2015 cap number.
McCoy's deal should set the floor for Suh, who is scheduled to become an unrestricted free agent after the season. It is nearly impossible for the Lions to franchise Suh in 2015 because his franchise tag number will be $26.87 million, which is based on 120% of his 2014 cap number. McCoy, who was taken immediately after Suh as the third overall pick in the 2010 NFL draft, getting an 18.4% increase over the average salary of his rookie contract will likely confirm to Suh that a decrease from the $64.625 million he's earning in the five years of his rookie contract isn't warranted. With a similar percentage increase as McCoy, Suh's next deal will average approximately $15.3 million per year and could set a new standard for guarantees in defensive player contracts.
Follow me on Twitter: @corryjoel
Joel Corry is a former sports agent who helped found Premier Sports & Entertainment, a sports management firm that represents professional athletes and coaches. Prior to his tenure at Premier, Joel worked for Management Plus Enterprises, which represented Shaquille O'Neal, Hakeem Olajuwon and Ronnie Lott. You can email Joel at jccorry@gmail.com.