September 03, 2014 -
Joel Corry
Inside J.J. Watt's big payday
J.J. Watt became the NFL's highest paid non-quarterback (using average yearly salary) by signing a six-year, $100 million contract extension with the Houston Texans Monday evening. The previous benchmark was the seven-year extension averaging $16,207,143 per year Calvin Johnson received from the Detroit Lions in 2012. Watt had two years remaining on his contract with $1,907,385 and $6.969 million salaries this year and next year.
The 2011 first round pick's contract contains $51,876,385 million in guarantees, which is a record for defensive players. It eclipses the $50 million of guarantees in the six-year, $96 million contract (includes an additional $4 million in Not Likely To Be Earned Incentives) Mario Williams signed with the Buffalo Bills in 2012 that made him the NFL's highest paid defensive player. Calvin Johnson's $53.25 million guaranteed (includes his $4.5 million second day of the 2012 league year roster bonus) is the most ever for a non-quarterback.
$30,876,385 of Watt's extension is practically fully guaranteed at signing, which consists of a $10 million signing bonus, $907,385 2014 base salary, $10 million 15th day of the 2015 league year roster bonus and $9.969 million 2015 base salary. The roster bonus is fully guaranteed on September 9. There's a seven-day lag time with the roster bonus becoming fully guaranteed. It would have been treated as a signing bonus under the salary cap and prorated over five years ($2 million yearly proration) if fully guaranteed at signing.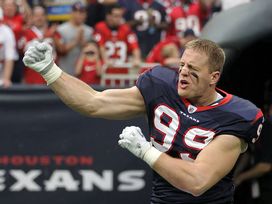 No player has recorded more sacks (31) over the last two years than Watt.
The 2012 NFL Defensive Player of the Year's $10.5 million 2016 and 2017 base salaries are guaranteed for injury at signing. This $21 million of injury guarantees become fully guaranteed on the fifth day of the 2016 league year (early to mid March). Watt has unguaranteed $11 million, $13 million, $15.5 million and $17.5 million base salaries in his 2018, 2019, 2020 and 2021 contract years.
Watt's three-year cash flow of $41,376,385 is less than the other top non-quarterback deals. Williams, Johnson and Larry Fitzgerald are at $53 million, $51.75 million and $45.5 million, respectively. This is understandable because Watt had two years remaining on his contract, unlike the others. Williams was an unrestricted free agent while Johnson and Fitzgerald were entering contract years.
Interestingly, Watt's cash flow is substantially better than if he had played out his contract and received franchise tags in 2016 and 2017, which Texans owner Bob McNair mentioned as an option during negotiations, despite the team having leverage. Assuming the cap has a similar percentage increase to this year (8.13 percent) in each of the next two years, it will be approximately $156 million in 2016. Watt's franchise tag in 2016 would have been right around $16.085 million with these cap projections. A second franchise tag in 2017 would have been $19.302 million, a 20 percent increase over Watt's 2016 franchise number. Watt is making $51,876,385 through 2017 instead of $44,263,385, a $7.613 million difference, with the franchise tag scenario. More specifically, Watt gets a $9 million raise this year and $22 million more through 2015 than under his rookie contract.
The Texans are using an additional $994,575 of current cap room on Watt under the new contract. His 2014 cap number goes from $3,580,992 to $4,575,567. Watt's 2015, 2016, 2017, 2018, 2019, 2020 and 2021 cap numbers are $21.969 million, $12.5 million, $12.5 million, $13 million, $13 million, $15.5 million and $17.5 million. It wouldn't be a surprise if the Texans restructure Watt's contract for cap relief next year because he has the second-highest 2015 cap number for a defensive player behind cornerback Darelle Revis' $25 million.
The biggest beneficiary of Watt's new deal could be fellow 2011 first round pick and St. Louis Rams defensive end Robert Quinn (14th overall). It's conceivable that Watt's reign as the NFL's highest paid non-quarterback could be short lived if Quinn has a comparable or better season than in 2013 when he registered 19 sacks.
Follow me on Twitter: @corryjoel
Joel Corry is a former sports agent who helped found Premier Sports & Entertainment, a sports management firm that represents professional athletes and coaches. Prior to his tenure at Premier, Joel worked for Management Plus Enterprises, which represented Shaquille O'Neal, Hakeem Olajuwon and Ronnie Lott. You can email Joel at jccorry@gmail.com.