July 31, 2013 -
Joel Corry
Inside Matt Ryan's brand new payday
Matt Ryan signed a five-year, $103.75 million contract extension (including $59 million in guarantees) with the Atlanta Falcons when the team opened training camp on July 25. Ryan's extension averages $20.75 million per year, which makes him the NFL's second highest paid player (by average yearly salary) behind only Green Bay's Aaron Rodgers ($22 million).
The deal contains $59 million in guarantees. $42 million is fully guaranteed, which consists of a $28 million signing bonus, $12 million option bonus due on the fifth day of the 2014 league year (March 15) with an equivalent non-exercise fee and $2 million 2013 base salary. Ryan's $9.5 million 2014 base salary and $7.5 million of his $11.5 million 2015 base salary are guaranteed for injury only. The $17 million of injury guarantees become fully guaranteed on the third day of the 2014 waiver period (February 5). The base salary guarantees don't have offsets. Ryan has unguaranteed $15.75 million, $15.75 million and $19.25 million base salaries in his 2016, 2017 and 2018 contract years.
The Falcons occasionally use the combination of signing bonus, option bonus and base salary guarantees that Ryan's contract exhibits in other deals. Roddy White's contract includes a $6 million signing bonus, $5.3 million option bonus and $12.6 million in base salary guarantees. Sam Baker's deal has a $10 million signing bonus, $4 million option bonus and $4.25 million in base salary guarantees. Since an option bonus is given the same treatment on the salary cap as a signing bonus—where it is prorated or evenly spread out over the life of a contract for a maximum of five years—Ryan's $12 million option bonus counts $2.4 million on Atlanta's cap during the 2014 through 2018 contract years.
Ryan's $59 million is the second largest amount of guaranteed money ever received in an NFL contract. He trails only Drew Brees, whose contract contains $60.5 million in guarantees. $10 million of Ryan's guarantee is his own money since he was scheduled to make $10 million as a base salary in 2013 before signing the new deal.
Ryan is getting $63 million in the first three years of his contract, which is the best three year cash flow in the NFL and narrowly eclipses Rodgers' $62.5 million. The 2008 Offensive Rookie of the Year has only been topped by the $70.2 million Peyton Manning had in the first three years of the contract he signed with the Indianapolis Colts in 2011. Ryan, unlike Manning, is assured of playing these years in his new deal because of the extreme cap charges associated with releasing him early in the contract.
Ryan's cap numbers don't become too excessive, particularly for a contract of its size. His 2013 cap number goes from $12 million to $9.6 million, a $2.4 million decrease, in the new contract. The additional $2.4 million in cap space gives the Falcons $7.68 million of cap room. Ryan's 2014 and 2015 cap numbers at $17.5 million and $19.5 million should be manageable. His cap number peaks in 2016 and 2017 at $23.75 million and drops to $21.65 million in the final year of the deal because the $5.6 million of proration from his signing bonus stops after the 2017 contract year. The Falcons have built some cap flexibility into Ryan's contract because they can create cap room at any time during the deal with their discretionary right to convert a portion of his base salary into signing bonus.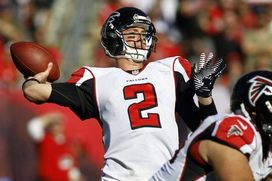 At the current moment, only Green Bay's Aaron Rodgers is making more money than Matt Ryan.
The Falcons have received some criticism for Ryan's deal because of his lack of playoff success. Ryan has a 1-4 record in postseason contests with one NFC Championship Game appearance, which came last season. Although the other three members of the $20 million per year club (Brees, Rodgers and Joe Flacco) have Super Bowl rings, winning the Super Bowl isn't a prerequisite for becoming one of the NFL's highest paid players. In 2004, Peyton Manning signed a seven-year deal averaging $14 million (with a $34.5 million signing bonus) that made him the NFL's highest paid player. At the time, Manning was 2-4 in playoff games and had taken the Indianapolis Colts to one AFC Championship Game. Carson Palmer moved to the top of the NFL's salary list towards the end of the 2005 regular season by signing a six-year contract extension with the Cincinnati Bengals averaging $16,166,167 per year. He was on the verge of making his playoff debut when he signed the extension.
Atlanta owner Arthur Blank hasn't been averse to paying quarterbacks towards the top of the market. Michael Vick signed a nine-year, $120.6 million (with a then record $37 million in guarantees) contract extension near the end of the 2004 regular season. Vick only had one career playoff victory, just like Ryan, at his contract's signing. Unlike Ryan, Vick hadn't led the Falcons to the NFC Championship Game.
Ryan's deal is reasonable especially considering Atlanta's alternatives if Ryan had played out his contract. It would have been a huge risk for the Falcons to place a non-exclusive franchise tag on their star signal-caller. A team potentially in dire need of a quarterback and expected to have an abundance of salary cap room in 2014, such as the Jacksonville Jaguars or Oakland Raiders, probably would have been willing to give up two first round picks by signing him to an offer sheet that the Falcons could have had a difficult time matching. At the very least, Ryan could have used such teams as leverage in negotiations with the Falcons.
Ryan would have likely received an exclusive franchise tag next year in order to prevent him from negotiating with other teams. The exclusive franchise tag is preliminarily projected to be $19.266 million in 2014. It will be based on the average of the top five quarterback salaries (i.e.; salary cap numbers) in 2014 once the restricted free agent signing period has ended on May 2. The figure could be a little lower if quarterbacks (Eli Manning, Ben Roethlisberger, Tony Romo, etc.) with the highest 2014 cap numbers restructure their 2014 contracts to create cap room for their clubs before the end of the franchise player designation period (March 3).
Based on the projected number, a second franchise tag for Ryan in 2015 would have been $23,119,200, a 20% increase over his 2014 franchise number. The average of franchising Ryan twice could have been used as justification for a long term deal averaging slightly more than $21 million per year. Ryan would have easily become the NFL's highest paid player and broken Drew Brees' record for contract guarantees with a Super Bowl victory.
Follow me on Twitter: @corryjoel
Joel Corry is a former sports agent who helped found Premier Sports & Entertainment, a sports management firm that represents professional athletes and coaches. Prior to his tenure at Premier, Joel worked for Management Plus Enterprises, which represented Shaquille O'Neal, Hakeem Olajuwon and Ronnie Lott. You can email Joel at jccorry@gmail.com.