March 15, 2013 -
Joel Corry
Inside Mike Wallace's big payday
As expected, Mike Wallace landed the NFL's biggest free agent contract by signing a five-year, $60 million deal with the Miami Dolphins when the 2013 league year started on Tuesday.
Wallace's contract contains $30 million in guarantees. In addition to receiving an $11 million signing bonus, his $1 million 2013 base salary and $15 million 2014 base salary are fully guaranteed. $3 million of his $9.85 million 2015 base salary is guaranteed for injury. The $3 million becomes fully guaranteed if Wallace is on Miami's roster on the fifth day of the 2014 league year.
Wallace has unguaranteed $11.45 million base salaries in 2016 and 2017. There are also $50,000 offseason workout bonuses in each year of the contract.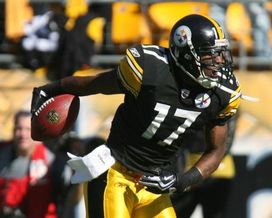 Wide receiver Mike Wallace landed the biggest deal of free agency's opening day.
Wallace has a $3.25 million 2013 salary cap number. His cap number increases to $17.25 million in 2014. It is the second highest 2014 wide receiver cap number, trailing only Larry Fitzgerald's $18 million 2014 cap number. Wallace's cap number drops to $12.1 million in 2015. He has a $13.7 million cap number in 2016 and 2017.
Wallace's low 2013 cap number is consistent with 2013 cap numbers in the other Dolphins contracts signed recently. Dannell Ellerbe ($2.425 million), Brian Hartline ($2.115 million), Matt Moore ($2.5 million) and Philip Wheeler's ($2.4 million) 2013 cap numbers collectively count $9.44 million on Miami's cap.
With the big disparity in Wallace's cap numbers during the first two years of his contract, it appears as if the Dolphins may have borrowed the concept from the five-year, $50.1 million contract (with $26.5 million in guarantees) Brandon Carr signed with the Dallas Cowboys last March. The cap numbers in the first two years of Carr's deal were $3.25 million and $16.3 million until he recently restructured his contract to lower his 2013 cap number to $5.432 million. Wallace's $17.25 million 2014 cap number makes him a candidate to restructure his contract next year like Carr did in the second year of his contract.
Wallace's contract compares favorably in key contract measures with the other lucrative wide receiver deals recently signed. Dwayne Bowe has $26 million in guarantees in the five-year, $56 million contract he signed with the Kansas City Chiefs prior to the start of free agency. Percy Harvin's six-year, $67 million contract that was as a part of the Seattle Seahawks' trade with the Minnesota Vikings to obtain him has $25.5 million in guarantees. Wallace also receives $37 million in the first three years of his contract, which is $1 million more than Bowe and Harvin have in the first three years of their deals.
Wallace could drop down the wide receiver salary scale pretty quickly because the rookie contracts of Dez Bryant, Michael Crabtree, A.J. Green, Julio Jones and Demaryius Thomas will expire after the 2014 season.
Follow me on Twitter: @corryjoel
Joel Corry is a former sports agent who helped found Premier Sports & Entertainment, a sports management firm that represents professional athletes and coaches. Prior to his tenure at Premier, Joel worked for Management Plus Enterprises, which represented Shaquille O'Neal, Hakeem Olajuwon and Ronnie Lott. You can email Joel at jccorry@gmail.com