July 18, 2013 -
Joel Corry
Inside Ryan Clady's big payday
The Denver Broncos signed offensive tackle Ryan Clady to a five-year, $52.5 million contract (with an additional $5 million in base salary escalators) before the July 15 deadline for franchise players to sign long term deals. Clady, whose deal averages $10.5 million per year, was the only one of eight NFL players given a franchise tag that got a multi-year contract.
Clady was designated a franchise player by the Broncos this year after rejecting a five-year, $50 million contract offer (with $28 million in guarantees) before the 2012 season because he wanted a deal comparable to Joe Thomas' contract. Thomas signed a seven-year contract extension averaging $11.5 million per year (including $37 million in guarantees and an additional $3.5 million in Pro Bowl escalators) with the Cleveland Browns in 2011.
Clady's deal contains $33 million in guarantees. $15 million is fully guaranteed, which consists of a $10.5 million July 19 roster bonus, $3 million signing bonus and $1.5 million 2013 base salary. His $8 million 2014 base salary, $8.5 million 2015 base salary and $1.5 million fifth day of the 2015 league year roster bonus are guaranteed for injury only. The 2014 and 2015 base salaries become fully guaranteed on the fifth day of the league year in each specific contract year (i.e.; 2015 base salary becomes fully guaranteed on approximately March 15, 2015). These guarantees do not contain offsets. Clady also has unguaranteed $9.5 million and $10 million base salaries in 2016 and 2017.
The maximum value of Clady's contract is $57.5 million. The $5 million in base salary escalators are predicated on Clady being named first team All-NFL or All-Pro during the deal. The base salaries in the remaining contract years escalate by $500,000 with one All-NFL/All-Pro selection. They escalate by an additional $1 million with his second All-NFL/All-Pro selection.
The only way Clady can earn the entire $5 million is with first team All-NFL/All-Pro selections in 2013 and 2014. $500,000 would be added to his 2014 through 2017 base salaries by being named All-NFL/All-Pro in 2013. His 2015 through 2017 base salaries would increase by an additional $1 million ($1.5 million total for each year) with another All-NFL/All-Pro selection in 2014. If Clady first hit the All-NFL/All-Pro requirement in 2014 and didn't receive the necessary All-NFL/All-Pro recognition again until 2016, he would earn $2.5 million of the escalator.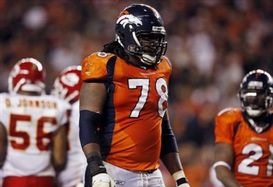 Clady surrendered just one sack in 16 regular season starts last year.
Clady may not receive the escalator money in the latter years of the contract even if he hits the escalator benchmarks. The escalator amounts do not become guaranteed when earned and they are lost if Clady is released. The Broncos would pick up significant salary cap room by releasing Clady in 2016 or 2017 because there is only $600,000 of signing bonus proration in each year of the deal.
Running back Michael Turner is a perfect illustration of this concept. He earned $1.4 million in 2013 base salary escalators during the first five years of the contract he signed with the Atlanta Falcons in 2008. The Falcons released him in March because his escalated $6.9 million salary was too much for a 31-year-old running back on the decline. The Falcons have a $2 million cap charge this season for Turner. He would have counted $8.9 million on Atlanta's cap if they had kept him on the roster at his full 2013 salary.
Clady could have accomplished the same thing as the escalators through not likely to be earned incentives (NLTBEs), but with better security because incentives are typically payable during the offseason following when they are achieved. One possibility would have been a $2 million NLTBE for the first selection and a $3 million NLTBE with his second selection. In order to qualify as a NLTBE, the All-NFL/All-Pro honor would have to be tied to a team incentive. All-NFL/All-Pro by itself would be a likely to be earned incentive, which would count against the cap, because Clady was named first team All-Pro by the Associated Press in 2012. His 2012 first team All-Pro selection was the second of his career, with the first such honor occurring in 2009.
The Broncos have $7.39 million of cap room after Clady's deal. His 2013 salary cap number goes from his $9.828 million franchise tender to $12.6 million, a $2.772 million increase, under the new contract. Clady's $15 million salary in 2013 is $5.172 million more than he was going to make this year by accepting his tender.
Clady's contract compares favorably in key contract measures to the NFL's other top offensive lineman deals. His $33 million in guarantees is the third largest amount of guaranteed money ever received in an offensive lineman contract, trailing only Joe Thomas ($37 million) and Trent Williams ($36.75 million). Clady is getting $33 million in the first three years of his deal. He ranks second in this metric among offensive linemen, with Thomas' $40 million in his first three contract years ahead of him.
Russell Okung may be the next offensive tackle to sign a deal in Clady's neighborhood. Although Okung's contract doesn't expire until after the 2015 season, the Seattle Seahawks have been fairly pro-active in extending the contracts of core players before they reach free agency.
Follow me on Twitter: @corryjoel
Joel Corry is a former sports agent who helped found Premier Sports & Entertainment, a sports management firm that represents professional athletes and coaches. Prior to his tenure at Premier, Joel worked for Management Plus Enterprises, which represented Shaquille O'Neal, Hakeem Olajuwon and Ronnie Lott. You can email Joel at jccorry@gmail.com.