May 12, 2014 -
Jeff Fedotin
Inside the curious draft of the Titans
During the first two days of the 2014 NFL Draft, the Titans had one of the more peculiar strategies, selecting one player at a position at which they were stacked and another where they had a glaring need.
With the 10th overall pick, Tennessee selected Michigan tackle Taylor Lewan, who mans a spot where the Titans are loaded.
Michael Roos is one of the better NFL left tackles, having started every Titans game except for one during his nine years. He anchored a 2013 unit that was tied for the ninth fewest sacks allowed.
Tennessee also signed tackle Michael Oher during the offseason to a four-year, $20-million contract.
On the interior last year, the Titans selected guard Chance Warmack with the 10th overall pick and signed guard Andy Levitre to a six-year, $46.8 million contract with $13 million guaranteed.
Although that seemingly creates a huge logjam along the offensive line for a team with many other holes, general manager Ruston Webster said that Lewan was simply too talented a player — at too important of a position — to pass up.
"There's certain things you have to have to build a team long term. One of the things is stability in the offensive line, specifically left tackle," Webster said. "We've all been with teams where we didn't have a left tackle, and it's almost like you can't run your offense."
Perhaps Webster wanted a replacement for Roos, who is 31 — young for an offensive lineman — but has a contract that expires after the 2014 season.
As far as Oher's future, the player — about whom The Blind Side was based — seems destined for a different role than the one for which he gained cinematic fame. After actually playing right tackle with the Ravens (rather than protecting quarterback Joe Flacco's blind side), the Tennessee native may even move to guard for the Titans.
Where does that leave Lewan?
He will not start ahead of Oher on the right side (at least initially), playing back-up left tackle at first, though the Titans will test Lewan's versatility during the rookie minicamp.
"We'll start moving him around," head coach Ken Whisenhunt said. "We're going to play him at different spots, get him reps, kind of get him started that way to see what he can do."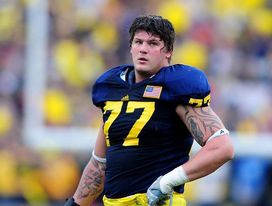 US PRESSWIRELewan, Tennessee's first round selection, will have to compete with veterans Michael Roos and Michael Oher for playing time.
With Oher, Roos and Lewan at tackle, the offseason battles at the tackle position should be fierce.
"I'm coming in here with the idea to compete and win a job," Lewan said. "I know there are two tackles that are really good players and well-established, but I'm here to play ball."
Lewan has reason to be confident.
He is viewed as an elite prospect — perhaps more talented than Eric Fisher or Luke Joeckel, the players selected first and second overall, respectively, in the 2013 draft.
Lewan has a unique blend of size, speed and athleticism. The 6-7, 309-pounder recorded the best 40-time (4.79) and broad jump (9'9") of any offensive lineman at the 2014 NFL Scouting Combine.
He also has a nasty streak — reminiscent of Jaguars tackle Tony Boselli — which scouts love to see in their linemen.
But Lewan is perhaps too aggressive at times. He has a pending aggravated assault charge, among other off-the-field incidents.
Though the Titans clearly valued talent over need in the first round with Lewan, they reversed course in the second round, selecting Bishop Sankey at running back, where Tennessee had to replace Chris Johnson, who signed with the Jets.
"Definitely, we needed a running back," Webster said. "That is what we were going to target."
The Titans selected Sankey with the 54th overall selection after swapping second-round picks with the Eagles and acquiring their fourth-round pick. (The Titans did not have a third-round pick, having traded the pick last year as an effort to move up for wide receiver Justin Hunter.)
As the 22nd pick in the second round, Sankey became the first running back chosen in the 2014 NFL Draft.
"It really is a true blessing just to be the first running back taken," he said.
After leaving Washington as a junior, the 5-9½ 209-pounder impressively ran the 40 in 4.49 seconds and bench pressed 225 pounds 26 times at the Combine, where Lewan also wowed.
The Titans chose Sankey over other running back prospects like Carlos Hyde and Jeremy Hill, praising Sankey's versatility and ability to play all three downs.
"He can run inside and can run outside. He can get outside, he can run through guys and he can break the long runs," said Titans area scout Marv Suderland. "He has great hands out of the backfield and he is a good blocker."
Suderland, who used to work for the Giants, compared Sankey to Tiki Barber —except with better ball security. Because of his shiftiness, Sankey also has drawn comparisons to Giovanni Bernard, the first running back taken in the 2013 draft.
With his nimbleness and ability in the passing game, Sankey should serve as a nice complement to Shonn Greene, more of a straight-ahead power runner.
Sankey also earned the tough yards at Washington, where he set a UW single-season rushing mark with 1,870 yards.
That is the same school where Titans quarterback Jake Locker starred, though their college careers did not overlap.
"It's awesome just to have a fellow U-Dub Husky there," Sankey said, "and I can't wait to be playing with him."
However, the long-term future of his fellow U-Dub Husky remains up in the air. Entering his fourth year, Locker must prove himself.
And in the second day of the draft, the Titans used their final pick on LSU quarterback Zach Mettenberger.
Ending the draft by going for need, Tennessee traded up to select the player who could potentially serve as Locker's replacement.
"Quarterback was a position that we wanted to take in the draft," Webster said. "So it made sense to do it. We felt like it was kind of a small risk."
Follow Jeff on Twitter: @JFedotin
Jeff Fedotin has written for Packers.com, Pro Football Weekly, ESPN The Magazine, the Lawrence (Kan.) Journal-World and Rivals.com. After graduating from Northwestern University, he interned for the Buffalo Bills. During his football playing days at Pembroke Hill (Mo.) School, Fedotin was known for his bad knees and even worse blocking.