August 22, 2014 -
Joel Corry
Inside Vontaze Burfict's new deal
The Cincinnati Bengals continued their trend of being proactive with core players entering the final year of rookie contracts by signing All-Pro linebacker Vontaze Burfict to a three-year, $18.43 million contract extension (total of $19 million for four years) this past week. Burfict was scheduled to make $570,000, his league minimum salary, in 2014 prior to signing the new deal.
Consistent with other Bengals deals, the only guaranteed money in Burfict's contract is a $3.1 million signing bonus and a $3.8 million roster bonus payable within a few days of signing. In addition to the $6.9 million, Burfict's 2014 base salary is $700,000. He is making $7.6 million in 2014, which is $7.03 million more than he would have gotten by playing out his three-year rookie deal. Burfict also has a $2.15 million roster bonus payable on the fifth day of the 2015 league year, which is intended to serve as a substitute for additional contact guarantees.
Burfict's base salaries in 2015, 2016 and 2017 are $1.05 million, $3.35 million and $4.25 million. There are $200,000 workout bonuses in each of the extension years (2015-2017). The deal has a salary escalator where Burfict's base salary in each remaining contract year increases by $135,000 with a Pro Bowl selection. For example, if Burfict is selected to the Pro Bowl in 2014, his 2015, 2016 and 2017 base salaries become $1.185 million, $3.485 million and $4.385 million, respectively.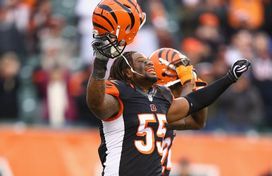 Burfict led the NFL with 171 total tackles last season.
The Bengals now have $11.17 million of salary cap room after completing Burfict's new deal. His 2014 salary cap number goes from his $570,334 to $5,275,334, a $4.705 million increase, under the new contract. Burfict's cap numbers are $4.175 million, $4.325 million and $5.225 million in 2015, 2016 and 2017, respectively.
The Bengals had leverage in these negotiations. Besides being under contract for 2014, Cincinnati would have controlled Burfict's rights once his contract expired. He would have been a restricted free agent in 2015. The Bengals probably would have given Burfict a restricted free agent tender where they would have received a first round pick from a team that signed him to an offer sheet that wasn't matched. Assuming a similar percentage increase to this year (8.13 percent) for the salary cap in 2015, Burfict's tender would have been right around $3.365 million.
Knowing that the Bengals had Burfict for two seasons well below his market value (approximately $3.935 million between his original 2014 base salary and expected 2015 restricted free agent tender), Burfict's agent probably looked at the deal in a piecemeal manner instead of in its entirety. His primary concern was likely on valuing Burfict's unrestricted free agent years.
Burfict got the best of both worlds with a value of slightly over $7.5 million per year for his two unrestricted years, which is below what he likely could have commanded on the open market. However, it would have been unrealistic for Burfict to expect treatment like a free agent given his contract status. As a reference point, linebacker Paul Posluszny received a six-year deal from the Jacksonville Jaguars averaging $7.5 million per year in 2011 as an unrestricted free agent.
Smartly, Burfict didn't give up multiple unrestricted free agent years at a discounted rate. Burfict got a level of security which he didn't have with $871,000 in career contract earnings during his first two NFL seasons, but also has the opportunity to test the free agent market while he's still young enough to take advantage of it. He will be 27-years-old when his contract expires after the 2017 season.
If the lofty comparison Bengals head coach Marvin Lewis made between Burfict and future first ballot Hall of Famer Ray Lewis in the early stages of his career prove to be true, Burfict will reap the benefit of Carolina's Luke Kuechly and Tampa Bay's Lavonte David raising the salary bar in the coming years for every-down linebackers that aren't pass rushers when he signs his next deal.
Follow me on Twitter: @corryjoel
Joel Corry is a former sports agent who helped found Premier Sports & Entertainment, a sports management firm that represents professional athletes and coaches. Prior to his tenure at Premier, Joel worked for Management Plus Enterprises, which represented Shaquille O'Neal, Hakeem Olajuwon and Ronnie Lott. You can email Joel at jccorry@gmail.com.