June 13, 2014 -
Jerry Angelo
Instead of a developmental league…
Recently, talk has increased regarding the NFL and its desire to start a developmental league. This is nothing new given that when NFL Europe was in existence it served the same purpose for approximately 20 years.
The reasons for such a league vary beyond the development of players. It allows the NFL to evaluate and develop its officials—which has real merit—and coaches. It can also be used as a tool to expand the product into new markets such as Europe.
In terms of finding and developing new talent, that aspect of a developmental league may be overrated. I've grown tired of hearing how quarterback Kurt Warner made it because of such a league. If memory serves me correctly, Warner gave as much, if not more credit, to the Arena league as he did NFL Europe. Regardless, is it possible to come up with additional names other than Warner and Jake Delhomme? Considering how many thousands of players have come through these alternative avenues, only a small handful of prospects made a significant impact in the NFL.
My point is that you are not going to consistently uncover any real gems. If that were the case, NFL Europe would still be in business. People forget what a 'Gong Show' NFL Europe became and, as a result, how it was terminated. There wasn't one person who fought for it or said that it was a mistake to cancel what turned out to be a cheap imitation of American football. Certainly our European friends weren't fooled. I've seen more fans in the stands at high school games.
So moving forward with this concept isn't new and will probably have the same results in terms of uncovering talent. In terms of player development, I also found that the prospects we sent from our 53-man roster to Europe for development had moderate changes in their growth, if any at all. I can't remember one player who I said was worth sending over there after all was said and done. What I did find was that the ones we felt might be good enough if they got more playing time didn't make it. I feel that most teams would also echo this sentiment.
We kept track of the players who made it on a 53-man roster following their time overseas. The numbers were low and there were no Kurt Warners other than Kurt Warner. There was a pass rusher who was unassigned (meaning no NFL team had his rights) and got a lot of money to sign with an NFL team, but he turned out to be 'just a guy.' Simply put, most NFL teams figure out their players to the point that they know the ones who possess what it takes to have a career in the NFL without farming them out for more playing time experience.
The only position that I feel would benefit from an alternative league is quarterback. Quarterbacks have to play and if they aren't playing on Sunday, it's hard to develop and evaluate them. If a quarterback does have the luxury of staying with a team and in the same system, he will develop. But that's a very hard situation to find in the 'Not For Long' league.
Personally, I feel strongly that the NFL would be better served by having an ongoing training camp during the better part of the NFL season. Players who have been released by NFL teams would make up the roster. I would hold this extended training camp in a warm weather city with an accessible airport (ex: Orlando, Phoenix, Dallas). Additionally, I would find a college campus with fields and facilities in place where the players can be housed during training. I would bring in the top five players who were cut at each position (for the offensive and defensive lines, I would have eight total from both sides). All in all, you would have approximately 50 players at varying positions training during the NFL season.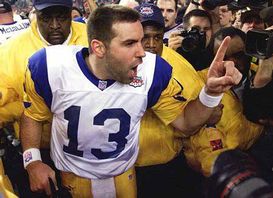 Kurt Warner was one of the very few NFL Europe success stories.
The league personnel office would determine the selection of these players. They are in the best position to canvas teams and/or have some ex-personnel people view and evaluate tape and make the decisions on who they want to invite to their site to train. There would be no restrictions. These are the best players, young and old. When teams lose a veteran player, they like to replace him with a veteran player. Without a training camp during the season, the longer the season goes, the less attractive these veteran types become. This is due to the fact that they have been sitting for so long and are no longer in football shape.
While training, these players will be evaluated as well. The personnel people responsible for training the prospects will write up reports on them each week. The reports and tapes of all the sessions would be on file for teams to read and watch at any time. When a team loses a player, they can go right to the training facility and sign one if they so choose.
The most difficult situation for teams to address during the regular season is when they incur injuries around the halfway point and beyond. Teams have their 'short list' (players on the street that teams have prioritized at each position), yet these players haven't been in pads for over two months and many of them have already been signed by other teams who suffered their injuries early in the season. This can really put teams behind the proverbial eight ball. What usually happens is that an organization will bring in a player who is out of shape and, thus, prone to suffer an injury (ex: hamstring).
By conducting an ongoing in-season training camp, these same players would be kept in good football shape. They will be on a schedule just as if they were on a team in terms of training them in the weight room and conditioning them outdoors. They will also do on-field drill and technique work in pads, which would be taped. AGAIN, these tapes would be on file for any NFL team to view and evaluate in the event they want to sign a prospect, regardless if they have a need to fill or not.
Once a prospect is signed to an active or practice roster, if eligible, another player at that position will be brought in. This type of camp has real merit for teams because they have players who are professionally trained and ready to go. The camp would start in Week 3 of the NFL season. The reason for this start date is that most teams will have a strong pool of players to pick from in those first few weeks of the season, should they incur a severe injury to one of their own players. The camp would run for approximately 14 weeks, one week past the final regular season game. Teams that make the playoffs will still have the advantage of going into the pool of players if need be.
Right now the only reserve pool viable for teams late in the season is their own practice roster players. These are primarily young and, in most cases, inexperienced prospects. But even with these practice rosters, a team only has nine players to choose from. What if a team has an injury at a position and they have no player on the practice roster at that same position to move up? The beauty of this type of camp is that you already have veterans working out.
Say a number of teams requested that a player be brought in, worked out and evaluated. The camp could accommodate such a request. A team could cut a player at that position or just add one more at any time, as there would be a lot of flexibility. The camp is there to improve the quality of play for all teams.
I strongly feel that this concept has real merit and would serve everybody's best interest. Once the season starts, the best thing you can do for all teams is have a quality pool of players available. When the NFL featured only 28 teams, the pool of available players to choose from was pretty solid. But when the league expanded to 32 franchises, approximately 200 players were removed from that pool. This is a supply vs. demand business and the demand is for talented players who have some experience.
As a franchise, one of the toughest aspects of the job to deal with regards in-season injuries. No one knows when they are going to happen or who they will happen to. That's why it's paramount that there is a system in place that can assist teams when they have a real emergency.
Follow Jerry on Twitter: @RealJerryAngelo
Jerry Angelo was the General Manager of the Chicago Bears from 2001 to 2012. Prior to joining the Bears, Angelo spent 14 years overseeing the Tampa Bay Buccaneers' scouting department as their Director of Player Personnel. Angelo graduated from Miami University in 1971.