February 14, 2012 -
Dion Caputi
Irsay open to Manning return
While most would have anticipated that the Indianapolis Colts would welcome Peyton Manning back in 2012 at a reduced cost, it was never said in a public statement.
Until Tuesday.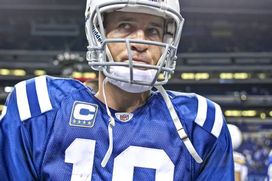 Would Peyton Manning be willing to restructure his contract to return to Indy?
According to an article by Mike Chappell of The Indianapolis Star, Colts owner Jim Irsay confirmed the widely suspected beliefs, but noted that changes to the former NFL Most Valuable Player's contract would have to be made.
"I want him to be able to make the choice," said Irsay. "We would love to have him back here if he can get healthy and we can look at doing a contract that reflects the uncertainty of the healing process with the regeneration of the nerve.''
It's clear that the organization is unwilling to make a $28 million commitment to the quarterback given the obvious medical concerns. What's more, Manning's agent Tom Condon reiterated that his client honored both contracts he signed with the club, which doesn't exactly suggest he is not willing to re-negotiate.
Chappell writes that Irsay is expected to meet with the future Hall of Fame within the next seven days to discuss his future.
"It can work if he wants to come back and can get back to being the old Peyton," concludes Irsay.
There really is no telling how Peyton Manning's future will pan out, but the Colts organization would be best served to handle the situation with the utmost precision in order to avoid being accused of mishandling an individual who was the primary driving force behind the organization's Super Bowl XLI victory.
Follow me on Twitter: @NFLDraftUpdate