August 04, 2014 -
Jeff Fedotin
Is Alex Smith as valuable as Jay Cutler?
One of the hot topics swirling around Chiefs camp has focused on the future of quarterback Alex Smith, whose three-year, $25.25 million contract is set to expire at the end of the 2014 season.
Will the Chiefs re-sign him?
"There's communication going on," Chiefs head coach Andy Reid said. "They are working through it, and we'll see what happens."
Smith's camp is pushing for mega dollars, and the likely comparison is the last veteran quarterback to earn a hefty extension — Chicago's Jay Cutler, who signed a seven-year, $126.7 million contract in January.
When examining just their physical attributes, Cutler seems more worthy of franchise quarterback money than Smith.
Raw skills vs. intangibles
The Bears signal-caller has ideal quarterback size at 6-3, 220 pounds and perhaps the game's best arm, one that can hum a pass into the tightest of windows and from the longest of distances.
Former Broncos coach Mike Shanahan, who hand-picked Cutler, trading up to draft him for Denver, said Cutler has a stronger arm than John Elway, Shanahan's former quarterback who had one of the most powerful arms in NFL history.
In comparison Smith, though listed at 6-4, 217, looks almost slight — as if you wonder whether he can hold up through the rigors of a season — when seen in person.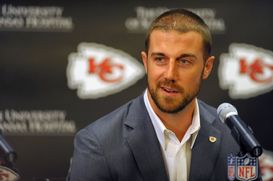 Smith tossed a career high 23 touchdowns passes in 2013.
His arm strength is pedestrian by NFL quarterback standards, and that's one reason his career yards per attempt (6.6) is almost a full yard less than Cutler's. Last year many of Smith's throws were checkdowns or short passes, and Smith underwent operations on his throwing shoulder in 2007 and 2008.
Cutler has thrown for more than 3,000 yards in a season five times and 20 or more touchdowns four times. Last year Smith passed the 3,000-yard barrier for just the second time in his career and the 20-TD mark for the first.
Lacking Cutler's physical gifts and eye-popping plays, Smith has been called a "game manager." However, he has thrown for more touchdowns over the last three years than Cutler — in addition to not forcing as many throws.
During that period Cutler has almost double the interceptions, throwing 51 touchdowns and 33 interceptions; Smith has a 53:17 ratio.
"We don't have a quarterback that's wild with the ball," Chiefs linebacker Derrick Johnson said. "He's a quarterback that's going to manage the game and make safe decisions."
Perhaps as a result, during the last three years, Smith also has a better record as a starting quarterback. He is 31-11-1; Cutler is 22-14.
More impressive is Smith's play in the clutch. He has thrown nine touchdowns and no interceptions in the playoffs, including his masterpiece against the Saints when he outplayed Drew Brees, and his game-winning, 14-yard TD pass to Vernon Davis is so ingrained in 49ers annals that it has its own nickname, "The Grab."
Cutler's postseason play has been subpar — to say the least. His lone playoff victory came against a 7-9 Seahawks team. And his biggest game to date featured a poor and mystifying performance, when he left the game with a knee injury during the NFC Championship Game, and critics questioned his toughness.
In addition Cutler has been derided for his apathy (a result of dismissive body language) and being a bad teammate (for incidents like cursing and pushing J'Marcus Webb).
Because of his leadership and work ethic, Smith was purposefully chosen by Reid and general manager John Dorsey to spearhead the Chiefs' rebuild from their rudderless 2-14 disaster in 2012.
"Alex is a good football player and he's great for this football team," Reid said. "We're lucky to have him here."
Smith not only triggered the Chiefs' turnaround from cellar dweller to 11-5 playoff team, but he also has proven to be durable. The only starts he missed in the last three years were the last game of 2013 — when the Chiefs intentionally rested him because their playoff seeding was locked up — and because of a concussion, which ultimately led to Colin Kaepernick replacing him.
Cutler, meanwhile, has missed 12 games due to injury during the last three seasons.
Cutler-Smith similarities
Despite the aforementioned differences, using Cutler as a contract model makes sense. They are about the same age. (Cutler is 31; Smith is 30.)
They even have suffered through similar growing pains.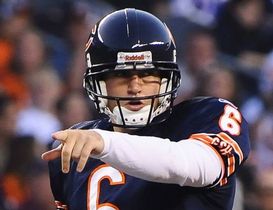 Cutler hasn't played a full 16-game regular season since 2009.
Like Cutler with his knee injury debacle, Smith was once labeled a malingerer. After the quarterback separated his shoulder in 2007, 49ers head coach Mike Nolan questioned the injury's severity and whether the former No. 1 overall pick could play through pain.
That wasn't the only dose of adversity for Smith, who played for four different head coaches and seven different offensive coordinators during his 49ers tenure from 2005 to 2012. During his five years with the Bears, Cutler has had four different offensive coordinators.
The Chiefs also may try to structure Smith's contract in a similar way to Cutler's extension. Though his $126.7 million figure is gaudy, the deal lacks a signing bonus, creating a kind of pay-as-you-go series of cap hits for the Bears. It's really more of a three-year, $54 million contract, and the Bears have options at lower rates for each of the ensuing four years.
So if Cutler cannot stay healthy, does not improve or even regresses, the Bears can easily move on after 2016.
The Chiefs may also frontload Smith's contract, giving them flexibility on how to proceed in the future with a good, but not excellent quarterback.
Having adopted the method Reid employed with the Packers and Eagles of stockpiling young quarterbacks, the Chiefs have two potential passers for the future with opposing attributes. Tyler Bray, a strong-armed, 6-6 quarterback with questionable maturity and football smarts, is in his second year, while rookie Aaron Murray has the college resume, but the SEC's all-time leader in passing yards and touchdowns may have too weak an arm to become an everyday starter.
Smith and Cutler represent the crux of the modern-day NFL. It's easy to sacrifice much of your salary cap for Aaron Rodgers or Peyton Manning, but do you sign a deal that restricts the rest of your roster when your quarterback is upper tier, better than the available options — but not elite?
Having to make room for Smith and Justin Houston, also a free agent after the season, is a major reason why the Chiefs released Brandon Flowers, a legitimate shutdown cornerback in my opinion, though he struggled in 2013.
A Pro Bowler last year, Smith, who has indicated he wants to remain in Kansas City, has said he will no longer respond to media questions about his contract.
But reports have indicated the team and player remain far apart on a deal.
"These things take time," Reid said. "You know how the game goes."
Follow Jeff on Twitter: @JFedotin
Jeff Fedotin has written f or Packers.com, Pro Football Weekly, ESPN The Magazine, the Lawrence (Kan.) Journal-World and Rivals.com. After graduating from Northwestern University, he interned for the Buffalo Bills. During his football playing days at Pembroke Hill (Mo.) School, Fedotin was known for his bad knees and even worse blocking.