September 19, 2014 -
Jeff Fedotin
Is Dee Milliner a complete bust?
Days after trading Darrelle Revis — considered by many as the best cornerback in the game at the time — to the Buccaneers, the Jets drafted Dee Milliner as his de facto replacement.
Milliner was anything but.
The ninth overall pick in the 2013 NFL Draft struggled for much of his rookie season, playing poorly and fighting through lingering injuries. Pro Football Focus ranked him as the 68th best cornerback in the NFL last season.
Head coach Rex Ryan benched Milliner three times in nine games, and the zenith came when Ryan admonished him on the sideline during a 23-3 home loss to the Dolphins in Week 13.
After such a rough start to his career, can Milliner still become the shutdown corner he was drafted to be?
"Shutdown corner?" Ryan paused, as if pondering the term, before telling NFP: "He'll be a good one. I don't think there's any doubt."
Ryan praised Milliner's ability to play the football in the air and his speed, traits the cornerback showcased as an All-American at Alabama.
This year more pressure was put on the second-year player's shoulders after the Cardinals signed the Jets' best cornerback from last year, Antonio Cromartie, during the offseason.
In July Milliner then told reporters that he was the best cornerback in the NFL.
It was a laughable statement for someone who had trouble staying in the starting lineup during his lone NFL year — let alone becoming an elite player. During his only game in 2014, he more closely resembled the worst cornerback in the game.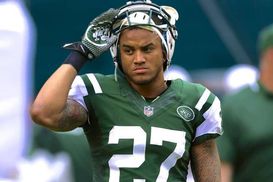 Milliner has notched three interceptions in 14 career games with the Jets.
In fairness, though, Milliner suffered a high ankle sprain on Aug. 10, which has greatly limited him since, including during Week 3 practices.
Injuries have proven to be a major issue throughout his short NFL career. Prior to last season, he missed much of the offseason program after recovering from surgery to repair a torn labrum in his shoulder, and an Achilles injury cut short his preseason.
"The young man can play," Ryan said. "We've just got to get him healthy and get him back on that field."
Looking less than healthy, Milliner made his season debut in Week 2. Antonio Allen and Darrin Walls started, but Milliner entered the game as part of a three-man CB rotation with Allen and Walls.
The results were disastrous for Milliner as Green Bay wide receiver Jordy Nelson burned him on a double-move for an 80-yard touchdown. It was an absolute juked-out-of-your-jock kind of play and part of Nelson's nine-catch, 208-yard receiving day during the Packers' 31-24 victory.
Milliner, who said his ankle tightened up late in the contest, asked out of the game after that.
"Last week wasn't his best," Ryan said. "That's for sure."
Ryan's hope, though, rests on how Milliner ended last season. Four of his five best games occurred during December. He earned the NFL's Defensive Rookie of the Month honors during that period, culminating with a 20-17 victory against the Dolphins when he had five passes defended, two interceptions and effectively supported the run in Week 17.
"The last month of the season he really came on," Ryan said.
The Jets are in desperate need for Milliner to replicate that kind of effort.
Having lost Cromartie, released Dimitri Patterson (a free agent signed from the Dolphins over the offseason) and placed rookie third-round pick Dexter McDougle on injured reserve with a torn ACL, the team is thin at cornerback. And with Ryan's penchant for exotic blitzes, the team's cornerbacks bear a lot of responsibility and are often left in single coverage.
It will help the Jets if Milliner's secondary mate, rookie safety Calvin Pryor —who New York selected over Milliner's Alabama teammate, safety Ha Ha Clinton-Dix —fulfills his potential. The Packers drafted Clinton-Dix three picks later in the first round.
Pryor has started both games this season at free safety, and Ryan said he "love(s) him as a hitter," but that his coverage ability and understanding of angles needs to catch up to his punishing, thumping style.
"You don't have to see him play. You can hear him play," Ryan said. "It won't be long. This kid's gonna be a difference maker."
With the Jets secondary lacking experience and depth, getting rid of Revis, who was shipped out months after tearing his ACL and now looks to have rounded back into form, looks dubious.
The trade, however, netted the Jets the 13th pick in the 2013 draft (along with a fourth-round pick in 2014, wide receiver Jalen Saunders).
New York used the former selection on defensive lineman Sheldon Richardson, the 2013 Defensive Rookie of Year, who, along with Muhammad Wilkerson, gives New York one of the best defensive lines in football and forms the backbone of the NFL's third-ranked defense.
"Our defense starts up front," Ryan said. "That's where we're probably the strongest."
But it's at the back end of the Jets defense where questions remain.
Follow Jeff on Twitter: @JFedotin
Jeff Fedotin has written for Packers.com, Pro Football Weekly, ESPN The Magazine, the Lawrence (Kan.) Journal-World and Rivals.com. After graduating from Northwestern University, he interned for the Buffalo Bills. During his football playing days at Pembroke Hill (Mo.) School, Fedotin was known for his bad knees and even worse blocking.