November 01, 2012 -
Jeff Fedotin
Is Eli Manning the NFL's most 'clutch' QB?
Just 31 years old, Giants QB Eli Manning already has 24 fourth quarter comebacks and owns two of the most memorable plays in Super Bowl history.
"With Eli at the helm," Giants WR Victor Cruz said, "we're never really too worried."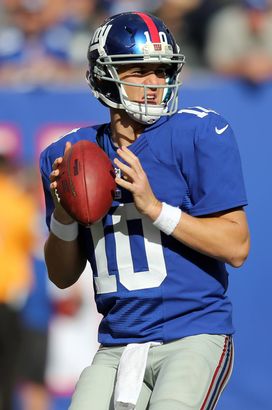 US PRESSWIREEli Manning has put together 24 fourth quarter comeback victories.
There is no statistical way, of course, to prove an intangible quality like QB clutchness, but fourth quarter comebacks are one valuable metric. It measures how a quarterback rises to the occasion, even though it may also reflect shoddy defense, a poor first half showing and luck.
By definition, it must be an offensive scoring drive in the fourth quarter, and the team must be trailing by a score. Only games ending in a tie or win are included.
Eli's brother, Peyton, actually ranks first all time with 37 fourth quarterback comebacks. He is followed by Dan Marino with 36 and John Elway with 35. After Peyton, Tom Brady is the active player with the most fourth quarter comebacks with 26. Eli ranks third among actives. His 24 is tied for 11th best in NFL history.
Having started just 138 games during his nine seasons, Eli, though, is far and away the youngest and least experienced of the aforementioned players.
When you divide his number of fourth quarter comebacks out of number of total starts, he has the highest percentage with 17.4. Peyton is next with 15.8 percent, followed by Marino (14), Brady (13.8) and Elway (13.4).
If he remains healthy, Manning may end up with the most fourth quarter comebacks in NFL history. And currently, there is likely no other signal caller you would rather have with the game on the line.
"He just keeps hanging in there," Giants coach Tom Coughlin said. "When his back is up against the wall is when he does his best work."
Elway has "The Drive," when he led the Broncos 98 yards in the final minutes against the Cleveland Browns in the 1986 AFC Championship Game.
Manning has his comeback moments, too, which will forever be chronicled by NFL Films.
On 3rd-and-5 during the Giants' final drive of Super Bowl XLII, Manning escaped pressure to throw a 32-yard pass to WR David Tyree, who caught the ball on his helmet. Four plays after the legendary "Helmet Catch," he threw the go-ahead TD pass to WR Plaxico Burress with 35 seconds left.
During Super Bowl XLVI, Manning again led the game-winning TD drive in the final minutes against the Patriots. The key play was Manning's 38-yard sideline pass to WR Mario Manningham, which threaded the needle against double coverage.
"He's never distraught out there," Cruz said. "He's never panicking. He's always calm."
That composure was revealed during a story told at the 2004 NFL Scouting Combine. While at the podium for his press conference, Manning was asked about an incident from his high school days.
According to Eli, his parents, Archie and Olivia, were just about to head out the door to watch him quarterback Isidore Newman (La.) High's varsity football team.
Then the phone rang.
It was Eli, calling to remind his parents to tape that night's Seinfeld episode, so he could watch it after the game.
Archie just about had a heart attack. It was an hour before kickoff, and his son was more worried about NBC's Must-See TV than his football game.
Though it's just an amusing anecdote, it may offer some insight into Manning's personality. Perhaps his ability to keep football in perspective explains why the teenager was comfortable playing in the shadow of Peyton and Archie and later while playing from behind on Super Bowl Sunday.
Perhaps it's why he's 8-3 during the postseason, including last year's triumph.
While leading the Giants to that Super Bowl XLVI title during 2011, Manning set an NFL record with 15 fourth quarter touchdowns that year. The Giants, who did not clinch the playoffs until the final week of that season, needed every one of the scores.
This season he seems to have picked up right where he left off.
One week after throwing a 77-yard TD pass to Cruz with 1:37 left in a 27-23 victory against the Redskins, Manning was it again Sunday. He engineered a six-play FG drive to give the Giants a 29-24 lead against the Cowboys with 3:37 left.
That was Manning's third fourth quarter comeback of the year and likely not his last.
Jeff Fedotin has written for Packers.com, Pro Football Weekly, ESPN The Magazine, the Lawrence (Kan.) Journal-World and Rivals.com. After graduating from Northwestern University, he interned for the Buffalo Bills.