January 03, 2014 -
Joel Corry
Is it time to give Vontaze Burfict a new deal?
The Cincinnati Bengals surprised many in NFL circles by being proactive with core players entering the final year of rookie contracts. Defensive end Carlos Dunlap and All-Pro defensive tackle Geno Atkins signed lucrative contract extensions before the 2013 regular season started.
It is widely assumed that signing wide receiver A.J. Green to an extension will be on Cincinnati's 2014 agenda even though the team will have the three-time Pro Bowler under contract through the 2015 season by exercising its option for a fifth contract year. Quarterback Andy Dalton, who will be entering his contract year in 2014, is another candidate for a new deal.
The Bengals should also seriously consider reworking linebacker Vontaze Burfict's contract. As an undrafted free agent in 2012, Burfict became eligible for a new deal on December 30. 2012 draft picks are prohibited from signing new deals until the end of the third year of their rookie contracts (after the conclusion of the 2014 regular season).
Burfict is woefully underpaid. He will be entering the final year of his three-year, $1.441 million rookie deal. In his two NFL seasons, Burfict has only made $871,000 while becoming one of the best young linebackers in the game. He led the NFL with 171 tackles this season en route to his first Pro Bowl berth and second team All-Pro honors. Burfict is the first Cincinnati linebacker selected to the Pro Bowl since Jim LeClair in 1976.
Bengals head coach Marvin Lewis recently compared Burfict favorably to future first ballot Hall of Famer Ray Lewis in the early stages of his career. The Cincinnati coach was the two-time Defensive Player of the Year's defensive coordinator for the first six years of his NFL career.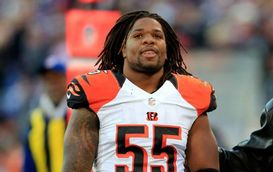 Burfict's 171 tackles led all NFL defenders during the 2013 regular season.
The Bengals have all of the leverage with Burfict. In addition to being under contract for another season, the Bengals will control Burfict's rights when his contract expires. He will be a restricted free agent in 2015. The Bengals will likely give him a restricted free agent tender where they will get a first round pick from a team that signs him to an offer sheet that they don't match. The first round tender should be $3.174 million when Burfict is restricted unless there is a significant increase in the salary cap in 2015. Knowing that they can have Burfict for the next two seasons well below his market value (approximately $3.75 million between his 2014 base salary and expected 2015 restricted free agent tender), the only type of deal the Bengals are probably willing to do is one where Burfict gives up multiple unrestricted free agent years at a discounted rate.
One possible solution could be for both sides to look at a deal in a piecemeal manner instead of in its totality. Burfict's restricted free agency at the expected 2015 first round tender should be acknowledged where the focus would be on valuing his unrestricted free agent years. With the type of season Burfict had, he could probably command over $8.25 million per year in the open market on a deal similar to the ones signed by inside linebackers James Laurinaitis ($41.5 million, 5-year extension, $23.62 million guaranteed, $2.5 million in base salary escalators) and Brian Cushing ($52.5 million, 6-year extension, $21 million guaranteed). Since it would be unrealistic for Burfict to expect treatment like a free agent with his contract status, the $7 million per year (with $17 million guaranteed) Dannell Ellerbe received from the Miami Dolphins in free agency could be an appropriate benchmark for his unrestricted years. If Burfict signed a five-year extension (restricted free agent year and four unrestricted years), his deal would average almost $6.25 million per year for the new years.
Burfict would need to be comfortable with the prospect of the NFL's other top young linebackers (Luke Kuechly, Lavonte David, etc.) signing contracts for significantly more money than he received. That would be a trade off of him getting a new deal so early in his career. Base salary escalators for outstanding performance (Pro Bowl, All-Pro, Defensive Player of the Year) could be included to help bridge the gap between the difference in his contract and the expected changes in the linebacker market during the coming years.
Burfict will be better off in the long run by remaining patient about a new contract barring injury. However, it may be difficult for him to turn down any reasonable offer he gets from the Bengals considering how little money he has made (by NFL standards) during his career.
Follow me on Twitter: @corryjoel
Joel Corry is a former sports agent who helped found Premier Sports & Entertainment, a sports management firm that represents professional athletes and coaches. Prior to his tenure at Premier, Joel worked for Management Plus Enterprises, which represented Shaquille O'Neal, Hakeem Olajuwon and Ronnie Lott. You can email Joel at jccorry@gmail.com.