October 22, 2013 -
Jeff Fedotin
Is Jimmy Graham just scratching the surface?
Jimmy Graham may have emerged as the best tight end in football, but the 6-7, 265-pounder is still figuring out the nuances of the game.
"Every day I'm growing and every day I'm learning," Graham told NFP. "I still feel like there's a lot I can learn and a lot I can get better at."
Now that the former University of Miami (Fla.) basketball player, who played just one season of college football, understands how to watch film, the fourth-year NFL star said he finally recognizes holes in the defense and more quickly realizes when he has one-on-one matchups.
"I feel light years ahead of where I was two, three years ago," Graham said.
And his 2013 season may end up being ahead of every tight end in the history of the NFL. Even after getting held without a catch in Week 6 against the Patriots, he's on pace for 1,581 yards, which would shatter the NFL single-season yardage record for a tight end. (Rob Gronkowski holds that mark of 1,327 yards set in 2011.)
After Week 5 Graham tied an NFL record for consecutive 100-yard receiving games for a tight end (4). He was the Offensive Player of the Month for September, the first tight end to receive such an award since the NFL began handing it out in 1986.
Graham attributes his spectacular 2013 performance to not only his continuing understanding of the game but also that he had an entire offseason to work with quarterback Drew Brees.
The previous offseason they missed time together because Brees, a free agent, was holding out. The NFL lockout occurred the year before, preventing workouts before the season.
"(This) was the first offseason where me and Drew really had the time and the chance to get all that work in," he said. "I feel like me and him are on the same heartbeat right now. He definitely expects me to be certain places and knows I'm going to be there. There are certain situations he knows where I'm one-on-one, and he just throws it up to me. He has a lot of trust, a lot of faith in me."
In addition to his synchronization with Brees, Graham cited another reason for his hot start. He was much healthier. That, of course, was before he hurt his left foot in Week 6. Preliminary reports indicate the injury is not serious.
That wasn't the case last year when Graham battled right ankle and left wrist injuries and was limited to nine starts. The latter injury required offseason surgery and may explain his drop in production to 85 catches for 982 yards and nine touchdowns.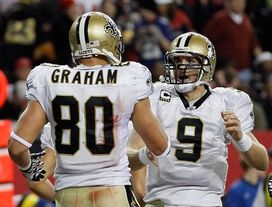 Through the first six contests of the season, Graham is averaging 9.8 targets per game from Brees.
Sure, those were impressive numbers, but they represented a major decline from his breakout 2011 season when he had 99 catches for 1,310 yards and 11 touchdowns. According to Stats, Inc., Graham led the league in 2012 with 13 dropped passes, a likely byproduct of his ailing wrist preventing him from properly catching the ball.
"Last year was a rough one for me," Graham said.
This year the Saints have deployed him all over the field, a versatility that was on display as he burned the Bears for 135 yards on 10 catches during a 26-18 victory in Week 5.
"He's a tough guy to stop," Bears coach Marc Trestman said. "They use him as a wide receiver out on the perimeter. They use him inside."
As a result, defenses are forced to be just as creative in how they try and contain him. The Bears threw the kitchen sink at him, rotating defenders, mixing coverages, using double teams and trying to jam him at the line of scrimmage.
"They were putting guys everywhere and making sure I wouldn't get off the ball clean," Graham said. "Every one on their secondary and every linebacker at some point had me."
If there's a particular route where Graham has had success, it may be the sluggo (also known as the slant-and-go). With opposing defenses so geared to stop the short route, Graham can set them up before torching them on a long go pattern.
"A lot of corners and safeties are just hungry for that big hit or to break up that slant," Graham said. "Drew believes no matter what the defense is that I'm going to catch it."
Although the Patriots held Graham without a catch in Week 6, they shadowed him with Aqib Talib, one of the game's best cover cornerbacks, a treatment usually reserved for a team's No. 1 wide receiver.
There's the rub.
Graham is in the last year of his contract, and rumors have swirled that his agent, Jimmy Sexton, will ask for wide receiver — not tight end — money, which could approach $10 million a year — a major increase from Gronkowsi's six-year, $54 million deal, the richest tight end contract in history.
But that's a story for the upcoming offseason. For now Graham is just enjoying the benefits of the past offseason, his first one in years with Brees and one that brought him another step closer to fulfilling his limitless potential.
"He's still hungry to learn," Saints wide receiver Marques Colston said. "He's only going to continue to get better."
Follow Jeff on Twitter: @JFedotin
Jeff Fedotin has written for Packers.com, Pro Football Weekly, ESPN The Magazine, the Lawrence (Kan.) Journal-World and Rivals.com. After graduating from Northwestern University, he interned for the Buffalo Bills. During his football playing days at Pembroke Hill (Mo.) School, Fedotin was known for his bad knees and even worse blocking.