November 29, 2012 -
Jeff Fedotin
Is Peyton Manning throwing as well as ever?
Asked by a reporter if his passes are a bit more wobbly and less frequently resemble the tight spirals of his Colts days, Broncos QB Peyton Manning became a bit defensive — and very facetious.
"Is it of concern to you?" Manning said. "Is it something I need to fix to make you feel better? You tell me. I'll work on it today if it's bothering you."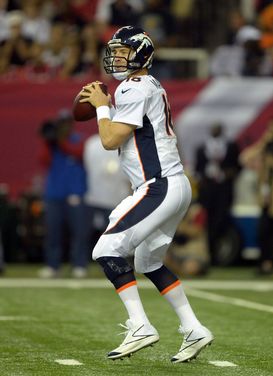 US PRESSWIREPeyton Manning is playing at a high level after missing the 2011 season.
Reporters also have bothered Broncos coach John Fox with questions about Manning's arm strength — particularly after his quarterback threw three interceptions during the first quarter of a Week 2 loss against the Falcons.
They wondered if the neck surgeries, which forced Manning to miss all of last season, have affected his delivery, grip and arm strength. At times he has seemed to throw the occasional duck — unlike the kind of strikes he used to fire during the prime of his career.
Fox said Manning can make all the throws, but that he was never known as a cannon-armed quarterback who rifled passes into his receivers' hands.
"He's never had a howitzer," Fox said. "He's just been exceptionally accurate."
Chiefs LB Derrick Johnson describes Manning as having "crazy accuracy," though he noticed his passes looked a little less crisp early in the season.
"He'll put the ball right on the money," Johnson said. "You can have perfect coverage and be on your guy, and he throws a perfect ball."
That ball placement is a reason why Manning has been mentioned as an MVP candidate. His 2012 statistics not only demonstrate his productivity, but also reflect favorably when compared to his time with the Colts when he won four MVPs.
Manning is on pace to finish with 4,741 yards, 38 touchdowns and 12 interceptions. That would amount to the most passing yards he has ever thrown in a season, though the front-running Colts often played their backup quarterback at the end of the season to preserve Manning for the playoffs.
Manning's 38 touchdowns would represent the best mark of his career since he topped Dan Marino's single-season record (of 48) in 2004. The 12 interceptions would be his lowest total since 2008.
His completion percentage of 67.7 would rank as the second highest figure of his career.
And Manning may be getting even better. He said he still rehabs his neck daily and is adjusting to his new passing targets after 14 years with the Colts.
"I'm still learning about my injury and about my body." Manning said. "I'm still learning about my receivers and my new teammates."
One thing that has not changed is his work ethic, which Fox effusively praised.
Always known as a meticulous grinder, Manning now has a supporting cast that can grind out clock.
Even though RB Willis McGahee suffered a serious knee injury, Johnson said the quality of the Broncos offensive line gives Manning a more productive and prolific rushing attack than he had in Indianapolis.
Manning also benefits from Denver's strong defense, which ranked sixth in the NFL heading into Week 12. Bookend pass rushers, Elvis Dumervil and Von Miller, anchor the unit and have combined for 22 sacks.
Miller, a second-year player, has 25.5 sacks in 26 games despite a thumb injury, which limited him during his rookie season.
"There's no doubt he would've broken the rookie sack record (of 14.5)," Fox said, "had he not injured that ligament in his thumb and played one-handed down the stretch."
Miller and Dumervil have formed a potent pass-rushing duo like the Dwight Freeney-Robert Mathis combo during Manning's days in Indianapolis.
While Manning played for the Colts, Chiefs coach Romeo Crennel regularly gameplanned against him.
The Patriots defensive coordinator from 2001-04 faced Manning's Colts six times during that stretch and sees him twice in 2012 as the Chiefs battle their AFC West rival, the Broncos.
Though Manning now sports orange and blue, recent film study of him has looked disturbingly familiar to the Chiefs coach.
"He looks like the Peyton Manning of old," Crennel said, "unfortunately."
Jeff Fedotin has written for Packers.com, Pro Football Weekly, ESPN The Magazine, the Lawrence (Kan.) Journal-World and Rivals.com. After graduating from Northwestern University, he interned for the Buffalo Bills.