April 22, 2013 -
Jeff Fedotin
Is the 2013 quarterback class historically bad?
The 2013 quarterback class has been universally panned as one of the worst of all time.
From the team with the No. 1 overall pick: "There is no quarterback where personnel guys can definitely say, 'He's a first-round pick,'" Chiefs general manager John Dorsey told The Kansas City Star before the NFL Combine.
Dorsey would later trade for Alex Smith, the No. 1 overall pick of the 2005 draft.
From the team with the No. 2 overall pick: Jaguars quarterbacks coach Frank Scelfo told The Florida-Times Union his quarterback, Blaine Gabbert, a guy who has been a relative bust during his two years in the NFL, would be drafted before any of the current crop.
Is the 2013 quarterback draft really that much worse than previous years?
One thing's for sure — no draft will measure up to 1983, the gold standard of quarterback drafts. Six starters were drafted in the first round of that draft, and three of them — John Elway (1st overall) to the Colts, Jim Kelly (14th overall) to the Bills and Dan Marino (27th overall) to the Dolphins — were enshrined in the Hall of Fame.
Only time will tell if the experts are correct in predicting the mediocrity of this year's crop, but here's a look at what the 2013-ers are up against from the last ten QB drafts:
2003 — 13 quarterbacks drafted
1st round
Carson Palmer drafted 1st by the Bengals, had two Pro Bowl years before knee and elbow injuries reduced him to being an average quarterback.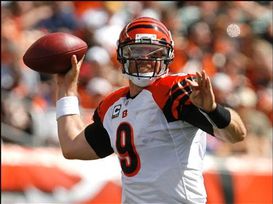 Palmer enjoyed more success in Cincinnati than any of the other 2003 quarterbacks had anywhere.
Byron Leftwich drafted 7th by the Jaguars, started 44 games before his slow delivery and foot speed relegated him to a backup role.
Kyle Boller drafted 19th by the Ravens, never developed the accuracy to match his arm strength.
Rex Grossman drafted 22nd by the Bears, alternated between Good Rex and Bad Rex for the Bears before ultimately just becoming Bad Rex for the Redskins and Texans.
Sleepers
Drafted by the Seahawks (110, 4th round), Seneca Wallace had decent value (21 starts over seven years) for a quarterback selected in the fourth round.
Grade
D: If Palmer had not regressed after his injuries, he likely would've been the lone franchise quarterback from this draft.
2004 — 17 quarterbacks drafted
1st round
Eli Manning drafted 1st by the Chargers before a draft day trade to the Giants, is as clutch as they come in big games.
Philip Rivers drafted 4th by the Giants before a draft day trade to the Chargers, has made four Pro Bowls, though he has become interception prone of late.
Ben Roethlisberger drafted 11th by the Steelers, has led Pittsburgh into the playoffs six times and into the Super Bowl three times.
J.P. Losman drafted 22nd by the Bills, threw just 33 touchdowns in seven NFL years.
Sleepers
Drafted by the Falcons (90, 3rd round), Matt Schaub is a good but not great quarterback, though he certainly represents excellent value for the 90th pick.
Grade
A-: Four Super Bowl victories from Manning and Roethlisberger plus quality starters in Rivers and Schaub make this a great quarterback draft.
2005 — 13 quarterbacks drafted
1st round
Alex Smith drafted 1st by the 49ers, struggled through injury, a coaching carousel and poor play before being resuscitated by Jim Harbaugh.
Aaron Rodgers drafted 24th by the Packers, is arguably the best passer in the game.
Jason Campbell drafted 25th by the Redskins, too frequently checks the ball down, could not cut it as a starter in Washington or Oakland and has become a backup in Cleveland.
Sleepers
Drafted by the Bears (106, 4th round), Kyle Orton has thrown 81 touchdowns and just 57 interceptions while starting 69 games.
Drafted by the Ravens (213, 6th round), Derek Anderson made the 2007 Pro Bowl for the Browns while throwing for 3,787 yards and 29 touchdowns.
Drafted by the Patriots (230, 7th round), Matt Cassel has thrown an eerily Orton-like 82 touchdowns and 57 interceptions while starting 62 games.
Drafted by the Rams (250, 7th round), Ryan Fitzpatrick has thrown 23 touchdowns or more in a season three times.
Grade
B: Rodgers elevates the overall grade in a draft that lacked other stars but had solid depth in the latter rounds.
2006 — 11 quarterbacks drafted
1st round
Vince Young drafted 3rd by the Titans, devolved from the Rookie of the Year into a bankrupt, head case.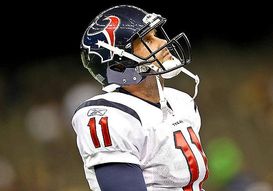 Matt Leinart is currently unemployed and looking for work.
Matt Leinart drafted 10th by the Cardinals, was derided for his party boy ways, but his lack of durability, including breaking his left collarbone twice, was likely a bigger issue.
Jay Cutler drafted 11th by the Broncos, has surpassed 3,000 yards five times but has yet to fully realize his potential.
2nd-round busts
Drafted by the Jets (49, 2nd round), Kellen Clemens has thrown seven touchdowns and 13 interceptions during his career.
Drafted by the Vikings (64, 2nd round), Tarvaris Jackson could not cut it as a starter in either Minnesota or Seattle.
Sleepers
Drafted by the Buccaneers (194, 6th round), Bruce Gradkowski is a mediocre player, but starting 20 games and lasting seven seasons is impressive for a sixth rounder.
Grade
D+: This draft featured 1st-round quarterbacks replete with baggage in Young, Leinart and even Cutler, who has attitude and leadership questions, and two 2nd-round reaches.
2007 —10 quarterbacks drafted
1st round
JaMarcus Russell drafted 1st by the Raiders, played just three years and ranks as perhaps the biggest draft bust of all time.
Brady Quinn drafted 22nd by the Browns, was considered a steal at that point in the draft, but he has become nothing more than a journeyman backup.
2nd-round busts
Drafted by the Dolphins (40, 2nd round), John Beck has three career TD passes, proving that BYU is no longer Quarterback U.
Drafted by the Lions (43, 2nd round), Drew Stanton threw for no touchdowns but six interceptions during 2009.
Sleepers
Drafted by the Vikings (217, 7th round), Tyler Thigpen threw for 18 touchdowns and 13 interceptions for the Chiefs in 2008, and the 7th rounder is (sadly) one of the best quarterbacks of this draft.
Grade
F: In a truly awful quarterback draft headlined by Russell's failure, the best quarterback was Kevin Kolb, who the Eagles drafted with the 36th overall pick.
2008 — 13 quarterbacks drafted
1st round
Matt Ryan drafted 3rd by the Falcons, has surpassed 3,400 yards in four of his five seasons while only missing three starts during that time.
Joe Flacco drafted 18th by the Ravens, had a postseason for the ages, throwing 11 touchdowns, no interceptions and earning Super Bowl MVP honors.
2nd-round busts
Drafted by the Packers (56, 2nd round), Brian Brohm has never thrown a TD pass in the NFL and last played in 2010.
Drafted by the Dolphins (57, 2nd round), Chad Henne, the current Jaguars backup, has never thrown for more touchdowns than interceptions in a season.
Sleeper
Drafted by the Packers (209, 7th round), Matt Flynn holds Green Bay's single-game passing yardage and TD records, which translated into a big contract from the Seahawks.
Grade
B+: The 2008 Draft had two quality 1st-round quarterbacks and a bizarre draft by the Packers, whose 7th rounder was far superior to their 2nd rounder.
2009 — 11 quarterbacks drafted
1st round
Matthew Stafford drafted 1st by the Lions, has surpassed 4,900 yards twice.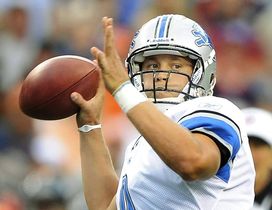 The cream of the crop from the 2009 class, Stafford is closing in on a fat new contract.
Mark Sanchez drafted 5th by the Jets, is 4-2 in the playoffs but has never completed as much as 58 percent of his passes during a season.
Josh Freeman drafted 17th by the Buccaneers, enjoyed a strong 2010 campaign but has struggled with consistency since.
2nd-round busts
Drafted by the Dolphins (44, 2nd round), Pat White has yet to complete an NFL pass and is perhaps the biggest miss of Bill Parcells' esteemed career.
Grade
C: Stafford could become a great quarterback if he stops throwing side-armed passes off his back foot, but Sanchez and White have to be qualified as busts.
2010 — 14 quarterbacks drafted
1st round
Sam Bradford drafted 1st by the Rams, has surpassed 3,500 passing yards twice while lacking talented receiving targets.
Tim Tebow drafted 25th by the Broncos, enjoyed an enthralling comeback-laden 2011 season but can't find a team that wants him to play quarterback.
2nd-round busts
Drafted by the Panthers (48, 2nd round), Jimmy Clausen, 1-9 as a starter, was a projected 1st rounder but slid in the draft for a reason.
Sleepers
Drafted by the Cardinals (155, 5th round), John Skelton is known for his erratic, helter-skelter play, but the 5th rounder has started 17 games in three years.
Grade
D: Only one quality starter emerged from this draft.
2011 — 12 quarterbacks drafted
1st round
Cam Newton drafted 1st by the Panthers, has looked electrifying at times, but questions linger about his leadership abilities.
Jake Locker drafted 8th by the Titans, struggled with accuracy and ran the Tennessee offense less effectively than Matt Hasselbeck.
Blaine Gabbert drafted 10th by the Jaguars, is just 5-19 as a starter, though he lacks much talent around him.
Christian Ponder drafted 12th by the Vikings, looked like a marginal quarterback until enjoying a coming out party against the Packers in Week 17.
Sleepers
Drafted by the Bengals (35, 2nd round), Andy Dalton has started all 32 of his games while leading Cincinnati to back-to-back playoff appearances.
Drafted by the 49ers (36, 2nd round), Colin Kaepernick racked up 444 total yards in his first playoff start before leading San Francisco to the Super Bowl.
Drafted by the Texans (152, 5th round), T.J. Yates led Houston to its first playoff win in franchise history.
Grade
B: This was a weird yet solid draft, which featured 2nd-round quarterbacks more skilled than their 1st-round counterparts.
2012 — 11 quarterbacks drafted
1st round
Andrew Luck drafted 1st by the Colts, elevated a 2-14 squad to an 11-5 playoff team.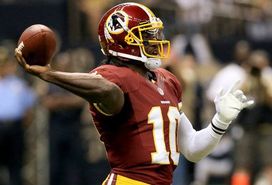 RG3 looks to rebound from a knee injury after grabbing rookie of the year honors last season.
Robert Griffin III drafted 2nd by the Redskins, earned Rookie of the Year and Pro Bowl honors, but his running style may put him in peril.
Ryan Tannehill drafted 8th by the Dolphins, showed flashes while throwing for 3,294 yards, 12 touchdowns and 13 interceptions.
Brandon Weeden drafted 22nd by the Browns, doesn't seem to be held in high regard by the new Cleveland regime, but the 29-year-old rebounded from an awful 12-of-35, 118-yard, four-interception Week One game, which included getting trapped under an American flag.
2nd-round busts
Drafted by the Broncos (57, 2nd round), Brock Osweiler has not had enough time to prove himself, but this pick looks bad, considering Denver could have had Wilson or Cousins instead.
Sleepers
Drafted by the Seahawks (75, 3rd round), Russell Wilson threw for 26 touchdowns and 10 interceptions while leading Seattle into the playoffs.
Drafted by the Redskins (102, 4th round), Kirk Cousins completed 70.3 percent of his passes for 329 yards in his one start in place of RG III.
Grade
A: Luck, RG III and Wilson look like stars while Tannehill and Cousins seem like solid quarterbacks in arguably the best quarterback draft since 1983 and at least the best since 2004.
Follow Jeff Fedotin on Twitter: @JFedotin
Jeff Fedotin has written for Packers.com, Pro Football Weekly, ESPN The Magazine, the Lawrence (Kan.) Journal-World and Rivals.com. After graduating from Northwestern University, he interned for the Buffalo Bills. During his football playing days at Pembroke Hill (Mo.) School, Fedotin was known for his bad knees and even worse blocking.