March 11, 2013 -
Jeff Fedotin
Is the NFC West the NFL's best?
In the last week of the 2010 season, the 7-9 Seahawks defeated the 6-10 Rams to capture the NFC West and become the team with the worst 16-game record ever to reach the postseason.
The NFC Worst had been reduced to a punch line.
Less than three years later, however, the NFC West not only looks like the best division in football, but it is also poised to remain that way for years to come.
San Francisco 49ers (2012 record: 11-4-1)
Already one of the most talented teams in football, the 49ers are positioned to fill their few holes.
They have 15 selections in the seven-round, 2013 Draft — the most of any team since 1994.
By either trading those picks or using them directly, San Francisco should have no problem bolstering a shaky CB corps, finding a replacement for PK David Akers and finding an eventual replacement for 33-year-old DL Justin Smith.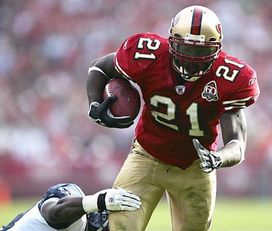 Frank Gore headlines a deep crop of running back talent in San Francisco.
They have astounding depth at the skill positions.
The run-first team had so many receivers that 2012 first-round pick, WR A.J. Jenkins, played in just three regular-season games last year. RB LaMichael James averaged 4.6 yards a carry during the regular season and 5.9 in the postseason, but the third-string back could not even crack the lineup until Kendall Hunter, Frank Gore's backup and perhaps the best of the trio, went down with an injury.
But the strength of the team is at the OL and LB positions.
The offensive line features three first-round draft picks who are 28-years-old or younger — LT Joe Staley (28), LG Mike Iupati (25) and RT Anthony Davis (23). And the LB corps features three of the best defensive players in the NFL, and each — NaVorro Bowman (24), Aldon Smith (23) and Patrick Willis (28) — will be 28 or younger during the 2013 regular season.
As the straw that stirs the drink, the 49ers have multi-dimensional 25-year-old quarterback Colin Kaepernick.
Seattle Seahawks (11-5)
A serious Super Bowl contender, the Seahawks have a mini-Kaepernick of their own — 24-year-old Russell Wilson, who threw for 3,118 yards, 26 touchdowns and 10 interceptions and rushed for 489 yards as a rookie last year.
The upgrade from recent quarterbacks — Charlie Whitehurst, Matt Hasselbeck and Tarvaris Jackson — is one of the major reasons for the improved Seahawks.
Another is the "Legion of Boom," a young, physical, bump-and-run unit and the premier secondary in the league. CB Brandon Browner, 6-4, is just 28, and his fellow starting corner, 6-foot-3 Richard Sherman, is just 24.
The "Boom" safeties also helped last year's fourth-ranked defense. Twenty-three-year-old Earl Thomas adds range (10 interceptions in his three years), and 24-year-old Kam Chancellor, 6-3 and 232 pounds, dishes out the punishment.
Bobby Wagner, 22, had 140 tackles and three interceptions during his rookie year last season and anchors the run defense.
Owning one of the last true home-field advantages in the NFL, the Seahawks have a good chance to go undefeated again at raucous CenturyLink Field.
If Seattle can improve their WR corps to take pressure off Wilson and RB Marshawn Lynch … look out.
St. Louis Rams (7-8-1)
Here is the part of the column where you might start snickering, but remember this ascending team played the 49ers twice last year and never lost.
Also in a deep 2013 Draft, which lacks upper echelon talent, this ascending squad is the only NFL team with three selections in the top-50 (16th, 22nd and 46th overall).
Head coach Jeff Fisher helped the team improve by more than five games, but he also has talented toys with which to play, including one of the most underrated defensive lines in football.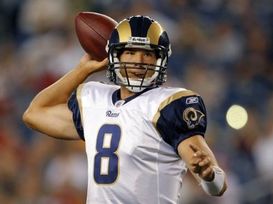 ICONQuarterback Sam Bradford looks to move the Rams back into the ranks of contender.
Twenty-two-year-old DT Michael Brockers anchors the interior, and edge guys—DE Chris Long (age 27) and DE Robert Quinn (22)— combined for 22 sacks last year.
Behind that front wall, LB James Laurinaitis has a nose for the ball, having racked up 518 tackles during his four-year career.
St. Louis has one of the more promising CB duos. Janoris Jenkins, 24, had four interceptions and three touchdowns while starting 12 games during his rookie season. Less athletic than Jenkins, Cortland Finnegan, 29, more than compensates with his feistiness.
The offensive line needs help, but two of its best players have returned to health and should account for a stronger unit. A 2011 Pro Bowler, C Scott Wells missed nine games in 2012 with a foot injury, and LT Rodger Saffold missed six with a knee.
Like Seattle, the Rams desperately need a No. 1 wide receiver. If St. Louis helps QB Sam Bradford and RB Daryl Richardson by shoring up the WR position, it becomes a playoff-level team.
Arizona Cardinals (5-11)
The Cardinals started 4-0 last year, including a win at New England, before OL issues and poor QB play destroyed their season.
After allowing an NFL-high 55 sacks, Arizona must acquire O-line help. But like in the case of the Rams, it is difficult to imagine the Cardinals not having better luck there this season.
Three of the Cardinals' original starting offensive linemen ended the 2012 season on injured reserve. Left tackle Levi Brown missed the entire season with a torn triceps, and right tackle Jeremy Bridges tore ligaments in his thumb, forcing the Cardinals to use two rookies — seventh-round pick Nate Potter and fourth-round pick Bobby Massie — as bookends. Center Lyle Sendlein suffered a season-ending torn MCL during late November.
A more healthy line will help Kevin Kolb, who is not great — but serviceable. Before a rib injury ended his season after six games, he completed 59.6 percent of his passes with eight touchdowns and three interceptions.
Even with a healthy Kolb, the Cardinals clearly have to upgrade the QB position. But Kolb and whomever they acquire will have the benefit of receiving instruction from new head coach and QB guru Bruce Arians.
The 2012 Coach of the Year has coached Peyton Manning, Ben Roethlisberger and Andrew Luck as rookies. Roethlisberger is still lamenting his absence, and when I interviewed Luck last year, he went out of his way to credit Arians for his smooth transition to the NFL and the Colts' 2012 success.
And the Cardinals quarterbacks have the ultimate safety valve in WR Larry Fitzgerald, one of the NFL's best players.
The QB and OL woes drew attention away from the elite talent on the other side of the ball, including three-time Pro Bowler Darnell Dockett and stalwarts at each defensive level who are 26 or younger.
At 6-8 and 300 pounds, Calais Campbell, 26, is a long-armed behemoth with a body type perfectly suited for a 3-4 defensive end. Daryl Washington might be the NFL's most underrated player. The versatile 26-year-old linebacker had 134 tackles, nine sacks, two forced fumbles and an interception during 2012. Patrick Peterson, 22, is not a pure cover corner, but one of the NFL's best athletes who has recorded nine interceptions during his two-year career.
A 2013 sleeper team, the Cardinals are ready to soar — just like the rest of their NFC West brethren.
Follow Jeff Fedotin on Twitter: @JFedotin