March 26, 2011 -
National Football Post
Jim Tressel: The unpleasant reality
Jim Tressel wears a sweater vest with an American flag pinned to it. He talks deliberately and chooses his words carefully. He hoists trophies and carries roses off the field almost annually. Essentially, he's a politician with a headset — an athletic director's dream.
And that's the only reason he's not looking for a job right now.
A losing coach, a far less politically cunning coach would have been fired the moment Yahoo! Sports published its two-month investigation claiming that Tressel had knowledge of his players selling Ohio State memorabilia eight months before school officials found out.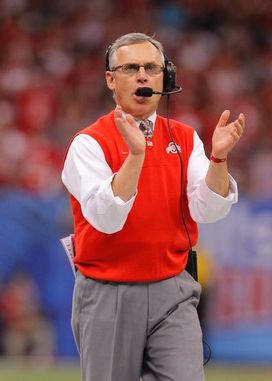 ICONJim Tressel's winning ways at Ohio State have bought him the benefit of the doubt.
So often in the world of sports, we let perception skew reality. We let outward appearances impact our internal thoughts. We don't want to believe that the clean-cut, all-American Tiger Woods would cheat on his beautiful wife, the mother of his two children. We don't want to believe that the grizzly gunslinger Brett Favre would make unwanted sexual advances toward a fellow Jets employee. And we certainly don't want to believe the buttoned-up, ultra-conservative Jim Tressel would try to cover-up his players breaking NCAA rules.
That's why this is different than any other recent NCAA investigation.
It wasn't a surprise that Tennessee basketball coach Bruce Pearl would lie to the NCAA. Behind he raspy voice and orange sport coats was a man we always knew played by his own rules. We found that out many years ago with the case of Deon Thomas.
It wasn't a surprise that Kentucky basketball coach John Calipari would do anything and recruit anyone to win. His slicked-back hair and coifed appearance always gave him the feel of a used-car salesman. Essentially, Calipari doesn't pass the Grandma Test. He just looks slimy — and that matters.
It wasn't a surprise that Michigan football coach Rich Rodriguez would practice his players over the allowed limit — and break major infractions at two universities in the process. Rodriguez was always the guy you'd hire if you were desperate, if you wanted to win — no matter the cost. It just turned out Rodriguez couldn't win in the Big Ten like he won in the Big East.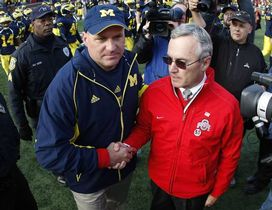 It turns out Tressel and Rich Rodriguez aren't all that different after all.
Tressel, we thought, was different. He screamed compliance. He oozed a by-the-book mentality that's a rarity in major college athletics. And he won. That's why Ohio State gave Tressel an extension through 2014 worth $3.5 million per year. A coach that wins and doesn't cheat is really worth double that to a university.
But we now see why schools are leery to make such a financial commitment to a coach. You want to think you have the right guy — the guy that will win and glad-hand boosters and do things right and stay loyal. But you never really know.
Yes, perception is a powerful thing. It gets coaches million-dollar raises and players lucrative endorsement deals. But when that perception turns out to be a lie, a smoke screen for a much less attractive reality, well, that's when it's time to move on.
Scott Miller is a senior at The University of Iowa and a contributor to the National Football Post. Follow him on Twitter: @stmillr.