August 23, 2012 -
Dion Caputi
Kaepernick wins backup quarterback job
When the San Francisco 49ers selected quarterback Colin Kaepernick from Nevada in the second round of the 2011 NFL Draft, it was done with the obvious intention that he would one day take the reigns as the organization's starting signal-caller. Although the above average play of current starter Alex Smith was rather unforeseen heading into last season, Kaepernick has taken the next step along his trek to become the team's first-string passer.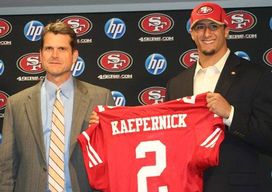 Now that Kaepernick has won the backup job in San Francisco, how long will it take before he becomes the starter?
Thursday, head coach Jim Harbaugh announced that Kaepernick has earned the backup quarterback duties for the upcoming season.
There have been mixed reviews on Kaepernick's camp and preseason -- thus far -- but the franchise clearly has plans for the young quarterback. Despite varying accuracy, Kaepernick has proven he can be a valuable asset in sub-packages due to his 'plus' running ability. It was on grand display against the Minnesota Vikings, when the second-year quarterback took a zone-read keeper 78-yards for a touchdown in the first week of preseason play.
Whether or not Alex Smith can repeat last season's success has become a hot topic of debate to many, but regardless of how that situation plays itself out, we will see an increasing amount of Colin Kaepernick this year in San Francisco.
Follow me on Twitter: @NFLDraftUpdate