September 13, 2012 -
Dion Caputi
Kolb to start for Cardinals
When the Arizona Cardinals square-off against the New England Patriots this week, it will be with quarterback Kevin Kolb under center.
According to ESPN's Adam Schefter, the Cardinals plan to start the former Philadelphia Eagles signal-caller this week against the reigning AFC champions.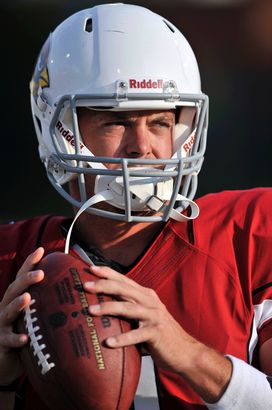 US PRESSWIREKevin Kolb gets another shot to lead the Cardinals.
Kolb, who was forced into action against the Seattle Seahawks after starter John Skelton suffered a sprained right ankle, essentially saved the day for Arizona in Week 1. The former second-round draft choice from Houston went six of eight for 66 yards on the game winning drive, capped by a six-yard touchdown pass to Andre Roberts which gave Arizona a lead they would not relinquish.
Although team president Michael Bidwill said via radio interview Tuesday that Kolb would get the nod, head coach Ken Whisenhunt has yet to confirm the notion. However, Mike Florio of ProFootballTalk.com reported John Skelton is expected to miss 2-4 weeks due to a low-ankle sprain, which certainly lends credence to Schefter's Thursday update.
If Skelton is listed as a Week 2 inactive, it would leave Arizona with the duo of Kolb and rookie sixth-round pick Ryan Lindley of San Diego State, who was inactive against Tennessee in the team's season opener.
Regardless of who starts under center Sunday, in order for the Cardinals to have any sort of chance against the New England Patriots -- fresh off a Week 1 romp of the Titans -- the offense must minimize turnovers and sustain drives.
Follow me on Twitter: @NFLDraftUpdate