November 07, 2011 -
Dion Caputi
Lions re-sign Kevin Smith
The Detroit Lions have re-signed running back Kevin Smith, according to ProFootballTalk.com.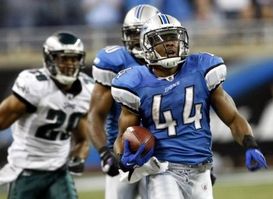 With Jahvid Best battling concussion problems, the Lions have made a more to add some depth.
Smith, a third-round pick of the team in 2008 out of Central Florida, is expected to slot into the team's depth chart behind Maurice Morris and Keiland Williams for the time being.
The Lions needed to add depth to the running back position, as starter Jahvid Best has not been cleared to return from a concussion according to Dave Birkett of the Detroit Free Press. In addition, Jerome Harrison is out for the season after being diagnosed with a brain tumor.
Smith has played in only 35 of a possible 48 games due to multiple injuries.
In three seasons, Smith has rushed for 1,856 yards and 12 touchdowns on 489 carries.
Follow me on Twitter: @NFLDraftUpdate