March 28, 2013 -
Joel Corry
Long falls short
Jake Long fell short of the $11 million per year he was seeking on the four-year, $34 million contract he signed with the St. Louis Rams. The deal has a maximum value of $36.5 million. Long can earn $375,000 in not likely to be earned incentives each year based on playtime tied to the playoffs and by being selected to the Pro Bowl. The deal also has $400,000 and $600,000 base salary escalators for playtime in 2015 and 2016.
It isn't surprising that Long couldn't hit his asking price. He followed a subpar 2011 campaign with the worst season of his five-year NFL career. Long was placed on injured reserve with a torn triceps in his left arm after twelve games and wasn't named to the Pro Bowl for the first time in his career. He received a clean bill of health from Dr. James Andrews shortly before the start of free agency. Nonetheless, Long's $8.5 million average per year makes him the third highest paid 2013 free agent (by average yearly salary) behind only Mike Wallace and Greg Jennings.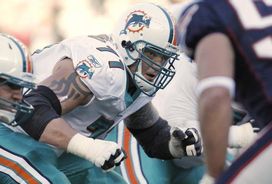 By average yearly salary, Jake Long became the third highest paid free agent behind only Mike Wallace and Greg Jennings.
Long makes $8 million in 2013. He received a $5 million signing bonus and his $3 million 2013 base salary is fully guaranteed. Long's $8 million 2014 base salary is guaranteed for skill and the salary cap while $4 million is guaranteed for injury. The $8 million becomes fully guaranteed if Long is on the Rams' roster on the last day of the 2013 league year (approximately March 11, 2014) because the injury guarantee increases to $8 million. $4 million of Long's $9.25 million 2015 base salary becomes fully guaranteed if he is on the Rams' roster on the fifth day of the 2015 league year (mid-March, 2015). Long has an unguaranteed $8.75 million base salary in 2016.
Long's deal is structured in a cap friendly manner. The Rams have flexibility with Long because of the size of his signing bonus and the conditions of his 2015 salary guarantee. Long's $5 million signing bonus is prorated over the four years of the deal at $1.25 million on the cap each year. In essence, Long has a two-year deal for $16 million where he must stay healthy and play at a high level because the Rams can release him in 2015 before his salary guarantee date with minimal cap ramifications. There would be a $2.5 million cap charge for releasing Long while he would count on the cap at $10.5 million if he remained with the team.
Long's $16 million in the first two years of his deal is $3 million less than he received in the first two years of his five-year rookie contract with the Miami Dolphins as the number one pick overall in the 2008 NFL draft. The $20 million in guarantees is also significantly less than the $30 million that was guaranteed in his rookie deal.
Long's contract could help pave the way for right tackle Andre Smith's return to the Cincinnati Bengals. Interestingly, Long and Smith are both represented by Creative Artist Agency's Ben Dogra. The parameters should be in place for Smith's contract with Long setting the market for free agent left tackles and Gosder Cherilus receiving a five-year, $35 million deal ($16.5 million guaranteed) from the Indianapolis Colts as a right tackle.
Follow me on Twitter: @corryjoel
Joel Corry is a former sports agent who helped found Premier Sports & Entertainment, a sports management firm that represents professional athletes and coaches. Prior to his tenure at Premier, Joel worked for Management Plus Enterprises, which represented Shaquille O'Neal, Hakeem Olajuwon and Ronnie Lott. You can email Joel at jccorry@gmail.com