April 22, 2014 -
Jerry Angelo
Managing draft day
The draft is the most exciting time of the year for all organizations. It is literally and figuratively "D" day—the one day when everyone who works on the football side of the building will feel vindicated based on all their hard work. The time and manpower spent on the draft can't be calculated. It's a marathon coming to its conclusion with nobody in sight between the organizations and the finish line. Optimism is high based on everybody's tremendous efforts.
The draft is the one time of year where the coaches and scouts come together without any real bias. They worked together hand in hand and are now going to see the fruits of their labor. In a business where your livelihood is based on wins and losses, there is nothing more satisfying than drafting a player everybody agrees can help the team win. Regardless of the team or where they are drafting, everyone will feel like they won and that enthusiasm will carry over into training camp and up to the first kickoff on opening day.
In reality, this euphoria will only have long-lasting benefits for a handful of teams. Most of the franchises will get a poor grade three years from now due to this draft class. For those that will pass, certain tenets must both take and be in place. I want to touch on some of those tenets today.
First of all, it's critical to go into the draft free of "needs." This gives you the freedom to jockey up or down on draft day with the potential to land more draft picks for the present and future drafts, as well as acquiring the best players on the board.
Most teams set three draft boards:
1. Best to worst, regardless of position, for 7 rounds
2. Best to worst by offense positions
3. Best to worst by defensive positions
There will also be a board with each team's logo or name along with the number of draft picks that team possesses, as well as those slots listed underneath them. Once a player is drafted, his card comes off the board and is placed under the team logo that drafted him.
What the best-to-worst position boards tells you is how many players at certain positions are being taken and who is still available at the position. This is important because if you want to draft a player at that position, you'll know how many players are still available. If there aren't many left who garnered a favorable grade from your team, you may have to take a player at that position with your next selection.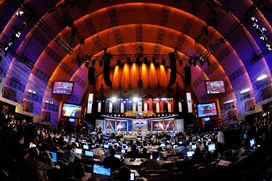 Finding success at Radio City Music Hall often times means staying true to your board.
The best-to-worst regardless of position board shows you how and when the better players are coming off the board. It lets you know what players are going to be there for your pick when the time comes. It is also the board you rely upon when teams call to ask about a trade. This board gives you the ability to see who could still be available to you at their slot, should you choose to make a deal.
There isn't much time between rounds and when you're fielding multiple calls, you have to think quickly. Some teams don't wish to be disturbed and just want to select from the players that are available when it comes time to pick. George Young was a big believer in this method. Some don't like the confusion that comes with fielding calls and guessing who you may or may not be able to select at the new slot if you choose to trade. George was never one to get cute or beat himself. That's why he'll go down as one of the best at what he did.
On the flip side of the equation are the teams that try to collect as many picks as they can, risking certain players in order to do so. New England is a model for collecting picks. Patriots head coach Bill Belichick is probably the only HC who drafts as if he's the owner of the franchise.
The different mentalities are what make the draft fascinating for the NFL's 32 teams. You never know what to expect, but you better be prepared for everything. There will always be a club or two that will be in a fortunate position where a team will call and give them just about anything to get their pick. We can all remember the year New Orleans gave up their entire draft to get Texas running back Ricky Williams. Usually when teams give up the mother-load for any position but quarterback it winds up backfiring. But you can't blame teams for trying. Instead, you blame them for losing.
As a team, you need to be prepared for all the top players. I have witnessed too many situations where a quality player everybody thought was going higher fell to a team that was unprepared for that specific scenario. Because the team didn't spend the necessary time talking about the player, they decided to pass. Their excuse: "Something must be wrong with him."
As big of a mistake as this is, you'd be surprised at how many times a quality player has continued to slide because teams never thought he'd be there when it came time for them to pick.
The prime example of this scenario is the 2005 draft day slide of Aaron Rodgers. Rodgers was projected to go high for no other reason than the fact that he was a quarterback and it was a very weak year for signal-callers. Alex Smith was the first selection to San Francisco that spring, while Rodgers was the next quarterback taken, although that didn't take place until pick No. 24 by Green Bay.
A gift, some might say, that continues to keep giving.
To summarize, the first thing any team must do is make sure they are prepared for any top player falling to their draft slot.
The first three rounds are looked at as the premium rounds. These are the rounds where teams feel they can get legitimate starters with talent, good measureables and production.
If there is an art in drafting, it comes in the form of projecting where the players you want will go. This is critical to planning. You must have a very good idea of not only the round in which the player is going, but also what part of the round. The teams that do this well on draft day act instead of react. You don't have the time in between rounds to sit as a staff and talk it over.
If a trade is proposed, you have to know how far down you can move based on the way you set your board. Say you have three players you are willing to draft if they are still available when you're on the clock. A team calls wanting to trade up to your spot and they are currently four picks behind you, but are willing to offer a third round selection to make it happen. The chances are highly probable that one of your three players will still be there, so you make the deal.
Drafting is not an extension of someone's ego. It's about finding players that fit your coach's schemes and possess the mentality and persona you want your fans and organization to identify with. That's it. Anything else is losing football.
If this isn't the case for an organization, these are the comments you are likely to hear from within the walls of a club on draft day:
"That's my guy."
"If we don't take him, we're crazy."
"I never liked him, I don't know why he's on the board."
"If we draft him, you coach him."
"Stinks, can't play."
"Too dumb, why did we take him?"
"I got to have him, he's the only guy who can help us win."
"Nobody ever listens to me."
This all is said within earshot for anybody to hear and these are things I've listened to over the years in the draft room after we made our pick because somebody didn't get their way. Obviously, it was about someone's ego. And the friction it created was sometimes worse than anything your opponents can do to you.
Drafting requires a team mentality with a goal of selecting the best players that fit what you want to do, regardless of what draftniks and the media have been saying for the last five months. I would rather do what I believe to be right than try and look wise to the ignorant.
I remember in 2007 when quarterback Brady Quinn came out of Notre Dame. I didn't like him. I had seen him play several times and just didn't feel like he was accurate enough, particularly when it came to getting the ball down the field. I've found that with quarterbacks you either love them or you don't. There is no gray area when it comes to evaluating signal-callers.
Back to Quinn, he was the guy who had the big buzz going on around him that year.
There was a plethora of media types, including Quinn's head coach at the time, Charlie Weiss, who thought he was going to be the next Tom Brady. Cleveland was targeted to take him because of their need for a quarterback. I know Phil Savage, who was the Cleveland general manager at the time. Phil is a great evaluator. And while I never talked to him about Quinn, I would have found it hard to believe that he loved the Notre Dame quarterback the way a lot of the media portrayed him.
As it happened, Cleveland took another player, offensive tackle Joe Thomas, with their first round pick instead of Quinn. However, the Browns then moved back into the first round at pick No. 22 and took Quinn. That's where I feel teams make mistakes. I understand the importance of the position and if you don't have a quarterback, you may have no other choice. But to take one, he's got to be a guy you love. And if Cleveland loved Quinn, they should have taken him with their original first round pick or traded down and picked up a few other selections before pulling the trigger on their new signal-caller. Again, that's just my theory.
In the end, Thomas was the right pick and Quinn wasn't.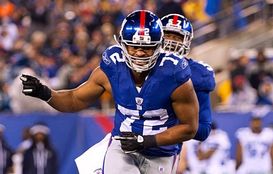 Osi Umenyiora has notched 82.5 sacks during his 10-year NFL career.
I was in Chicago in 2003 and we were hell-bent on taking a defensive lineman in the first round. We were a 4-3 scheme at the time and relied more upon big-bodied defensive linemen than slender ones. Michael Haynes, a defensive end from Penn State, was the player we drafted in the first round. To my recollection, no one loved him, including me. But he was the best available lineman in the eyes of many. Haynes had the credentials, led the Big Ten in sacks that year, played well at the Senior Bowl and was a bright kid. There was another player out of Troy State I really liked who was much more exciting to watch than Haynes in college. He was more of a conventional 4-3 defensive end.
It was ultimately my decision and I opted to select "the people's choice" and passed on Osi Umenyiora, who the New York Giants selected in the second round. The point I'm trying to make is that it's easy to get caught up in perception and need, but in the end, if you did your work and you have a strong conviction, do what you believe is the right thing for the club.
Drafting isn't a science and it's not an art. It's watching a lot of tape, practices and workouts. It's talking to a number of people who can give you the needed insight on a player's heart, his love for the game and his character. There is nothing mystical about it. It's hard and everyone has an opinion. In the end, it's not about who is right, it's about being right.
What separates the people who draft well from the ones who don't is the belief in their work and the willingness to stand on a table and to sell it.
A toast to those scouts and coaches who are willing to stand for what they believe, rather than fall for the cries of the masses. They are the ones who make a difference and the ones who have the rings to show for it.
Follow Jerry on Twitter: @RealJerryAngelo
Jerry Angelo was the General Manager of the Chicago Bears from 2001 to 2012. Prior to joining the Bears, Angelo spent 14 years overseeing the Tampa Bay Buccaneers' scouting department as their Director of Player Personnel. Angelo graduated from Miami University in 1971.